News
Find updates about our projects and the Alzheimer's Society Innovation team right here
Check out our Dementia and co-creation guide!
Our Innovation team has led on the co-creation of a practical guide for anyone designing innovative products and services to tackle the challenges that come with dementia.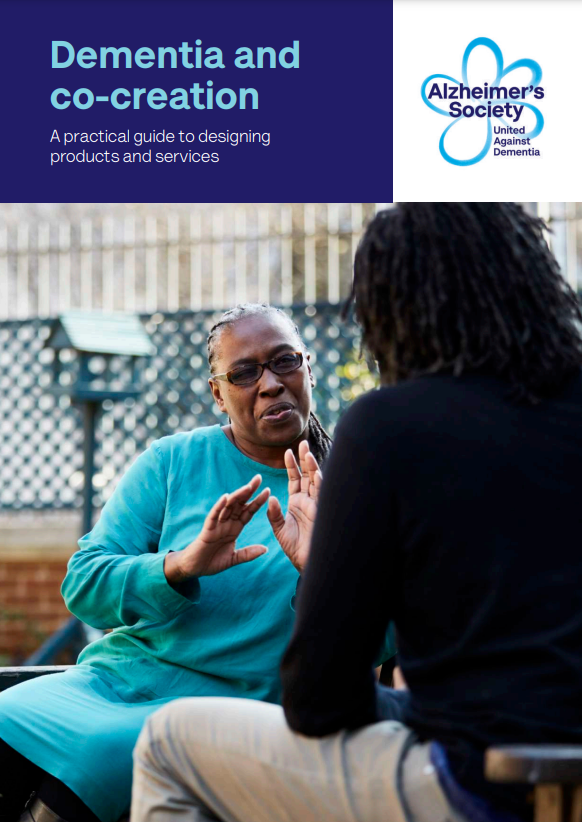 We developed this guide alongside a panel of co-creation experts, including designers, involvement specialists, researchers, social entrepreneurs, and people affected by dementia.
What is co-creation?
Co-creation is our ethos here in the Innovation team! It is the process of working with others to develop a new product or service. It could be anything from shaping the scope of a project, to designing the end-product.
So, why is this guide so important?
The Dementia and co-creation guide aims to inspire and enable designers, researchers, engineers, and entrepreneurs to collaborate in a meaningful way with people affected by dementia. We hope that this will result in innovative products and services that improve quality of life and make the world better for everyone. 
"I think the next generation of inventors do need to get out on the ground and in people's shoes to co-create solutions. I fear innovators are often stuck away in offices remote from reality." – Alexander, family member of person living with dementia.

What can you find in the guide?
The guide outlines the value of designing with people affected by dementia. It contains practical tools and methods for co-creating effectively and a handy checklist for planning co-creation activities. It also sets out some best practice guidelines for digital accessibility. At the end of the guide, you will find a number of case studies to demonstrate how co-creation can work in the real world.
Alexander's mother heavily relies on Alexa to answer her questions. In one example she gives, her mother asked Alexa what her husband's name was, and the reply was 'she should know'!  Alexander told us, 'This is not an answer for someone who is seeking motivation and help.'

This experience highlights how involving people in the design of product can prevent fundamental issues from arising.
Who is the guide for?
The guide will be useful to anyone designing an innovative product or service for dementia. People living with or caring for someone with dementia may find the guide of interest, but it is intended to be used primarily by those who are co-ordinating co-creation activity, rather than taking part in it.
How will the guide benefit innovators?
It will enable people to explore the possibilities for innovating for dementia, expand knowledge of specialist co-creation tools and methods and support people to create impactful products which make a difference to people's lives.
Read more and download our Dementia and co-creation guide.
Tell us what you think
If you have a hard-copy or the downloadable version of the guide,  please answer a few questions to help inform further developments. 
Thank you to everyone who has contributed their time, expertise and personal experiences, helping us to get to this stage!
This post was edited on May 26, 2022 by Natasha Howard-Murray
Comments (1)
Brilliant idea  Excellent range of content Clear and practical recommenedations Good use of diagrams and has a posiitive vocabulary and ethos However the font for the main script is far too small  although there is plenty of space in the  booklet that is unused  One has to be highly motivated to read through it all