News
Find updates about our projects and the Alzheimer's Society Innovation team right here
Categories
Physical activity and dementia sprint – where are we now and how did we get here?
Alzheimer's Society is leading a project in partnership with Sport England to develop a strategy to support people living with dementia to become and stay active. As part of this, we've been working with the Physical Activity – Policy team at Alzheimer's Society on an innovation sprint, exploring how we can help people with dementia to be active as part of their day to day lives, as early as possible after diagnosis.
What do we mean by 'physical activity?' Physical activity is anything that raises your heartrate – like dancing, walking, gardening, stretching or housework. It is not just sport and structured exercise.
What has happened so far?
We have been sprinting through the innovation LIFE model (pictured below - developed by Good Innovation) working with people affected by dementia and other experts on the physical activity topic area. We kicked-off the sprint process in January and have now arrived at a solution, which we are looking to prototype and test out in the real-world. More on that later…!

Learn and Investigate
The earlier stages of the sprint involved undertaking desk research, holding interviews and focus groups, and exploratory exercises. This was to help us get an understanding of the important challenges which need solving around physical activity and dementia, and who our key audience should be (the 'users' of our final solution). Collating a high level of shared knowledge at this early stage makes it much easier to build solutions later down the line, so they are based on real challenges, which we refine as we work through the innovation model.
We spoke to 20 people affected by dementia and 29 professionals, including but not limited to: care homes, services, policy-makers, memory clinics and GPs, social care and local councils.
We brought everything we had heard through these conversations into five main themes
Differing perceptions around 'physical activity': many people automatically think it is structured sport and exercise, even though it can be anything that raises your heart rate.
A lack of motivation from some people with dementia to be physically active, and a varying level of social support.
Cognitive impact on physical ability and physical activity levels: for example, balance issues, or concerns around the risk of taking part in physical activity.
Limited knowledge of the importance and benefits of physical activity, both for people affected by dementia and health and social care professionals.
Health and social care professionals not knowing who, where, when and how to encourage people with dementia to be more active.
Find: Finding solutions together
As part of the Find stage, we held three online idea workshops at the end of March. We brought together a mix of professionals and people with lived experience of dementia to come up with ideas for solutions. We presented the five themes and used these as a springboard to generate ideas.
61 ideas were co-created!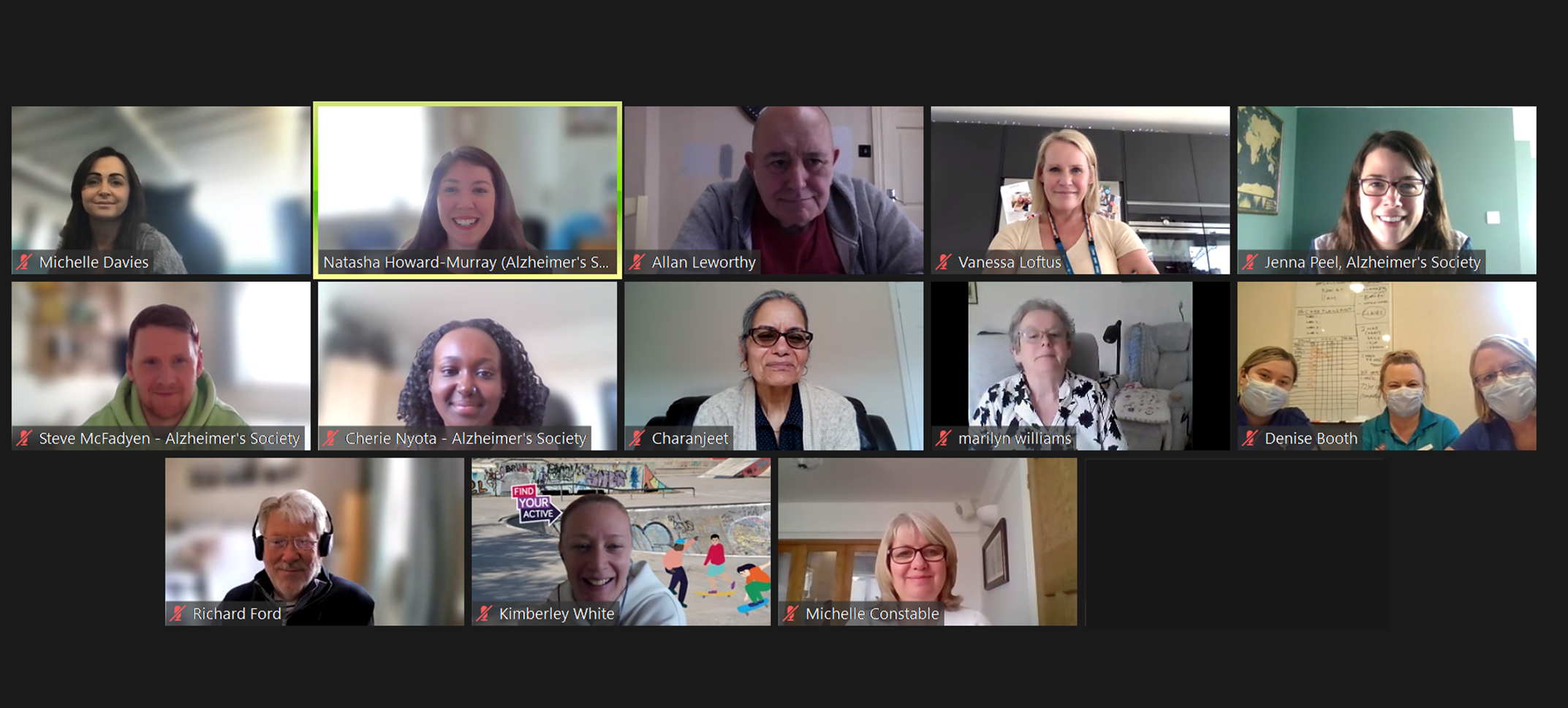 The Innovation and Physical Activity teams looked through every idea and shortlisted four, based on solution criteria set at the start of the sprint. These four ideas were shared with everyone who had been involved in the project alongside questions to help us decide which ideas to take into the next stage. The four ideas were: 
'Borrow Me and My Doggy': bringing purposeful and meaningful physical activity into the lives of people living with dementia, through providing them with two-to-one companionship with pet owners and their pets.
'Do it Diary': a motivational resource to support people living with dementia to be more active, including an activity diary to record progress and an online community to provide peer support.
'Mind to Movement': a one-to-one personalised behaviour change service to support inactive people living with dementia to increase their readiness to be active and to find ways to increase their daily activity.
'Nudge to Budge': building physical activity messaging, prompts and guidance into communications and appointments along the dementia pathway.
We reviewed all the feedback received and based on this and our solution criteria, we picked one idea to bring forward into the Experiment stage.
We've reached the Experiment stage!
The Experiment stage is where we rapidly prototype our solution to get our ideas out of the office and into the real world. It helps us to get a proof of concept of a solution and an idea of the impact it may have in helping to improve lives of people affected by dementia, before looking to scale at a wider level.
We are engaging with various experts and people with dementia to help build and test our solution. We are not looking to 'reinvent the wheel' and will be using available resources and spaces for this prototype stage.
Based on all thefeedback we have received, the solution we are building and testing is: the 'Feel Good Folder', previously known as Do It Diary, along with an online version (including the Feel Good online community). We know everyone is different and people are motivated in different ways so there is a lot of variety in this idea to allow people to develop something that works for them in their lives now and adapt it in the future. We will also make these resources and tools available to professionals supporting people affected by dementia. 
We are looking to quickly build a prototype of the solution in May and test it out over the summer months. We will be gathering feedback and iterating our solution at each stage. We will then be exploring options to plan for scaling the solution from later in the summer.
The paper prototype of the solution: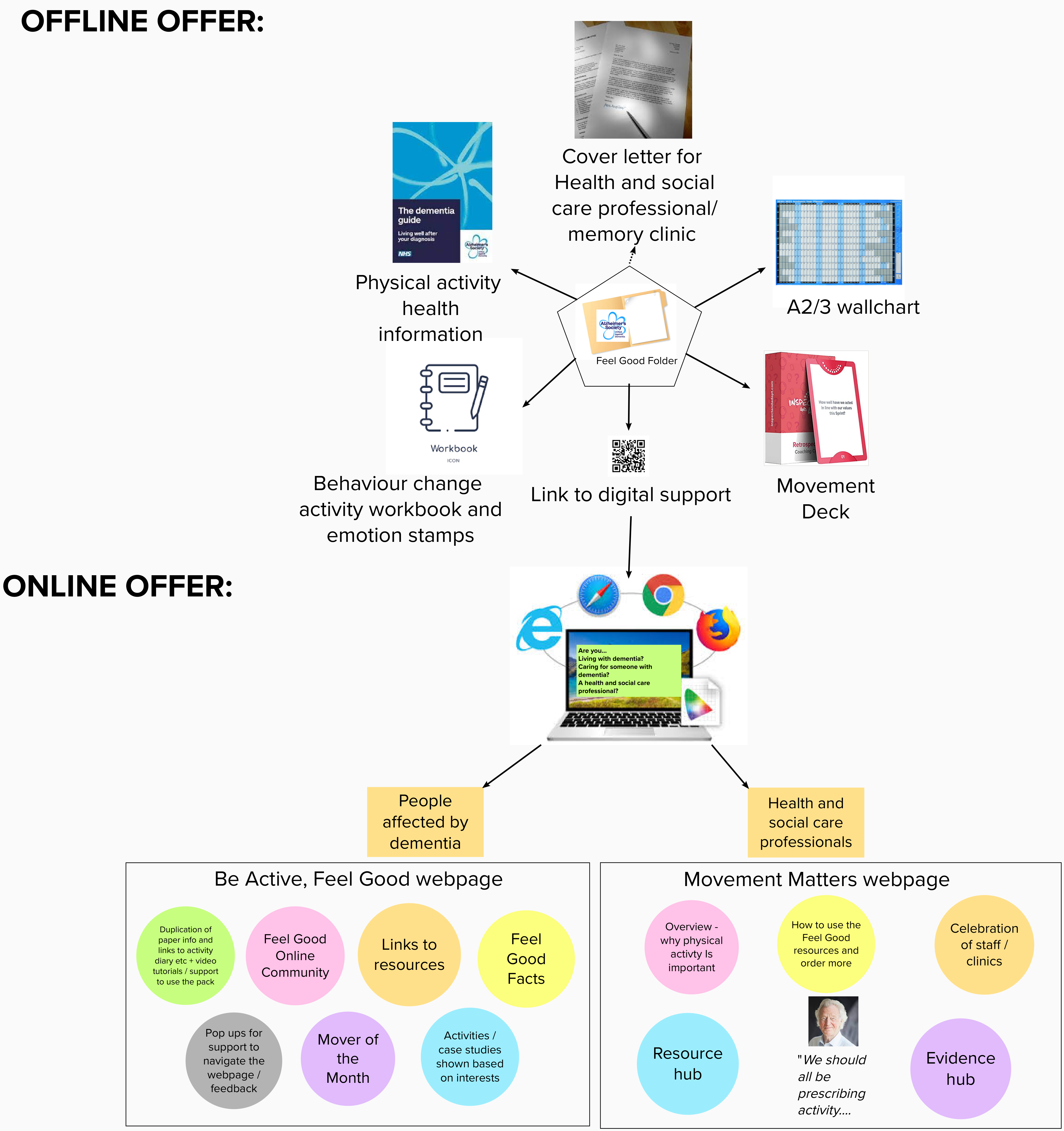 Thank you
Thank you to everyone who has helped us to move quickly through this work by being flexible and sharing their experiences, co-creating ideas and helping us to understand how we can build this solution. We are really excited for this next stage and we'll keep you updated as we keep sprinting through it!
You can read about Steve McFadyen's experience of working on the innovation project team in his guest blog: My LIFE as an Innovator.
This post was edited on May 20, 2022 by Natasha Howard-Murray