News
Find updates about our projects and the Alzheimer's Society Innovation team right here
Categories
The hospital journey tracker is back!
Here in the Innovation team we are determined to make great ideas a reality so we won't let anything stop us, not even a pandemic!
Back in March 2020 we were about to start piloting a new innovation – the hospital journey tracker – at Luton and Dunstable University Hospital (LDH). The tracker will provide timely email updates on a patient's status in hospital to a nominated representative. The aim is to improve communication between family carers and the hospital, and allowing them to be more involved in planning for the patient's discharge. We are delighted that after a two year delay, the tracker is now being piloted with real patients at the hospital.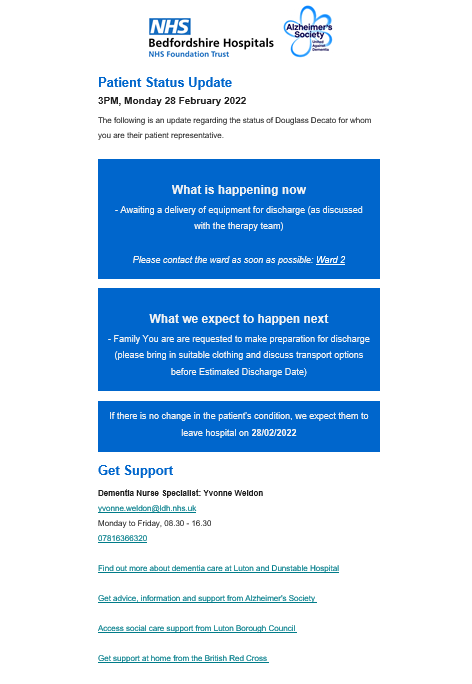 Image: a patient status update email
The concept was the result of one of our innovation sprints looking at how we might reduce the amount of time people living with dementia spend in hospital unnecessarily. Our initial research had uncovered several insights about the challenges people face in hospital, and we used these to co-create some potential solutions together with people affected by dementia and a range of healthcare professionals. You can read more about our activity until that point in a previous blog.
An innovative collaboration
We knew it would be an ambitious project as building technology for the NHS is notoriously challenging. They say in innovation circles that you make your own luck. That certainly seemed the case here as by involving LDH in the early stages of the project we discovered the existing partnership between their discharge team and software company, Phew!. We jumped on the opportunity to collaborate with them to build an additional module for dementia patients on to their existing patient discharge management system.
"This is an incredibly exciting project, to improve patient outcomes. Many of us have experiences of loved ones with dementia and any support for carers during these times can only be of additional help." - Matthew Burgess, Managing Director of Phew
When COVID hit our collaboration with the hospital was put on hold while the NHS dealt with the unfolding situation. Watching on as thousands of people with dementia endured hospital stays without the support of their loved ones, the potential for the tracker to help people became all the more clear.
"It's such a shame because the tracker would have been so valuable at a time like this". – Yvonne Weldon, Dementia Nurse Specialist
Although the long shadow of the pandemic still hangs over us we are delighted to now be starting work on the tracker once again. This has been made possible thanks to funding from the Sylvia Waddilove Foundation.
Testing and iterating
The pilot will run for eight weeks in March and April 2022. Patients living with dementia and their nominated friends or family members will be invited to sign up to receive the email updates. We will be gathering feedback from them and from the discharge team throughout and using data reports to monitor how the system is used. We will use what we learn to iterate the system as we go. We hope the evidence will indicate that the tracker enables people to leave hospital safely, and without delay, but only time will tell!
This post was edited on Feb 28, 2022 by Natasha Morgan
Comments (1)
Would be interested to find out more and keep updated - as have been contacted by someone who is looking to consult on something like this - who has involved me before.