News
Find updates about our projects and the Alzheimer's Society Innovation team right here
Finance and dementia – the innovation story so far
In November 2020, the Innovation Team began our latest sprint project on banking and dementia, sponsored by Santander. At each stage your involvement through the innovation hub has helped keep decisions grounded in people's real-life experiences, so thank you once again to everyone who has contributed.
At the start of the project, you logged onto the hub and helped us narrow down the challenge area to...
'how might we enable people affected by dementia to make better financial decisions?'.
This guided our research throughout the Learn and Investigate stages of our sprint process.
Getting to grips with the topic
We had limited knowledge about neither the most pressing issues around banking and dementia, nor any existing solutions, so we set about finding out more.
Our research involved…
Desk research - reports, money management guidance, bank websites, Talking Point support forum
13  interviews with people affected by dementia
10 interviews with a range of professional stakeholders including innovation specialists, Santander employees, dementia knowledge specialists, think tanks, charities and researchers
25 survey responses from front-line bank employees
4 ideasworkshops involving Society colleagues, professionals and people with lived  experience
Gathering insights
At this point, the team would normally gather for a day or two with a selection of snacks and a large box of post-it notes to analyse and theme everything we had read about and heard. However, due to coronavirus restrictions, we had to innovate ourselves and take our session online, using a virtual whiteboard called 'Mural'. The image below was the output of 3 hours of work.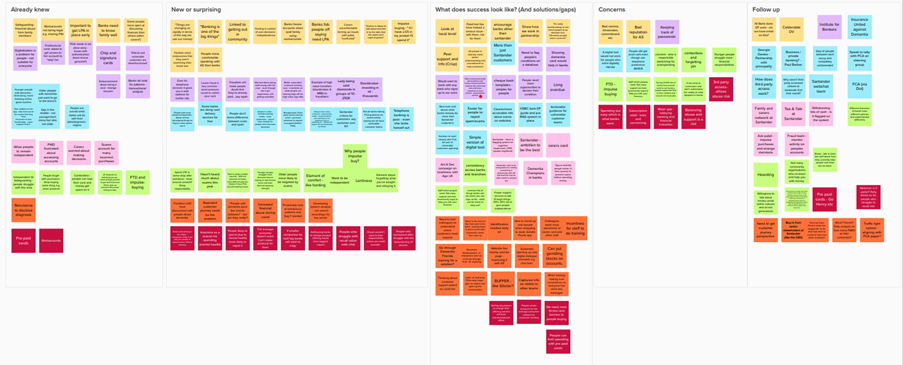 Eventually, we identified four key insight areas:
Overspending – People reported accidentally making repeat purchases and sometimes purchasing things they don't need.
Independence vs dependence – the importance of keeping someone safe without not limiting their freedom.
Scams, fraud and financial abuse – too frequently people with dementia are taken advantage of, resulting in losing large sums of money.
Difficulties with security clearance – forgetting passwords etc can be frustrating and limit's people access to their money. In addition, carers struggle to provide the necessary support without being designated Power of Attorney.  
There was also a cross-cutting theme around the need for a trusting and understanding relationship between people living with dementia, their supporters, and banks.
Finding solutions
Next, it was time to get creative, as we entered our Find stage. We gathered 25 people across 4 online workshops. Each group worked through one of these insight areas, drawing on the goals and frustrations of some fictional 'personas' as well as their own personal or professional experience. Having such a diverse mix of people meant we could all bounce off each other, producing ideas we could never have thought of alone. At the end of the week we had collectively produced 66 ideas for solutions to the challenge area!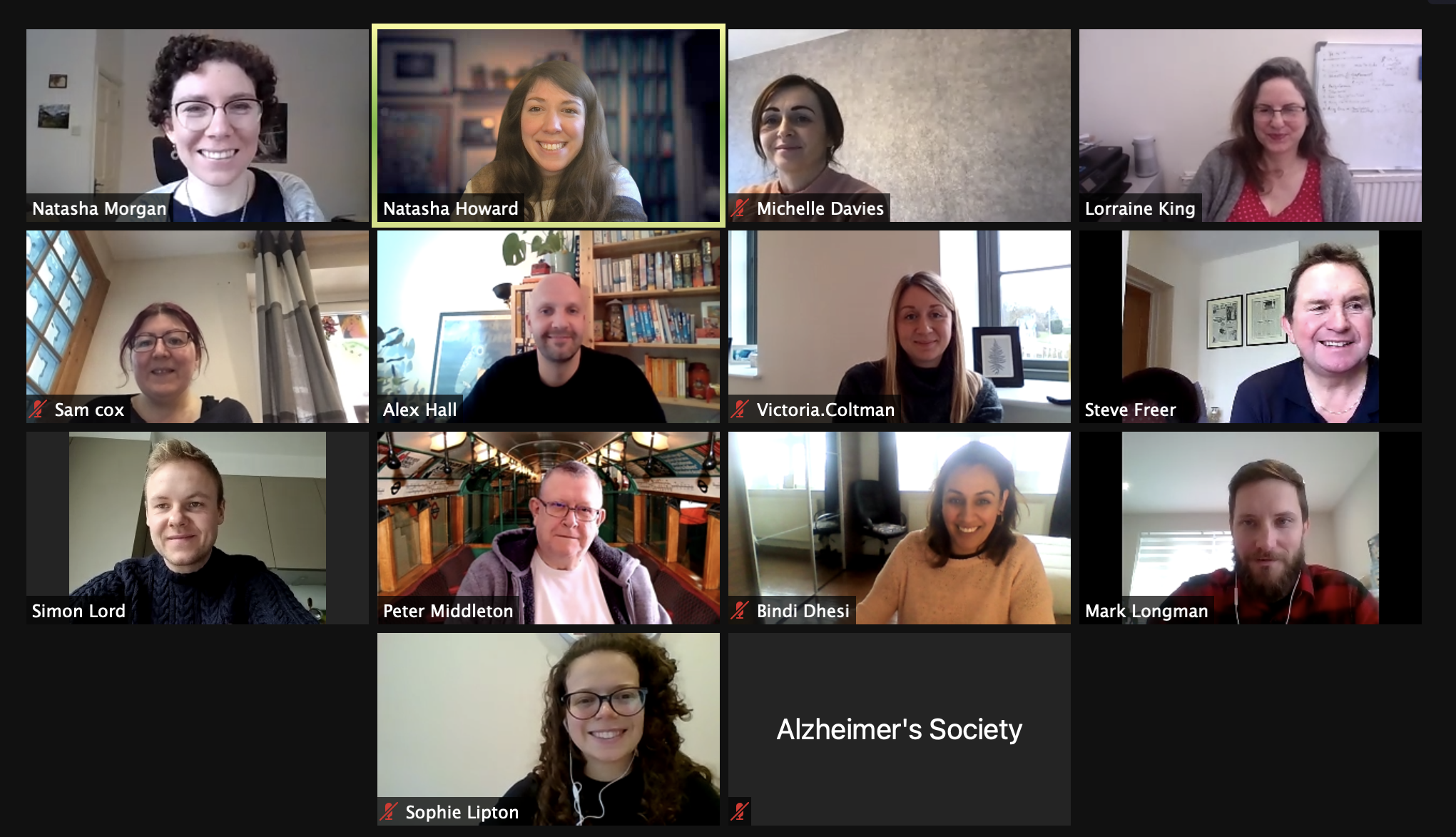 After the workshops, the team condensed these down into five concepts which were posted back on the innovation hub for you to comment and vote on. In addition, an amazing 169 Santander employees responded to a survey, adding some rich insights into how these concepts could support their customers. The concepts were:
My Money Meeting – regular meetings with a financial advisor
Account Angel Alerts – automated alerts to unusual spending
Your money at your fingertips – fingerprint and facial recognition as security details
Banking with dementia support line – specially trained advisors to support with a range of banking needs
Interactive bank statement – accessible and meaningful statements to which you can add your own notes about purchases
So what's next?
We've listened to your feedback and built on these ideas, and will now be taking forward … drumroll please… the Banking with Dementia Support Line!
Although there was merit in all five ideas, the support line came out top with a whopping 94% of 169 Santander staff saying it would be 'very' or 'extremely' helpful. People affected by dementia agreed, saying that it would enable them to maintain control over their own money and would save families a lot of stress and worry.
"Having a 'one stop shop' to point them in the right direction of high-quality resources and tools to make everyday life easier would really help" (Carer of person with dementia).
The next step is to test the idea in the real world, hopefully with a small-scale pilot later this year.  Watch this space for updates!
This post was edited on Jul 28, 2021 by Natasha Morgan
Comments (1)