News
Find updates about our projects and the Alzheimer's Society Innovation team right here
Community Makers unite together to reduce isolation for people affected by dementia
People affected by dementia have been amongst the worst hit by COVID-19 in terms of their health and wellbeing. Our 'supergroup' of Alzheimer's Society's Innovation team, the UK Dementia Research Institute (Care Research and Technology Centre) and the Association for Dementia Studies (University of Worcester) have been working together to help people affected by dementia to feel less isolated and better supported.
What is a Community Maker?
A Community Maker is anyone with experience or interest in setting up online communities and groups for people affected by dementia.
How can Community Makers help people affected by dementia?
By providing 'Community Makers' with the tools they need to set up or move their groups and communities for people affected by dementia online, we can help to increase reach, address people's health and wellbeing, and reduce social isolation.
We hope this will be beneficial, not only during the current pandemic, but in the long term for people who cannot access face-to-face services and groups in their communities.
What have we been up to?
In our previous blogs on the project (29 May and 4 May), we shared insights from speaking with people affected by dementia and service providers around the impact of lockdown on them, and ways in which to help people connect.
Chris Maddocks, one of our Alzheimer's Society Ambassadors who is living with dementia, said, 'I've been thinking of it that this sudden lockdown is almost like a bereavement, because one minute you are being socially active, and you are doing lots of things, and the next thing – I was literally on lockdown.'
Since then, we have developed and co-designed two solutions that we now want to share with you:
The Community Makers Network
The Community Makers online toolkit
What is the Community Makers Network?
The Community Makers Network is a mutually supportive network for anyone with experience or interest in setting up online communities and groups for people affected by dementia. The network allows people to share knowledge, ideas and challenges with each other through online meetings and an online forum.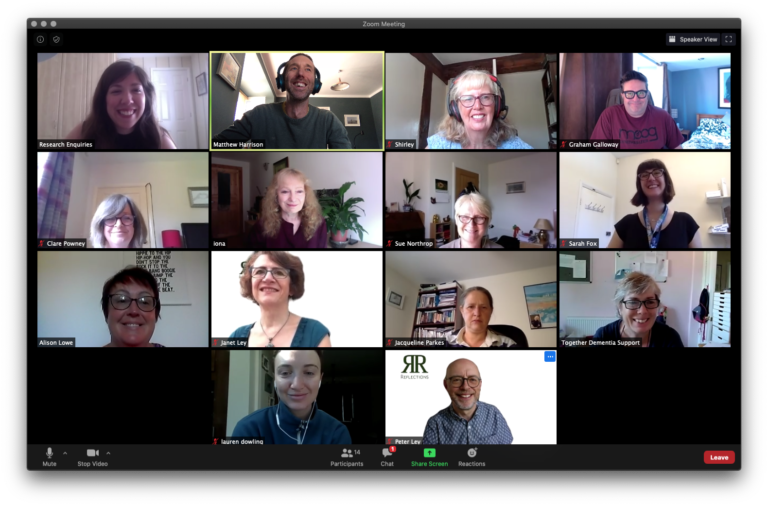 Who might you meet in the network?
We have gone from 15 people in the original focus group to 50 Community Makers in the network, all who have been key in guiding the development of the project. We have been speaking with people from a diverse range of backgrounds, cultures and locations – from Swansea to the USA!
Community Makers you might meet in the network include: A Trustee of a Herefordshire-based dementia support charity, an Alzheimer's Society Research Network volunteer with lived experience of supporting someone with dementia and extensive remote facilitation experience, a scientist exploring starting a group back home on Shetland, and a group facilitator supporting people affected by dementia from Black, Asian and other minority ethnic backgrounds.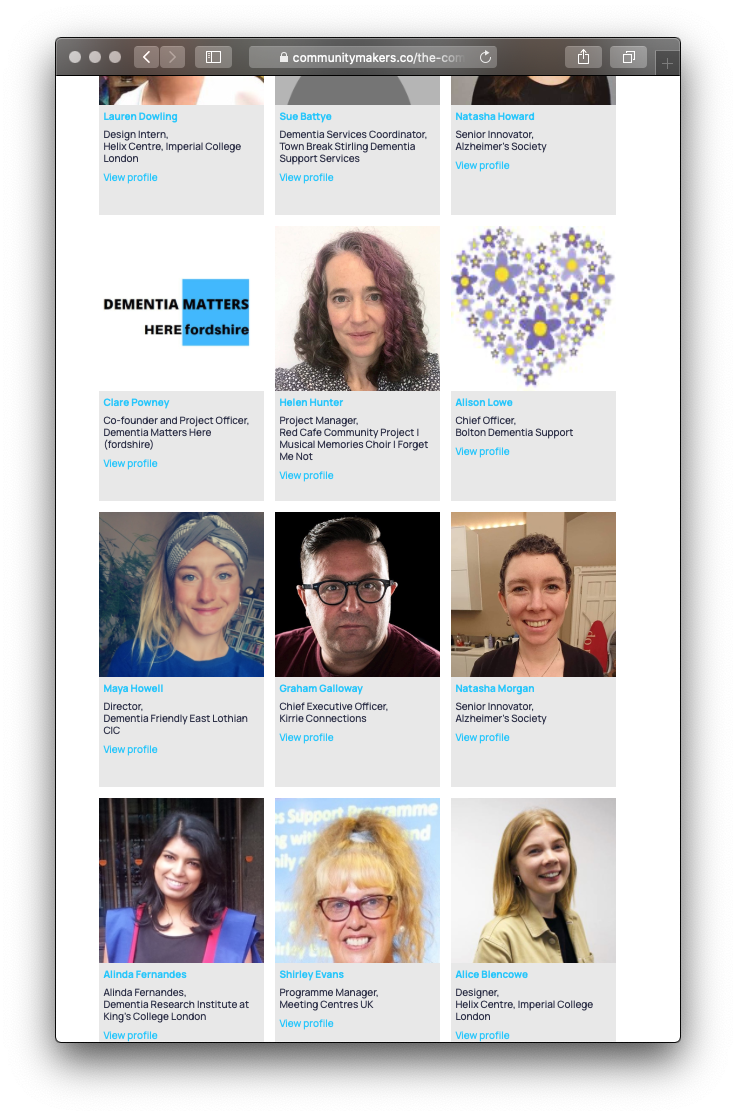 Engaging with people running diverse dementia groups has been extremely valuable in understanding additional barriers being faced in moving online and to help ensure resources are accessible and culturally sensitive. This week, we spoke with people who run groups from within Black, Asian and other minority ethnic communities (including Irish and Jewish), LGBT+ communities and younger people with dementia. The importance of including people who do not have online access was clear from these conversations. 'Within the Irish community and including travellers (but not unique to these communities), there is a very practical barrier. People may not have internet access and the technology, and cost is also a significant factor.' This is something that we are working together to address through our online toolkit.
What is the Community Makers online toolkit?
The Community Makers online toolkit is a digital resource to enable people to move or set up dementia support communities online.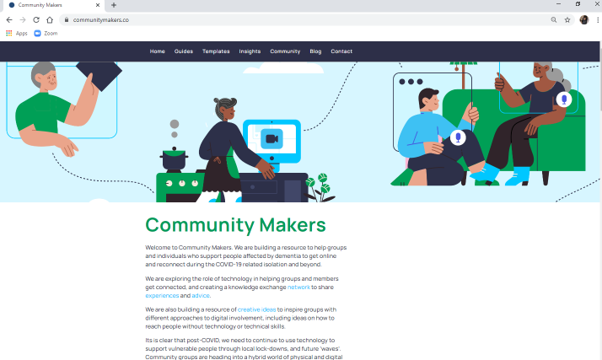 The content and design of our online toolkit for Community Makers has been informed by the insight and learning gathered from individual conversations and virtual workshops with people affected by dementia and the Community Makers Network.The toolkit has also been guided and co-created through the experiences of new 'digital first' support groups for people affected by dementia. Set up by our project partners, 'Dementia Matters Here(fordshire)' and the 'UK Dementia Research Institute cohort' have prototyped new ways of engaging and understanding the opportunities and limits of digital approaches.
What does the toolkit include?
The toolkit contains useful information and examples which people can take inspiration from and find something that works well for them in their setting, including:
Guides on various aspects of running an online meeting place or community centre (for example, how to include people who do not have access to technology)
A checklist on how to start an online community or group, signposting to useful resources.
Templates and ideas of different types of events that a group might hold.
Insights from groups that have set up online communities – sharing both successes and overcoming challenges to give people inspiration of what is possible.
A directory of members from the Community Makers network.
A blog space to keep up to date with the project.
A contact page to find out more and get involved.
The toolkit is now publicly available for you to take a look at. 
Please note that it is still in development, as we add to it from our continuous learning.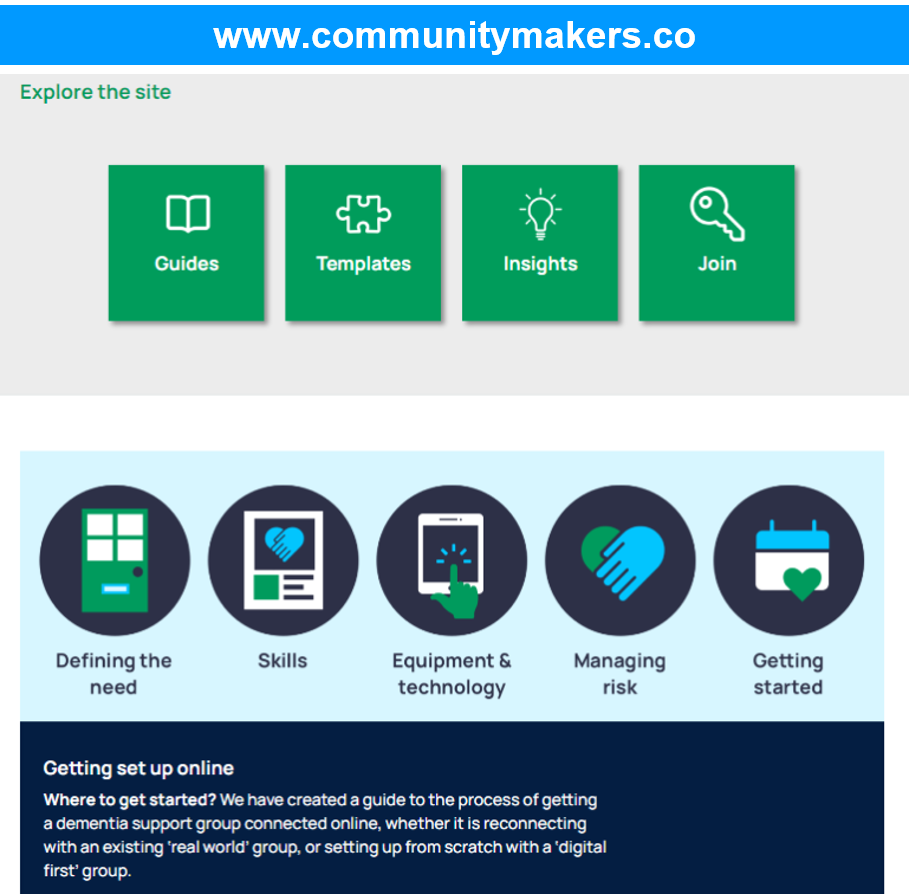 What might you learn?
Here are a few insights so far from some of our Community Makers. You can read more on our insights page on the digital toolkit. 
Preparation is key –  Prior to the session, 'a talk with the person wishing to join-in, a simple written explanation of what to do (with pictures, if possible) and an end-to-end run-through of a meeting all helps.'
A hybrid approach – 'Creating pre-recorded sessions with elements of personalisation is an effective way of including people at a pace and time that they are comfortable. And we have also found that the videos are beneficial and watched by a much larger audience.' 
Keeping the group size small – no more than 12 participants. 'We have had a couple of sessions where there have only been four participants and these have turned out to be some of the best we've run, with members really opening up about themselves, their lives and past careers.'
Helping to make getting online accessible – 'Through a Community Makers discussion on the best approach, it was agreed the solution should include personalised, pictorial step-by-step how-to guides – device specific. These guides can then be printed and delivered to people in their homes for them to follow as a manual while learning how to use their device.' This Community Maker has worked with another member of the network and together, they have developed a skeleton 'how-to' guide template for Android tablets to share and disseminate with others who need it.
What is next for Community Makers?
We want Community Makers to be used as widely as possible and we are exploring opportunities for scaling. We believe that resources like the Community Makers Network and the online toolkit will help improve and grow online provision and support many people who want to set up online communities but do not yet have the knowledge or confidence they need to do so.
The pandemic is still gathering pace, and there continues to be a high demand for digital support. We need long-term sustainability of online communities in preparation for future lockdowns, particularly as people affected by dementia are likely to be amongst the first to re-enter isolation if struck by future pandemics. We need to equip people with digital skills and understanding, through existing and trusted relationships. And when finally, face-to-face services are available, we need to remain connected with those who cannot access support in person. We need to accommodate an inclusive hybrid approach to support digital connection and physical meet ups so that all people affected by dementia feel less isolated and are better supported.
How to get in touch
Are you a 'Community Maker' and interested in joining the network and being part of this project?
Are you interested in helping us to scale 'Community Makers'?
Please email us on hello@communitymakers.co
Associated topics
Associated posts
This post was edited on Sep 11, 2020 by Natasha Howard-Murray
Comments (0)
No comments yet, be the first to post one!.