News
Find updates about our projects and the Alzheimer's Society Innovation team right here
Helping dementia carers who serve in the Royal Air Force
Over the past 18 months the Alzheimer's Society Innovation team has worked with the RAF Association to understand and tackle challenges that people in the serving RAF community face when caring for family members with dementia.
Together, we ran an innovation sprint to learn about the topic, investigate the experiences of serving personnel and their relatives, find a range of creative solutions and experiment to test out the most promising ideas.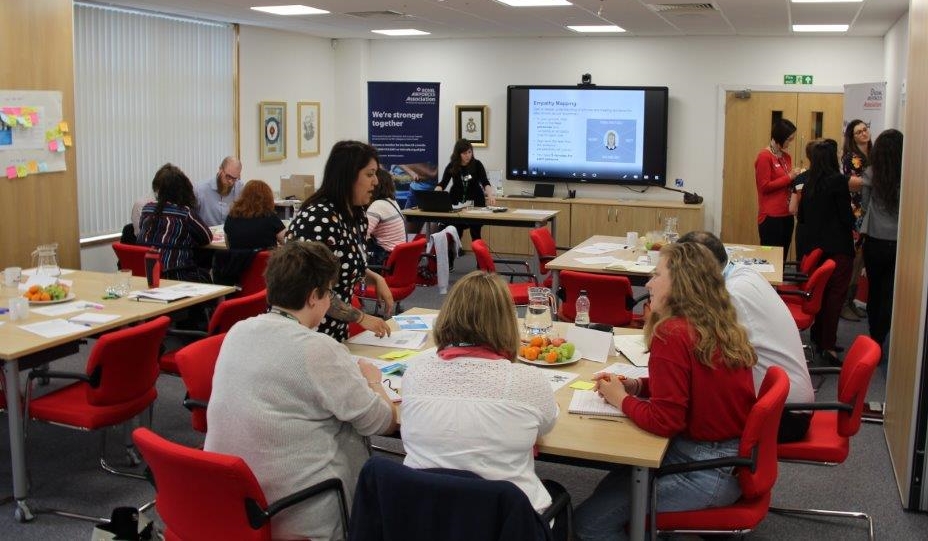 Navigating Dementia
We're delighted that the RAF Association is launching the outcome of this innovation project today. Navigating Dementia provides an online hub created specifically for people in the serving RAF community who are caring for family members with dementia.
It complements the support already provided by the RAF, by linking people with other RAF carers and families affected by dementia, providing a vital knowledge hub and steering people towards further resources and support. The online hub was created with generous pro-bono support from CGI, a leading defence and security software and IT services supplier.
Making a difference to carers and people with dementia
Colin Capper, Head of Research Development and Evaluation at Alzheimer's Society, said, 'We're delighted to see the launch of this new online hub, which will make a huge difference to the dedicated carers of people with dementia in the RAF family. Our Innovation team worked closely with RAFA to tackle the real-life challenges faced by people affected by dementia within their personnel.'
'Getting access to crucial face-to-face support services is difficult for many carers, particularly during the current pandemic which has hit people with dementia hardest. 'Navigating Dementia' is a fantastic example of a practical solution. This online hub will make the world of difference, not just to the carers themselves who may be feeling isolated and struggling to get respite, but to the people with dementia they care for.'
Responding to people's needs
RAF personnel who have caring responsibilities face particular challenges. Frequent relocation and deployment means that many RAF families are caring for a parent with dementia when not living close to them.
Rory O'Connor, Director of Welfare and Policy at the RAF Association said 'We knew from our research and pilot projects that members of the serving RAF community wanted to be able to find relevant information in one place and to link with other people in similar circumstances. So we have created a forum to discuss topics, 'ask the expert' webinars, an events calendar and opportunities to plan self-supporting groups and meet-ups. There are also links to resources and information, regional breakdowns of dementia support, space for people to share their stories and answers to frequently asked questions.'
Increasing support
The drive to improve support for carers of people with dementia, catalysed by this innovation project, is set to grow further over the coming year. The RAF Association has plans to broaden the reach of the online hub to the wider RAF community, supporting veterans as well as serving families.
Later this year, a second phase of the Navigating Dementia project will begin, building on another solution developed through the innovation process. This will being face-to-face training courses for serving RAF personnel and their managers, generously supported by the RAF Association's High Wycombe Branch.
The Alzheimer's Society Innovation team is proud to have played a part in helping the RAF Association achieve its goals of creating new ways to support carers, and we are looking forward to hearing about the continued impact this work will have in the coming months and years.
We need your help
Our Innovation team is only able to support these projects thanks to people's generous donations to Alzheimer's Society. If you find this work valuable and interesting, please help more people find out about it by sharing this blog post on social media, or even support us with a donation.
This post was edited on Jun 17, 2020 by Tim Shakespeare
Comments (0)
No comments yet, be the first to post one!.