News
Find updates about our projects and the Alzheimer's Society Innovation team right here
Community Makers: equipping people with tools to virtually support people affected by dementia
As with anything in innovation, we are working quickly and responding to the changing needs and climate all the time.
In one of our last blogs, we shared that we've been working with the Helix Centre at Imperial College London (also part of the UK Dementia Research Institute Care Research and Technology centre) and Meeting Centres to innovate to help people affected by dementia remain connected and supported whilst in isolation.
At a time when face-to-face support services cannot take place in person, we want to help equip 'Community Makers' (people running groups or wanting to run groups online) with the tools they need to provide specialised, virtual support for people affected by dementia. Not only do we hope this helps people during the current pandemic, but in the long-term, we hope this will provide support to those who do not have or cannot access services and groups in their communities.
Through innovating virtually, we have been gathering insights from experiences of both people affected by dementia and group facilitators, and co-designing together as we want to ensure our solutions are based on their needs.
What are the key milestones we have coming up?
We are bringing together our 'Community Makers' focus group, and they met together for the first time on Friday 29 May. We have been discussing what would be most helpful for people who run services online and explore the current barriers in leading virtual groups and how to overcome these.
They are also feeding back on the solutions we are developing, which includes a web-based resource to help provide ideas, recommendations and guidance for people who are running groups. This may include support around: choosing technology, onboarding, different types of events for different audiences and purposes, online etiquette and good practice, how to include people without digital connection, governance and internet safety and so on. Within this, they will help to develop a community of 'Community Makers' to share insights, ideas and resources amongst each other.
Secondly, the Dementia Research Institute are engaged with a group of people affected by dementia who they are inviting to take part in piloting an 'online community centre'. Whether they are interested in entertainment, arts and culture, physical exercise or looking for support and information, they will be able to join live group sessions and open discussions in the safety of their home through video and messaging functions.
We have our first 'Coffee and ideas session' coming up, which is being facilitated by one of our Alzheimer's Society Research Network volunteers. From this, we'll be able to get an understanding of people's experience of being part of the online community centre and an idea of the type of sessions they would want to join in the following weeks.
Here is a mock-up of what an Online Community Centre may look like: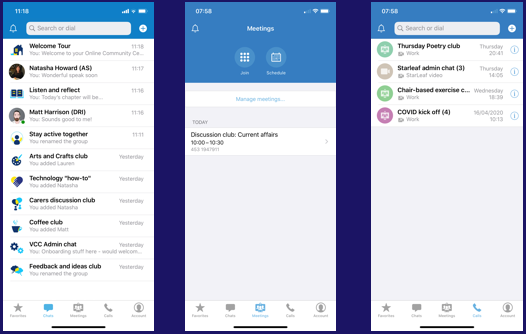 In addition to working together closely with these groups over the next few weeks, we are piloting another online community centre with a new group of people affected by dementia being brought together virtually in Hereford in June (through Meeting Centres). This will all inform our 'Community Makers' solution which is looking to go live for people to visit at the end of July.
We'll keep updating you as this piece of work progresses, and you can read more about this work through Helix's blog on Medium.
Associated topics
Associated posts
This post was edited on Jun 2, 2020 by Tim Shakespeare
Comments (0)
No comments yet, be the first to post one!.