News
Find updates about our projects and the Alzheimer's Society Innovation team right here
Breaking the taboos around sex, intimacy, and relationships: Lift the Lid wins 2019 Service Design Award
'We started a conversation about something that we were told is just not talked about, but we and many others have been talking about it ever since. We hope that sex, intimacy and relationships will no longer be seen only as a problem or a behaviour that needs to be "managed", but as a human right to be respected and supported.' (Beverley Page-Banks, former Innovation Team member)
In 2018, the Innovation Team embarked on a challenge with Good Innovation to help understand the experiences of people with dementia, their families, and staff in relation to sex, intimacy and relationships, and develop and test an effective solution to reach the unmet needs.
Together with people affected by dementia and other health and social care professionals, we developed Lift the Lid: a 'workshop in a box' for care homes to run their own sessions to help embed and create a new internal culture around sex, intimacy and relationships.
In October 2019, we received an international Service Design Award. We would like to thank everyone involved in the development of Lift the Lid, including the people affected by dementia involved, and the care homes who helped to test Lift the Lid (Bupa, Four Seasons, and St John's Trust).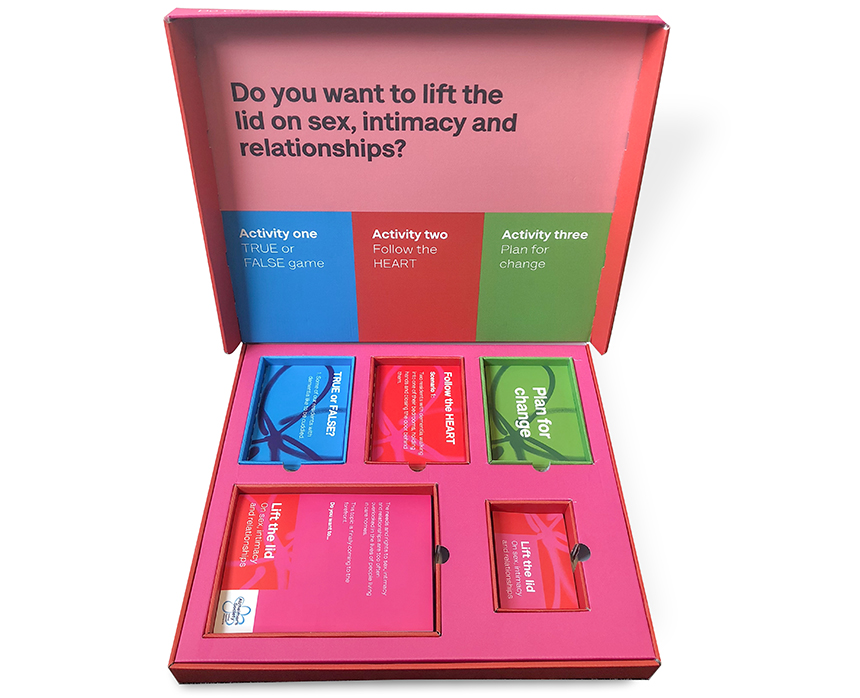 Why the topic of: sex, intimacy, and relationships?
Traditionally, going into a care home is about focussing on the health care needs of a person, but in doing so, other personal and less visible needs, including sex, intimacy and relationships (such as holding hands, having a cuddle, sharing a bed) may become unmet.
Some care staff had said they had never considered residents' sex, intimacy and relationship needs at all. Others said they didn't know how to broach the topic and were concerned about issues of consent or lacked clear guidance.
We learnt from speaking to care home staff that they wanted to get this right but didn't know where to start.
What is Lift the Lid?
We worked with care homes to create a 'workshop in a box' to challenge staff perceptions and behaviours through three creative activities.
The pack provides everything needed for care homes to run their own session(s) and can be delivered over two to three hours either at once or in individual modules and includes:
challenge perceptions around sex, intimate relationships and people affected by dementia
provide a framework for respectful management of in-the-moment situations
help align on a shared set of values and actions for your care home.             
'Lift the Lid normalises a conversation that is needed but kept hidden. The activities give staff the understanding, ability and confidence to respond in an appropriate and respectful manner, and to not react out of embarrassment and fear,' she says. 'It will help us to provide dignified care.' (Care Home Unit Manager).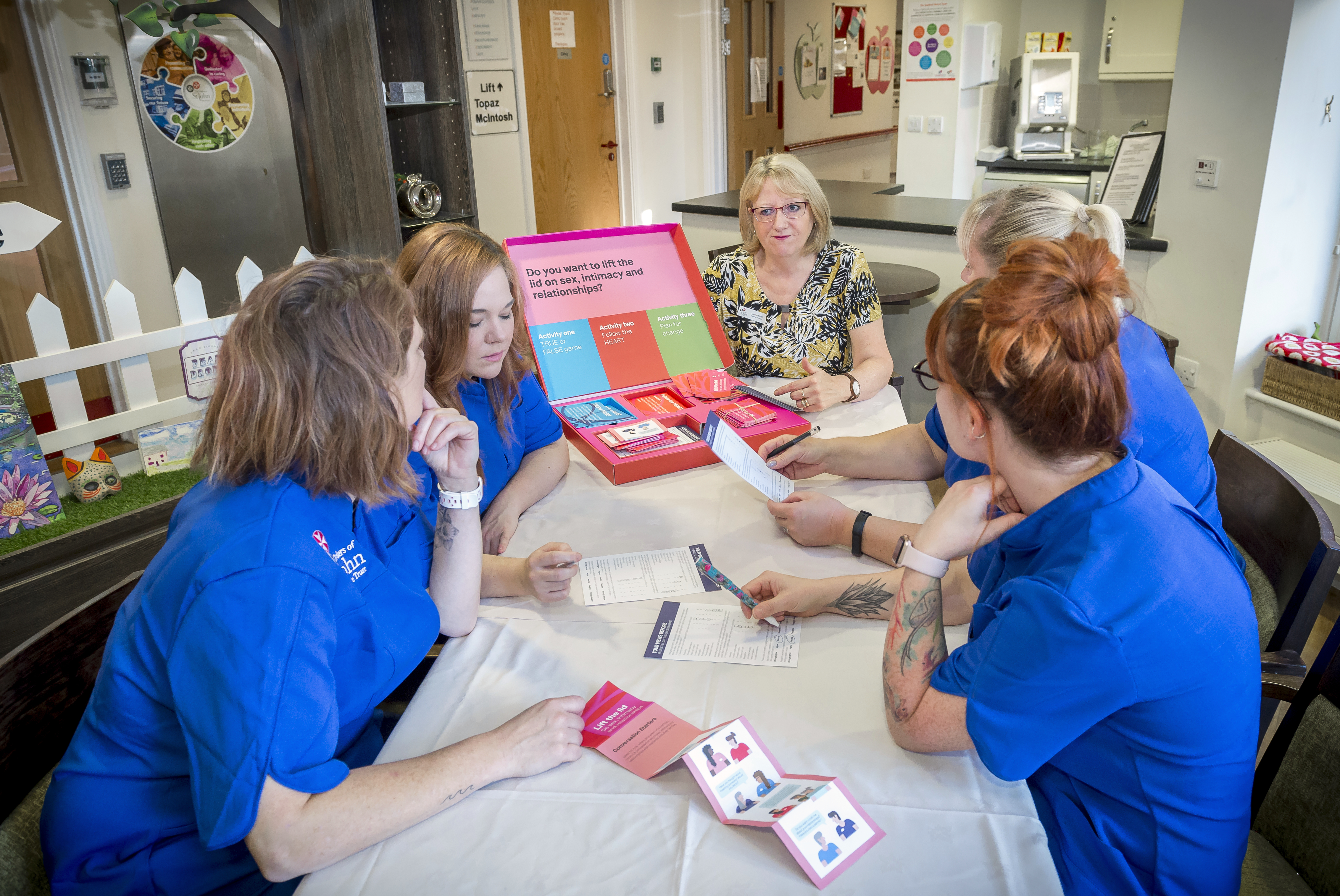 What's next for Lift the Lid?
We launched Lift the Lid in November 2018 at the National Dementia Congress in Brighton where it became available on Alzheimer's Society's Online Shop.
Since then we have received orders for over 190 units, the majority of which have been delivered to care homes across the UK and even in Australia! Based on the care home orders we have received so far; we have established that Lift the Lid has a potential reach into 682 care homes across all of the care groups who have already purchased it! Some of our other orders have gone to specialist memory services, NHS teams, community care providers, councils and universities.
We recently co-presented Lift the Lid at the National Dementia Congress on Thursday 7 November with Jenny Davies, Head of Care and Nursing at Sunrise Senior Living and Gracewell Healthcare. At present, Sunrise Senior Living and Gracewell Healthcare have tested Lift the Lid across their homes in the South West, with positive feedback and a noticeable impact highlighting cases, which needed further support. They now plan to roll out Lift the Lid across the remainder of their 46 care homes from December onwards!
We would really value feedback from people who have 'Lifted the Lid' on our workshop in a box, so that we can understand more about the impact of Lift the Lid on you as an individual, your organisation, possibly others you work with and people affected by dementia. We are also interested to hear about whether there are plans to roll Lift the Lid out further within your workplace.
Feel free to share your experience of Lift the Lid by emailing the Innovation Team at innovation@alzheimers.org.uk. We really would love to hear from you!
Further information
Please note: We would never encourage care homes to adopt blanket tactics around sex and intimacy, or to do anything that would put residents or staff at risk. Instead, Lift the Lid helps care home staff to create their own policies based on individual need and consent.
Find out more about the development of Lift the Lid.
It is available to purchase from Alzheimer's Society's Online Shop.


This post was edited on Nov 13, 2019 by Simon Lord
Comments (1)
Many Congratulations to all involved in the achievement of this award. So pleased and proud to see Lift the lid ... making a positive difference.