News
Find updates about our projects and the Alzheimer's Society Innovation team right here

Calling all Innovation Hub users - we need your nominations!
The Dementia Hero Awards 2021, sponsored by Tunstall Healthcare, will showcase the stories of people doing outstanding things during the pandemic – our dementia heroes.
The awards will recognise the inspirational achievements of those individuals, groups and organisations who care for people with dementia, those finding innovative solutions in research, and the campaigners & media fighting for the rights of people with dementia.
There are 10 award categories, such as excellence in dementia care, influencing change, inclusive businesses and our fundraising heroes, but we're here to ask you for your nominations for one category in particular - innovation.
The Dementia Hero for Innovation award  recognises individuals or groups who have developed a new product, project or service for people affected by dementia.
The Innovation team at Alzheimer's Society focuses on developing new solutions to the day-to-day challenges of people affected by dementia through our sprint projects and our Accelerator Programme. We find innovative ways to overcome barriers to living well and we seek out and invest in the best new ideas of innovators and entrepreneurs.
But we know the work being done by our team is just the tip of the iceberg and there are an army of innovation heroes working to develop new products, initiatives and interventions that can help make it easier to live with or care for someone living with dementia.
It couldn't be easier to enter, nominate yourself or someone who has inspired you for a Dementia Hero Award. Visit alzheimers.org.uk/dementiaheroawards, nominations close on Friday 5 March 2021. 

In this blog Jon Wingrave, who manages Alzheimer's Society's online shop, explains how they reach out for feedback on their products to help decide which products to sell and guide the advice they offer.
Combating isolation during the coronavirus pandemic
The responses to our Innovation Hub and much of the feedback that Alzheimer's Society has been getting through our Dementia support line, Talking Point online forum and our new Companion calls have demonstrated that people living with dementia are feeling increasingly isolated and frustrated as a result of the effects of the coronavirus pandemic.
Alzheimer's Society's online shop has seen a marked increase in sales of our range of daily living aids that help people with dementia and their carers to be more comfortable in their homes and support independence and safety. These include reminder clocks to keep track of time, easy to use telephones to stay in touch, specially designed crockery to help with eating and drinking and products to help with washing and keeping hydrated.
Not surprisingly it is the products that help to combat isolation that have been the bestsellers such as our range of simple music players and dementia friendly games and activities designed especially for people living with dementia. Particularly popular are aquapaints that allow the user to create colourful images using only water and a brush, colouring books, traditional games such as Snake and Ladders and our fantastic range of jigsaws that also help stimulate memories and conversation.
Informed by people with lived experience
We take our products out to Dementia Voice Groups of people living with dementia and their carers to test and evaluate. This gives us a fantastic opportunity to experience the products being used first hand, ask questions and get invaluable feedback on all aspects of the product from packaging and product design to set up, instructions, how it works and crucially whether people think the product is something they would want to buy and if it's value for money.
The feedback helps us decide which products to stock and helps shape the information, advice and guidance offered to customers through our online shop and Daily living aids catalogue where we often include these reviews alongside pictures of people using the products.
The feedback forms the basis of a regular consumer panel article in Dementia together magazine, which shows readers a range of helpful products and shares the valuable insights of people affected by dementia that might help them decide if a product is suitable for them or their loved ones.
Recently we've covered specially designed menswear and popular items designed to help with day-to-day challenges. We also feedback to the product designers, manufacturers and suppliers and many have responded positively by making improvements to the products, instructions and packaging as a result of feedback received.
Increasingly we are encouraging product designers and manufacturers to share their ideas and prototypes so that people living with dementia are able to input into the earlier stages of product development and Alzheimer's Society has begun to working partnership to improve and develop new products.
The coronavirus has been a challenge to our evaluation process as our review panels were unable to meet up as usual but we have worked with our Dementia Voice team to arrange for products to be delivered and tried out at home and we have our first Zoom panel coming up to discuss a range of games and activities we sent to people to have a go with. The feedback from the home testing and Zoom panel will feature in an article in the next issue of Dementia together magazine.
Share your ideas
We're always looking at ways to improve our product evaluation process and would like to get more people affected by dementia involved in this process. We'd like to get your thoughts on how we could do this and hear from people who would like to be involved. Please email trading@alzheimers.org.uk.
Importantly, 100% of profits from our shop help support Alzheimer's Society's vital work supporting people affected by dementia, so please visit our shop if you're interested in any of our living aids and activity ideas.

'We started a conversation about something that we were told is just not talked about, but we and many others have been talking about it ever since. We hope that sex, intimacy and relationships will no longer be seen only as a problem or a behaviour that needs to be "managed", but as a human right to be respected and supported.' (Beverley Page-Banks, former Innovation Team member)
In 2018, the Innovation Team embarked on a challenge with Good Innovation to help understand the experiences of people with dementia, their families, and staff in relation to sex, intimacy and relationships, and develop and test an effective solution to reach the unmet needs.
Together with people affected by dementia and other health and social care professionals, we developed Lift the Lid: a 'workshop in a box' for care homes to run their own sessions to help embed and create a new internal culture around sex, intimacy and relationships.
In October 2019, we received an international Service Design Award. We would like to thank everyone involved in the development of Lift the Lid, including the people affected by dementia involved, and the care homes who helped to test Lift the Lid (Bupa, Four Seasons, and St John's Trust).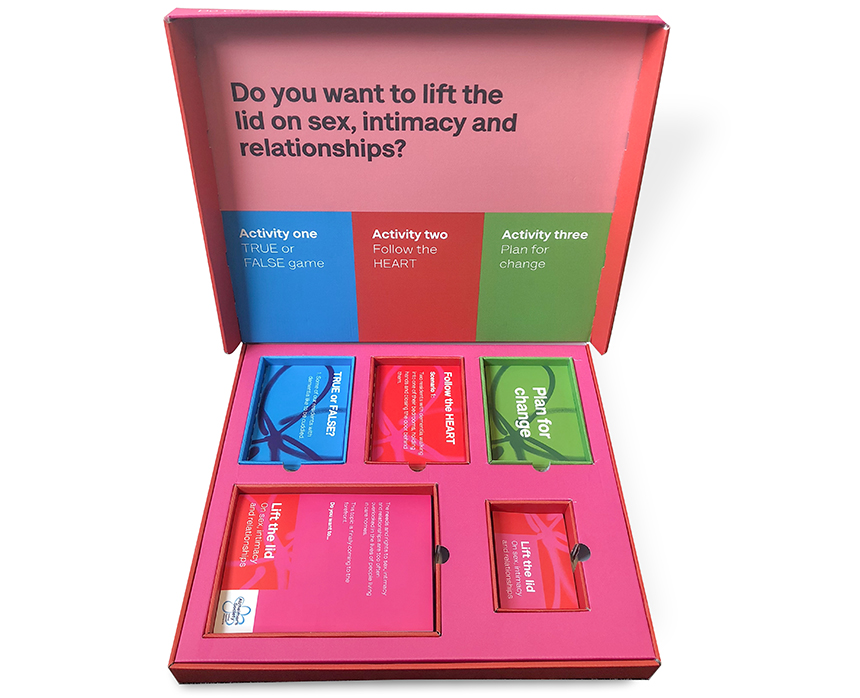 Why the topic of: sex, intimacy, and relationships?
Traditionally, going into a care home is about focussing on the health care needs of a person, but in doing so, other personal and less visible needs, including sex, intimacy and relationships (such as holding hands, having a cuddle, sharing a bed) may become unmet.
Some care staff had said they had never considered residents' sex, intimacy and relationship needs at all. Others said they didn't know how to broach the topic and were concerned about issues of consent or lacked clear guidance.
We learnt from speaking to care home staff that they wanted to get this right but didn't know where to start.
What is Lift the Lid?
We worked with care homes to create a 'workshop in a box' to challenge staff perceptions and behaviours through three creative activities.
The pack provides everything needed for care homes to run their own session(s) and can be delivered over two to three hours either at once or in individual modules and includes:
challenge perceptions around sex, intimate relationships and people affected by dementia
provide a framework for respectful management of in-the-moment situations
help align on a shared set of values and actions for your care home.             
'Lift the Lid normalises a conversation that is needed but kept hidden. The activities give staff the understanding, ability and confidence to respond in an appropriate and respectful manner, and to not react out of embarrassment and fear,' she says. 'It will help us to provide dignified care.' (Care Home Unit Manager).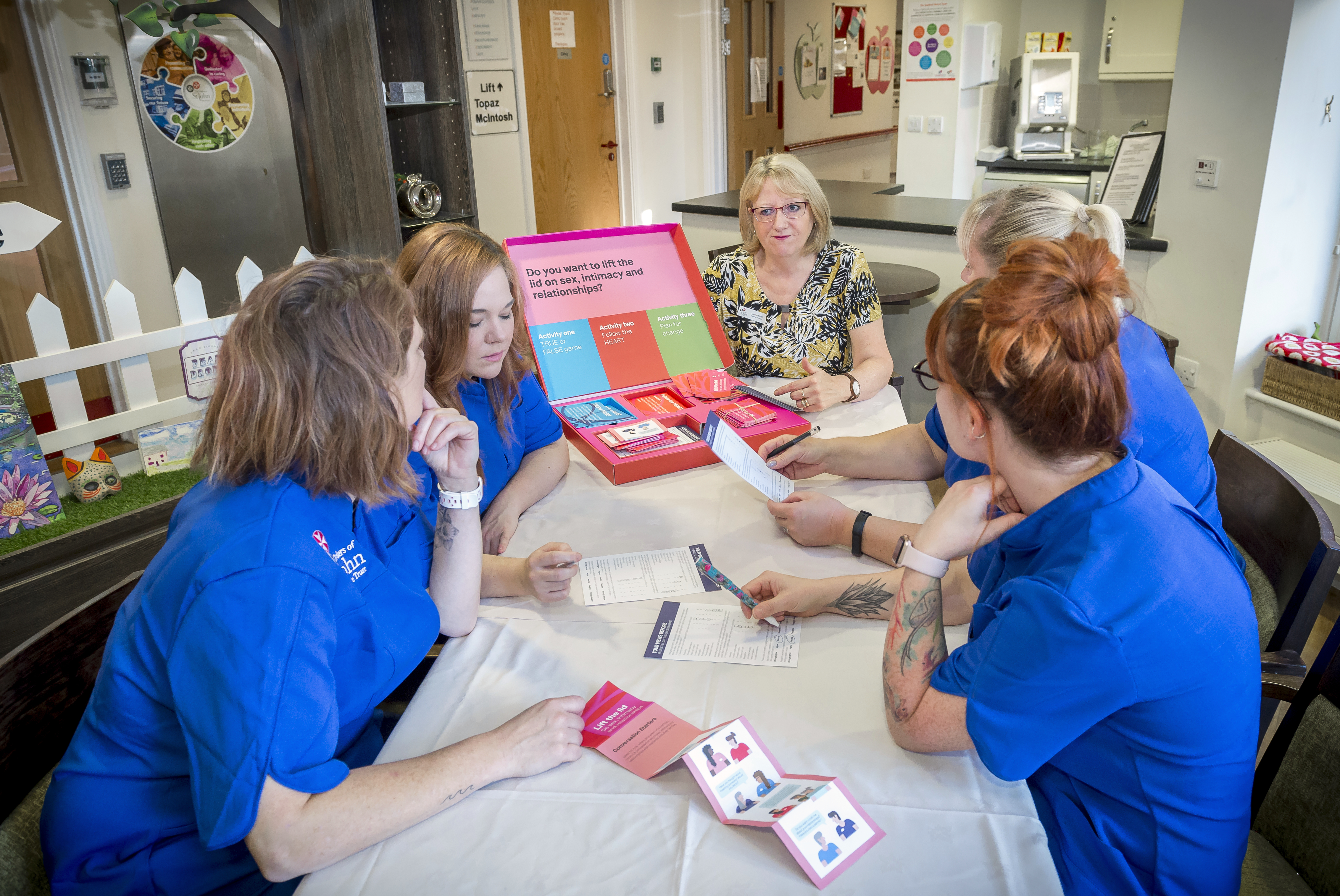 What's next for Lift the Lid?
We launched Lift the Lid in November 2018 at the National Dementia Congress in Brighton where it became available on Alzheimer's Society's Online Shop.
Since then we have received orders for over 190 units, the majority of which have been delivered to care homes across the UK and even in Australia! Based on the care home orders we have received so far; we have established that Lift the Lid has a potential reach into 682 care homes across all of the care groups who have already purchased it! Some of our other orders have gone to specialist memory services, NHS teams, community care providers, councils and universities.
We recently co-presented Lift the Lid at the National Dementia Congress on Thursday 7 November with Jenny Davies, Head of Care and Nursing at Sunrise Senior Living and Gracewell Healthcare. At present, Sunrise Senior Living and Gracewell Healthcare have tested Lift the Lid across their homes in the South West, with positive feedback and a noticeable impact highlighting cases, which needed further support. They now plan to roll out Lift the Lid across the remainder of their 46 care homes from December onwards!
We would really value feedback from people who have 'Lifted the Lid' on our workshop in a box, so that we can understand more about the impact of Lift the Lid on you as an individual, your organisation, possibly others you work with and people affected by dementia. We are also interested to hear about whether there are plans to roll Lift the Lid out further within your workplace.
Feel free to share your experience of Lift the Lid by emailing the Innovation Team at innovation@alzheimers.org.uk. We really would love to hear from you!
Further information
Please note: We would never encourage care homes to adopt blanket tactics around sex and intimacy, or to do anything that would put residents or staff at risk. Instead, Lift the Lid helps care home staff to create their own policies based on individual need and consent.
Find out more about the development of Lift the Lid.
It is available to purchase from Alzheimer's Society's Online Shop.



Thank you so much for visiting the Alzheimer's Society Innovation Hub!
We know that life with dementia can come with big challenges. We believe innovation can support people to live well with dementia by taking on these challenges.
Through our Innovation Hub you can share with us the challenges you are facing - whether you are living with dementia, taking care of someone or have just seen something you believe could be improved to help people live well with dementia.
By sharing the challenges people living with and affected by dementia face, our team can focus on the big issues and innovate to find solutions that can change lives. 
Don't have a challenge for us to work on right now? Check out those submitted by other users, vote on the big issues, ask questions and comment. The more people with an experience of dementia we hear from, the better.
We will also continue to keep you updated with the work the Innovation Team is doing and ask for your feedback on solutions we develop to the challenges we take on.
Anyone can join the Innovation Hub so if you know someone who could share their expertise, whether that is experience of dementia or as an innovator who might help us with solutions, please share this link with them: https://innovationhub.alzheimers.org.uk 
Get signed up and start contributing today!

The Alzheimer's Society Innovation Hub, formerly known as Brainwave, is back in business after our trials of the platform earlier in the year.
With 400+ staff and volunteers already on here we know we are starting from a place of strength and over the next few weeks we'll be showing you what has happened so far based on your challenges, ideas, comments and votes.
Right now you can catch up on our Hospitals project, the first sprint project the team has taken on based on the submissions of users of the Hub. We're hugely excited about this project and have thrown ourselves into it in the last couple of months so find out where we're up to and what is coming next!
In the next few days we will let you know how our Accelerator Progamme partners, Jelly Drops and How Do I? are getting on, so keep an eye out for those posts and follow their progress as they continue to work towards launching their products.
Some of you participated in our Spark Challenge (thank you!) – voting on which of the submissions to the Design Council's Spark programme should receive Society funding to improve the quality of life for people affected by dementia. We'll bring you an update from Hemal Dias, inventor of the winning submission, the Smart Spoon, an affordable stabilising spoon for people with a hand tremor, and let you know what how he's getting on with his invention.
In the coming weeks we will continue to shower you with innovation goodness. We will have updates on our RAFA project, for which you helped us pick the ideas to focus on, and the latest on our GPs project, where we are looking to ensure GPs have the tools required to effectively signpost people at all stages of a dementia journey to effective services. We'll tell you more about our LGBT+ project, Bring Dementia Out and how it is being taken forward by partner organisations over the next few months. Finally, we'll focus on the products we have already taken to market, Lift the Lid: a workshop in a box around sex and intimacy in care homes, and the Fidget Widget Toolkit, a series of wooden tools that can help to relax or calm an individual with moderate to advanced dementia.
And most excitingly, on Tuesday 8th October, the Innovation Hub will launch externally, bringing onboard people affected by dementia, innovators, inventors and anyone else that has an interest in steering the work of our team and keeping up to date with the latest around innovation and dementia.
Once we go live externally we will once again be working out what sprint project to take on next. We will be asking you to submit your biggest challenges, and to vote on those of others until we have a winner, which we expect to announce at the end of October and start working on immediately in November.
It's going to be a busy few weeks so stay tuned, invite others to sign up and from 8th October share the address: innovationhub@alzheimers.org.uk as widely as you can in your networks.