News
Find updates about our projects and the Alzheimer's Society Innovation team right here
Categories

Over the past 18 months the Alzheimer's Society Innovation team has worked with the RAF Association to understand and tackle challenges that people in the serving RAF community face when caring for family members with dementia.
Together, we ran an innovation sprint to learn about the topic, investigate the experiences of serving personnel and their relatives, find a range of creative solutions and experiment to test out the most promising ideas.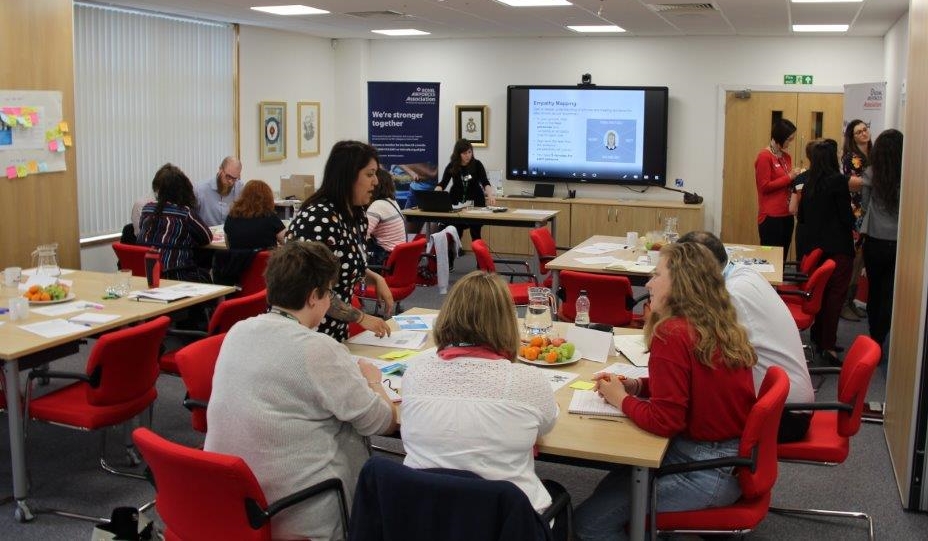 Navigating Dementia
We're delighted that the RAF Association is launching the outcome of this innovation project today. Navigating Dementia provides an online hub created specifically for people in the serving RAF community who are caring for family members with dementia.
It complements the support already provided by the RAF, by linking people with other RAF carers and families affected by dementia, providing a vital knowledge hub and steering people towards further resources and support. The online hub was created with generous pro-bono support from CGI, a leading defence and security software and IT services supplier.
Making a difference to carers and people with dementia
Colin Capper, Head of Research Development and Evaluation at Alzheimer's Society, said, 'We're delighted to see the launch of this new online hub, which will make a huge difference to the dedicated carers of people with dementia in the RAF family. Our Innovation team worked closely with RAFA to tackle the real-life challenges faced by people affected by dementia within their personnel.'
'Getting access to crucial face-to-face support services is difficult for many carers, particularly during the current pandemic which has hit people with dementia hardest. 'Navigating Dementia' is a fantastic example of a practical solution. This online hub will make the world of difference, not just to the carers themselves who may be feeling isolated and struggling to get respite, but to the people with dementia they care for.'
Responding to people's needs
RAF personnel who have caring responsibilities face particular challenges. Frequent relocation and deployment means that many RAF families are caring for a parent with dementia when not living close to them.
Rory O'Connor, Director of Welfare and Policy at the RAF Association said 'We knew from our research and pilot projects that members of the serving RAF community wanted to be able to find relevant information in one place and to link with other people in similar circumstances. So we have created a forum to discuss topics, 'ask the expert' webinars, an events calendar and opportunities to plan self-supporting groups and meet-ups. There are also links to resources and information, regional breakdowns of dementia support, space for people to share their stories and answers to frequently asked questions.'
Increasing support
The drive to improve support for carers of people with dementia, catalysed by this innovation project, is set to grow further over the coming year. The RAF Association has plans to broaden the reach of the online hub to the wider RAF community, supporting veterans as well as serving families.
Later this year, a second phase of the Navigating Dementia project will begin, building on another solution developed through the innovation process. This will being face-to-face training courses for serving RAF personnel and their managers, generously supported by the RAF Association's High Wycombe Branch.
The Alzheimer's Society Innovation team is proud to have played a part in helping the RAF Association achieve its goals of creating new ways to support carers, and we are looking forward to hearing about the continued impact this work will have in the coming months and years.
We need your help
Our Innovation team is only able to support these projects thanks to people's generous donations to Alzheimer's Society. If you find this work valuable and interesting, please help more people find out about it by sharing this blog post on social media, or even support us with a donation.

As with anything in innovation, we are working quickly and responding to the changing needs and climate all the time.
In one of our last blogs, we shared that we've been working with the Helix Centre at Imperial College London (also part of the UK Dementia Research Institute Care Research and Technology centre) and Meeting Centres to innovate to help people affected by dementia remain connected and supported whilst in isolation.
At a time when face-to-face support services cannot take place in person, we want to help equip 'Community Makers' (people running groups or wanting to run groups online) with the tools they need to provide specialised, virtual support for people affected by dementia. Not only do we hope this helps people during the current pandemic, but in the long-term, we hope this will provide support to those who do not have or cannot access services and groups in their communities.
Through innovating virtually, we have been gathering insights from experiences of both people affected by dementia and group facilitators, and co-designing together as we want to ensure our solutions are based on their needs.
What are the key milestones we have coming up?
We are bringing together our 'Community Makers' focus group, and they met together for the first time on Friday 29 May. We have been discussing what would be most helpful for people who run services online and explore the current barriers in leading virtual groups and how to overcome these.
They are also feeding back on the solutions we are developing, which includes a web-based resource to help provide ideas, recommendations and guidance for people who are running groups. This may include support around: choosing technology, onboarding, different types of events for different audiences and purposes, online etiquette and good practice, how to include people without digital connection, governance and internet safety and so on. Within this, they will help to develop a community of 'Community Makers' to share insights, ideas and resources amongst each other.
Secondly, the Dementia Research Institute are engaged with a group of people affected by dementia who they are inviting to take part in piloting an 'online community centre'. Whether they are interested in entertainment, arts and culture, physical exercise or looking for support and information, they will be able to join live group sessions and open discussions in the safety of their home through video and messaging functions.
We have our first 'Coffee and ideas session' coming up, which is being facilitated by one of our Alzheimer's Society Research Network volunteers. From this, we'll be able to get an understanding of people's experience of being part of the online community centre and an idea of the type of sessions they would want to join in the following weeks.
Here is a mock-up of what an Online Community Centre may look like: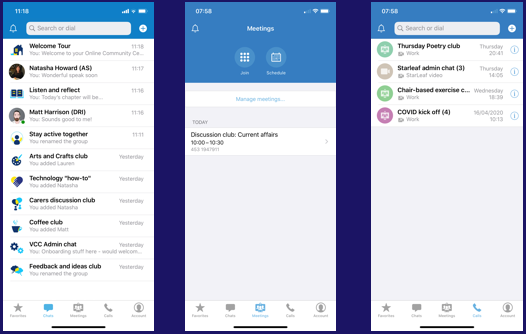 In addition to working together closely with these groups over the next few weeks, we are piloting another online community centre with a new group of people affected by dementia being brought together virtually in Hereford in June (through Meeting Centres). This will all inform our 'Community Makers' solution which is looking to go live for people to visit at the end of July.
We'll keep updating you as this piece of work progresses, and you can read more about this work through Helix's blog on Medium.

We have had a fantastic response to our emergency COVID-19 activity on the Hub with people sharing their experiences in the current crisis and their ideas for innovations which could overcome their challenges. A theme which has come out strongly is how social isolation is impacting people affected by dementia in the community.
Through the Hub, we were approached by the Helix Centre at Imperial College London (also part of the UK Dementia Research Institute Care Research and Technology centre)  who have risen to the challenge. Together, we are working to support networks and communities to get online and create meaningful connections through "virtual community centres". 
The concept of this 'virtual community centre' is an online meeting place where people affected by dementia can come together to take part in a programme of interactive events and discussions through technology with video-conferencing capabilities and messaging functionality. We are currently evaluating existing platforms to assess their accessibility, as a simple and intuitive interface is required. Different means of communication in addition to video is preferable to allow for varying degrees of interaction. Sessions and discussions could include an art class, music, physical exercise groups, peer support for carers, and informative discussions about dementia.
Our aim is to work alongside existing networks and recreate, online, the core functions of dementia services and groups which are usually delivered face-to-face. We also hope to bridge the gap between digitally connected and unconnected members by incorporating offline activities and a potential buddy scheme.
The team is working at pace to build and test this concept. We are co-designing it with people affected by dementia and also group leads from existing services. By listening to their experiences, we can ensure the virtual community centre meets people's needs appropriately and effectively. We've already had various conversations and virtual workshops to understand current gaps, what has been working well, and what needs improving. Over the next week or so, people affected by dementia and group leads will be trying out the technology and a programme of initial sessions pulled together from the feedback received so far.
We are excited to be working together on this and will keep you updated as it progresses!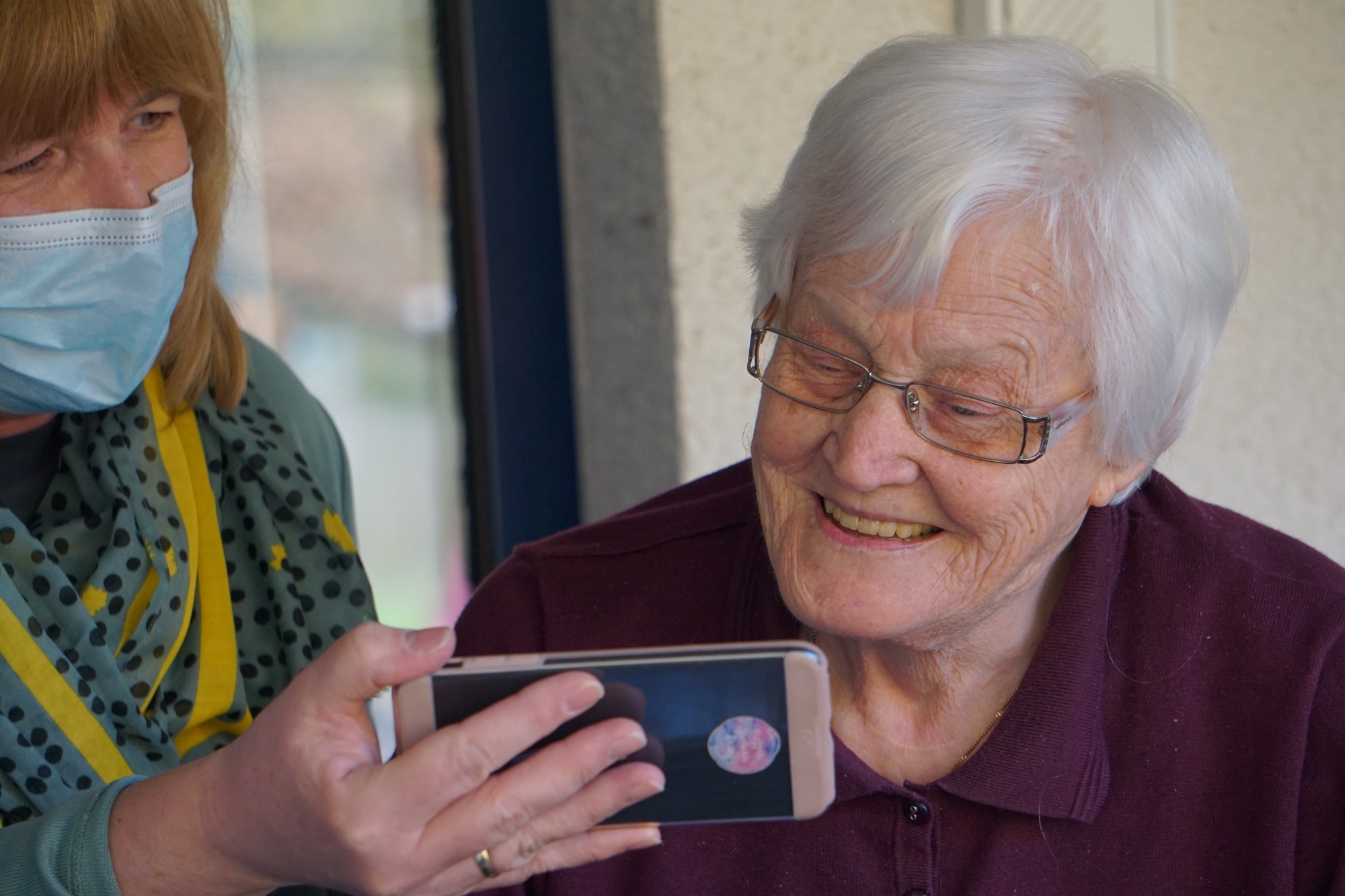 Load more