News
Find updates about our projects and the Alzheimer's Society Innovation team right here
Categories

A month ago, we would never have guessed we would be building solutions to support people affected by dementia through a pandemic, yet that is where we find ourselves.
The spread of coronavirus has changed all our lives, but the impact has been felt particularly strongly by those affected by dementia, many of whom were already vulnerable and isolated. At Alzheimer's Society we're doing all we can to focus our resources on supporting those who need us through welfare calls, online information and influencing relevant organisations.
As innovators, our team have been keeping a close eye on the way both Alzheimer's Society and wider society has adapted to deal with the situation.
We all must adapt and find new ways of doing things. This is what innovation is all about.    
We have had to change how we work as a team, pausing some projects in order to focus on coronavirus, and finding new ways to do things online. This week, we brought together 16 people for a virtual ideas workshop to come up with potential solutions to address continence issues. Normally we would hold this in a room with tables, flipcharts, and plenty of post-it notes, so the online format was a first for us.
More widely, we've been inspired by the speed  and creativity with which communities have rallied together. From mutual aid groups to clapping for key workers and spreading hope with rainbows in windows. 
As always, we want our response to the crisis to be grounded in what people affected by dementia want and need so we can create an effective solution, together.
Visit the activity page and share the challenges that you are facing now, as well as your concerns for the future. Comment on other people's posts. Vote to show what matters to you. Share any opportunities you know of for us to collaborate with other organisations to produce solutions which work.
          Let's take on coronavirus together!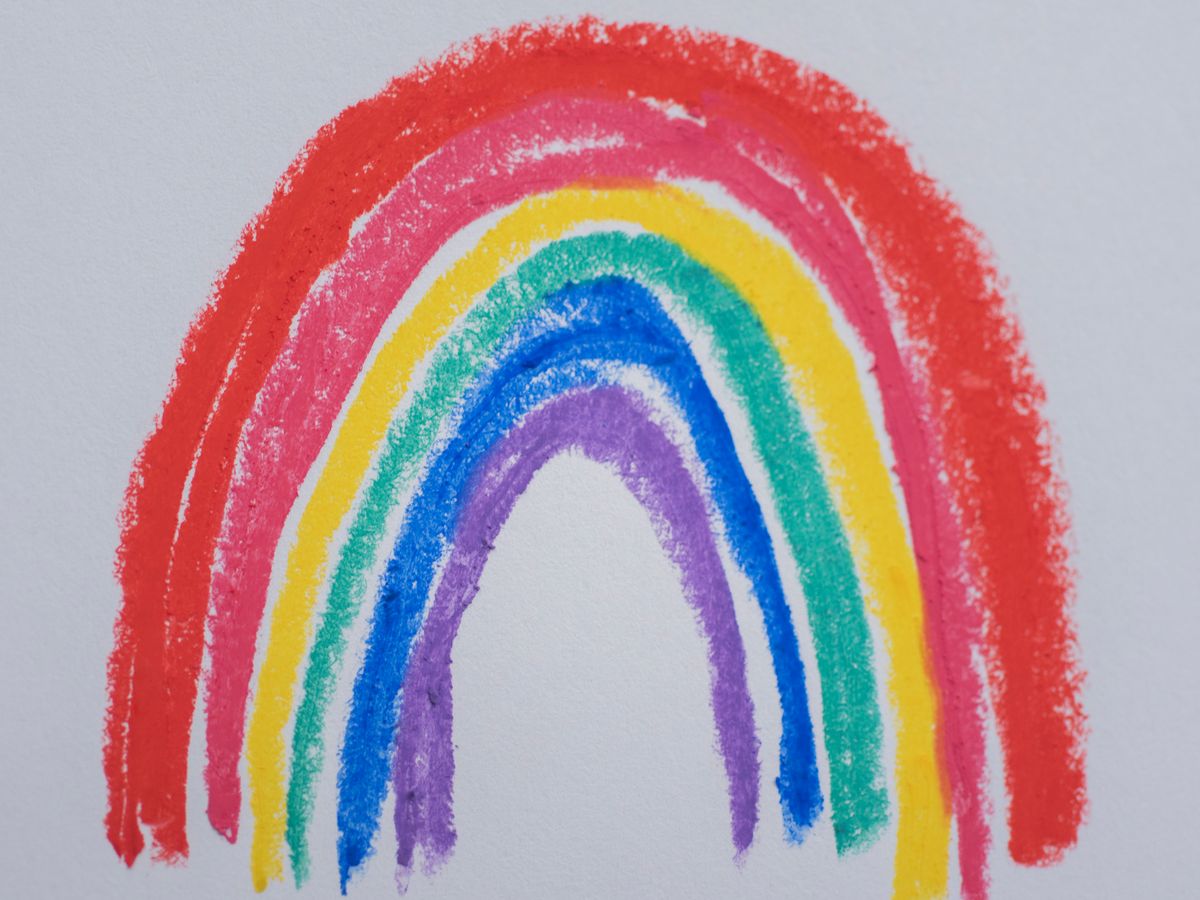 Our Innovation team supported two projects through our Accelerator programme last year. You may remember reading about one of these in our guest blog back in September on the mobile video support tool, 'Refresh', by How Do I?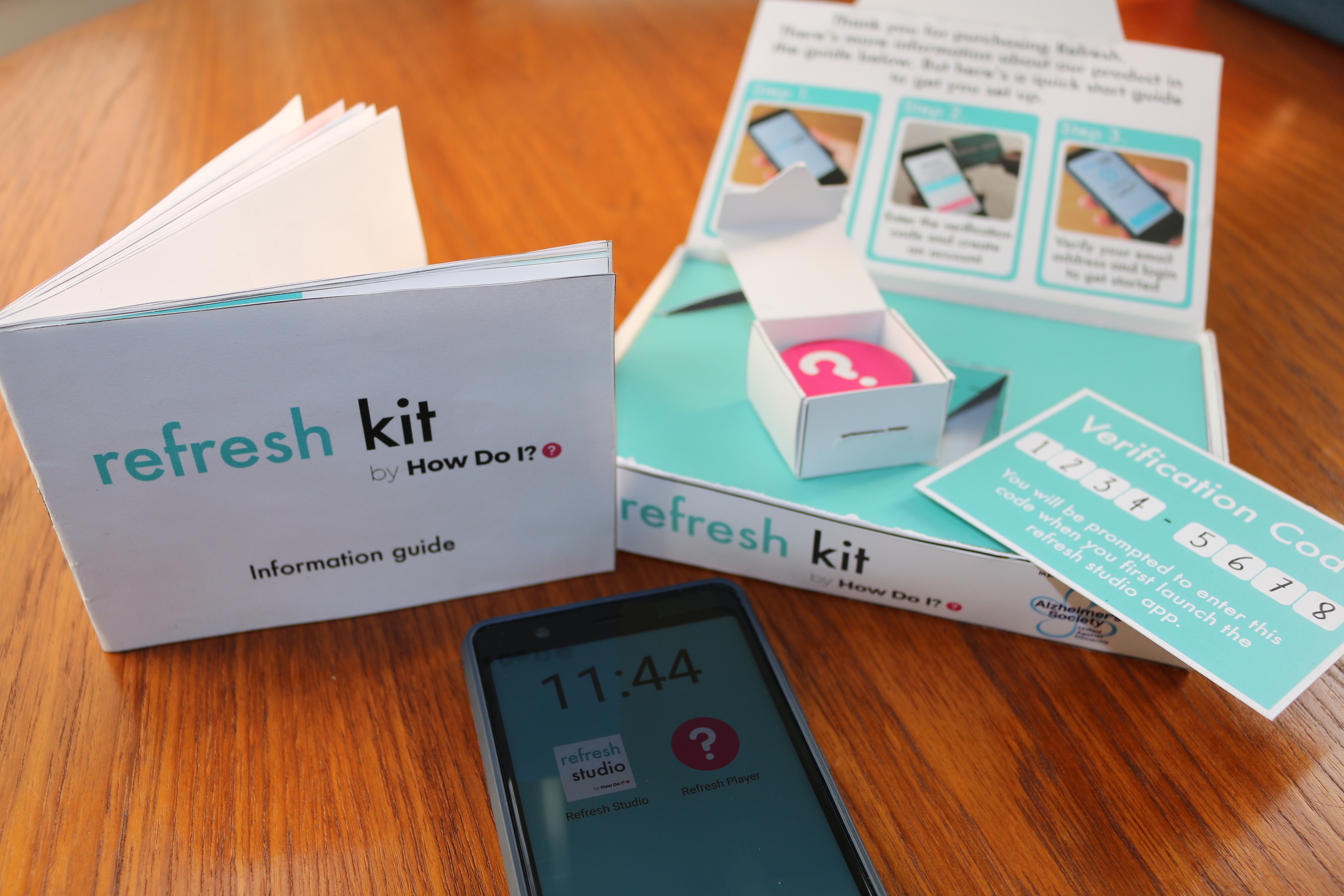 Let's find out a bit more from Taryl Law (from How Do I?) about the development of Refresh over the last few months, through their valuable work with the Refresh Test and Learn Group.
What is 'Refresh'?
As a reminder, How Do I? is an assistive technology company that want to help people with dementia live independently at home for longer. They have developed 'Refresh', which is a mobile video support tool that can link helpful personalised videos to objects in the home. 
What has happened over the last few months?: Refresh Test and Learn Group
After some initial development of Refresh with people affected by dementia, 17 pairs of people (one person with dementia and a carer, partner or friend) signed up to take part in the Refresh Test and Learn Group: an at-home beta testing programme to help in the development of the mobile video support tool. Recruitment was open to people affected by dementia across the entirety of the UK. Seven pairs maintained engagement with the testing team over four months, up to the completion of the final feedback session.
This involved the Refresh product being posted to the homes of the members of the group, with some receiving loaned Android phones to test the technology. Some members received the product and demo phones through an in-person session at a location of their choosing, and these members were observed opening the packaging and setting up their Refresh account.
Throughout the duration of the group, a single dedicated member of the How Do I? team was in touch with participants for gathering feedback and troubleshooting. Testers responded well to this and often proactively contacted the team by email, phone or text when they ran into difficulty. Testing, troubleshooting and providing feedback was most frequently done over the phone, with the occasional set of questions answered over email or in-person. The feedback was gathered three times: the first session focused on the packaging and onboarding process, the second on the apps themselves, and the final session helped us to understand the attitudes and opinions of the members of the group after having used Refresh.
The How Do I? team are still analysing the data from the group in order to provide a full picture of findings from the testing. You can find out more detail about what the Test and Learn group did and further information on the key findings and learning in our downloadable document shared below.
In summary, some key findings emerged quite consistently and clearly across the group. These included:
More information and guidance could be provided on planning videos and testing out the technology.
Time invested in user experience testing is time well spent – most found the 'user experience' and design accessible.
The benefits of using the app outweighed the time and effort to get it set up.
Some found that taking part in the group increased their confidence in trying out new technology.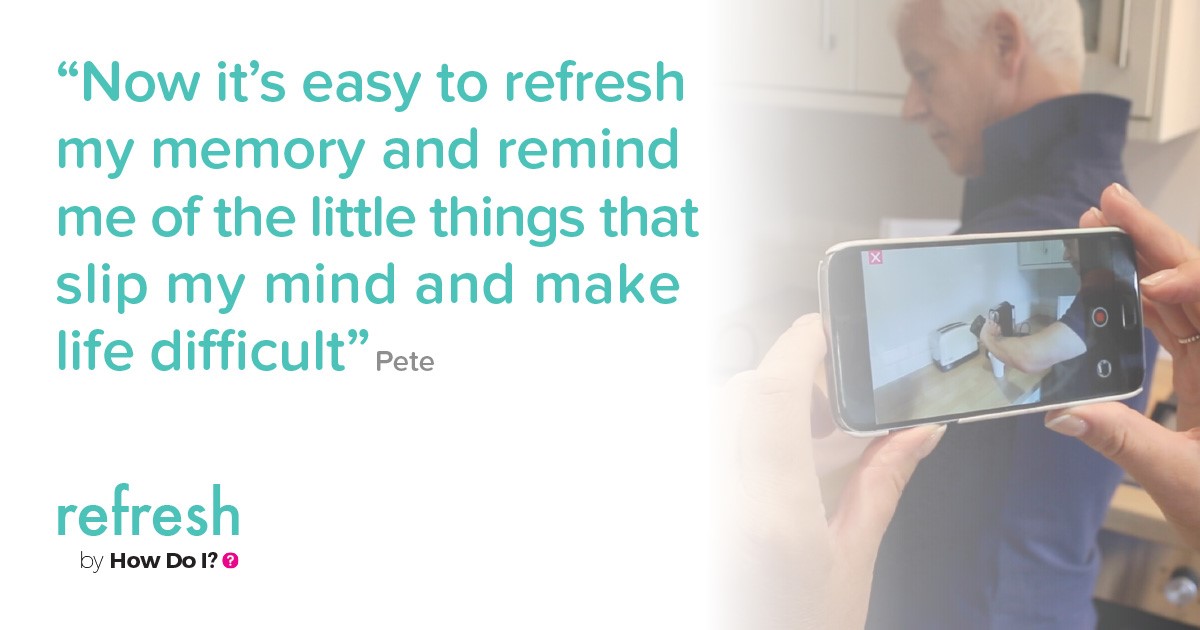 Key learning to takeaway
The How Do I? team have learnt a lot over the last 12 months, but particularly from the Refresh Test and Learn group. The three pieces of learning include:
Make no assumptions about who is and isn't open to using technology to improve their everyday lives: It is exciting that there is a large and vocal community of people living with dementia on social media. Through their engagement on platforms like Twitter and Facebook, they are able to educate the public, express their views and make connections with others in the dementia community. In addition, many people living with dementia today have had long and celebrated careers in technology. Alongside these communities, there are many others who are not as visible, but who also stand to benefit and take an interest in learning new digital skills. Throughout our testing and recruitment, we have worked alongside many people who weren't immediately identifiable as being digitally included, "techie", or otherwise likely to be interested in trying out and testing a digital product. We now have a core group of champions who are excited to share their experiences with Refresh across both their digital social networks as well as their real-life groups of friends, colleagues and contacts.


Remote, unmoderated testing can successfully generate helpful insights and actionable feedback: For our early user experience research, we primarily worked with people face-to-face to engage with prototypes that helped us get our final product right. However, we were pleased overall with the quality and quantity of the feedback we received through the mostly-remote Test and Learn Group. Between phone calls, photos and surveys, it is our view that we have been able to get a good picture of what has worked well for participants and what requires improvement.


Work as flexibly as you can without reducing the quality of the feedback: It was important to us that our group was as participant-led as possible. For us, that meant that we provided as much flexibility as possible for participants as it related to how, when and for how long we got in touch. We initially created a discussion guide and line of questioning for each of the feedback interviews. We established early on in the testing that our plans for each session needed to be abbreviated, as the sessions we had planned were overly long in practice. The interview questions were amended to reflect only the most important aspects of what we needed to know at each stage. Still, the discussions over the phone were as short as seven minutes and as long as 1 hour and 40 minutes. Some testers had taken detailed notes and had much to discuss, whereas others preferred a more off-the-cuff approach. These two approaches worked well together.
Thank you
Both the Refresh Test and Learn Group, and our Accelerator Programme experience as a whole, are now coming to an end, under highly unusual and challenging circumstances of the global outbreak of COVID-19. We want to express our gratitude to the members of the Test and Learn Group, who generously provided their time and insight in order to help us create a better product for people living with dementia. We are also incredibly grateful to Alzheimer's Society for the opportunity and support. We are proud to have been able to work with such skilled and passionate colleagues and have benefitted immensely from your direction and advice.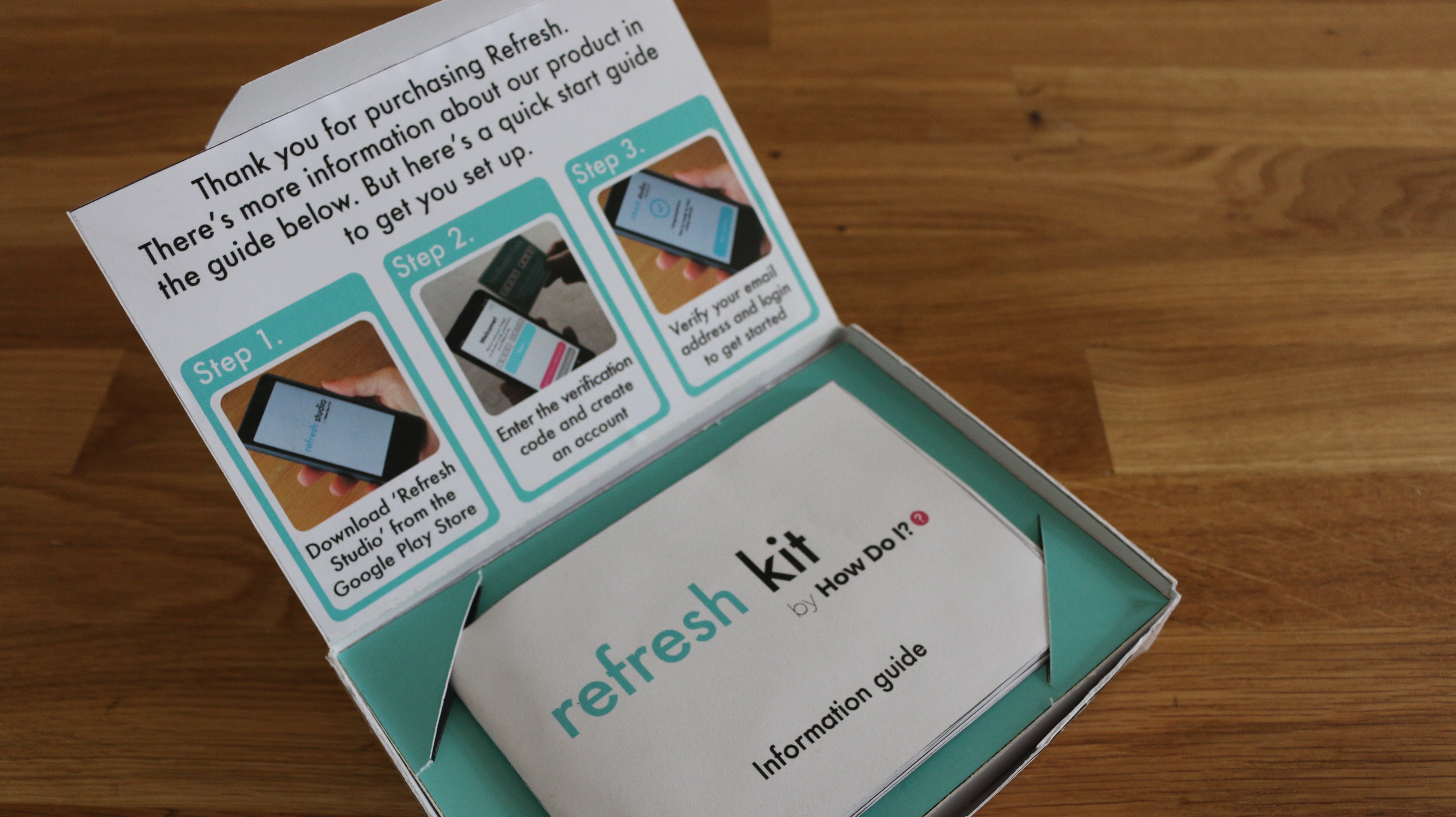 From the Innovation team's perspective, it has been fantastic to 'buddy-up' and work alongside How Do I? in the amazing work they have been doing with Refresh to help improve the lives of people affected by dementia.
How Do I? are looking to work with other partners to take their exciting mobile video support tool forward. They are also seeking follow-on investment to bring 'Refresh' to market. To find out more, please do get in touch with Taryl Law at taryl@wearehowdoi.com and you can check out their website too: https://wearehowdoi.com/refresh.

The Innovation team were kept busy during the first few months of 2020. We brought the hospital project to life and challenged our misconceptions about continence issues.
Unfortunately, the onset of the Coronavirus pandemic has required us to shift priorities to ensure all people affected by dementia get the support they need at this challenging time. We've put these projects on hold and look forward to picking-up where we left off when things get back to normal.
For now, we would like to share where we are up to…
How might we ensure people affected by dementia get the immediate support they need to leave hospital safely and without delay?
Our solution, the Hospital Journey Tracker emerged from a series of ideas workshops involving 7 people affected by dementia and 25 health and social care professionals. We came up with 100 ideas overall. After several rounds of shortlisting the Hospital Journey Tracker was felt to be the solution with the potential to make the most immediate and significant impact for people affected by dementia.
The Hospital Journey Tracker is a system which emails status updates to a named patient representative to inform them of what is happening now and what is expected to happen next in a patient's care. These updates might include that a patient is undergoing medical treatment, having tests, or that planning in taking place for discharge. We found people leave hospital quicker when they're well supported by a carer or loved one that is kept informed, able to assist in in hospital assessments and to plan for discharge arrangements. We hope in making processes more transparent, the updates will facilitate conversations between people supporting someone with dementia in hospital with health professionals. From our feedback, people affected by dementia saw the impact this could have and professionals could see how efficient this could be in the future.
To build the tracker, we teamed up with Luton and Dunstable University Hospital (L&D) and our software partner called Phew!. L&D and Phew! were already working together to build a patient discharge management system. This helped accelerate the development process as we could build on the existing system, rather than having to create a new one from scratch. We worked as a close team throughout, taking the lead from Yvonne, Dementia Nurse Specialist, on what would be valuable yet practical to implement in the hospital setting.
Once we had an outline of what the tracker might look like, we went back to people affected by dementia who had been involved previously. We asked them to feedback on the wording to go in the status updates, and on the information sheets which will be handed out to patients and their families during the pilot. Now, all that was left was to build the tracker itself and to launch the pilot in the hospital.
A prototype of the email update: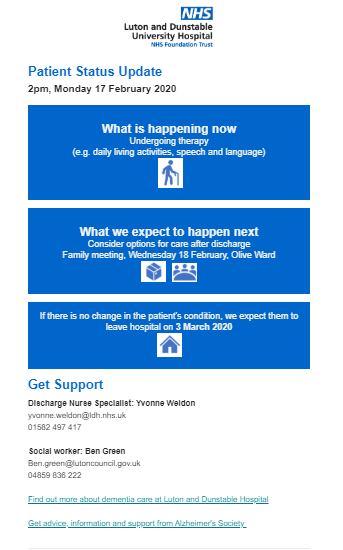 Unfortunately, the coronavirus pandemic hit just as the software development was due to begin and as demands on the hospital increased, we had to postpone the project. It's a real shame as Yvonne at L&D agreed that something like the tracker, which allows people to be involved with a patient's care from a distance, would have been so valuable in this time when people are not allowed to visit their loved ones in hospital. This only spurs us on even more to make sure it gets built in the future.   
Continence and going to the toilet
Back in November, we selected 'Staying dry – continence and dementia' as the topic for our next project.
Continence and going to the toilet is a taboo topic that doesn't receive attention, so we wanted to open up the conversation and look for new ways to support people affected by dementia. Once we started learning about the topic area, it very quickly became apparent just how significant it is.
Compared with people without a dementia diagnosis, people with a dementia diagnosis have approximately three times the rate of diagnosis of urinary incontinence, and more than four times the rate of faecal incontinence. This can be related to problems with the bladder and bowels or related to symptoms of dementia such as not being able to find or recognise the toilet.
We investigated the topic by reading over 30 documents and speaking with 27 subject experts, and seven people with personal experience. We also spent a day observing in a care home, and even bought some pull-up continence pants for ourselves.
Our research identified three key themes:
1. Promoting continence – helping people stay continent is really important, but staff and families aren't aware of how to do this, and too often incontinence pads are used as the first rather than last resort.
2. Managing incontinence – when people do need containment products such as pads, they should be the right product for the person, and of a sufficient quantity for them, but too often people aren't receiving the best product for them, or enough of the products to adequately meet their needs.
3. Stigma of continence issues above and beyond the stigma of dementia means that many people don't seek help until they reach a crisis. Stigma can be exacerbated by healthcare professionals who sometimes consider that continence problems are just to be expected amongst older people, especially people with dementia. These attitudes go against expert guidance and can prevent people from getting adequate support
In March, we moved into the Find stage where we look to find solutions. We were determined not to let the Coronavirus pandemic stop us, so instead of our usual face to face ideas workshops, we held two 'virtual' workshops, involving 14 people with a mix of personal and professional experience. This was the first time we had done this, so we were pleased that it worked so well. We were spurred on by the passion of everyone in the session who produced some excellent ideas.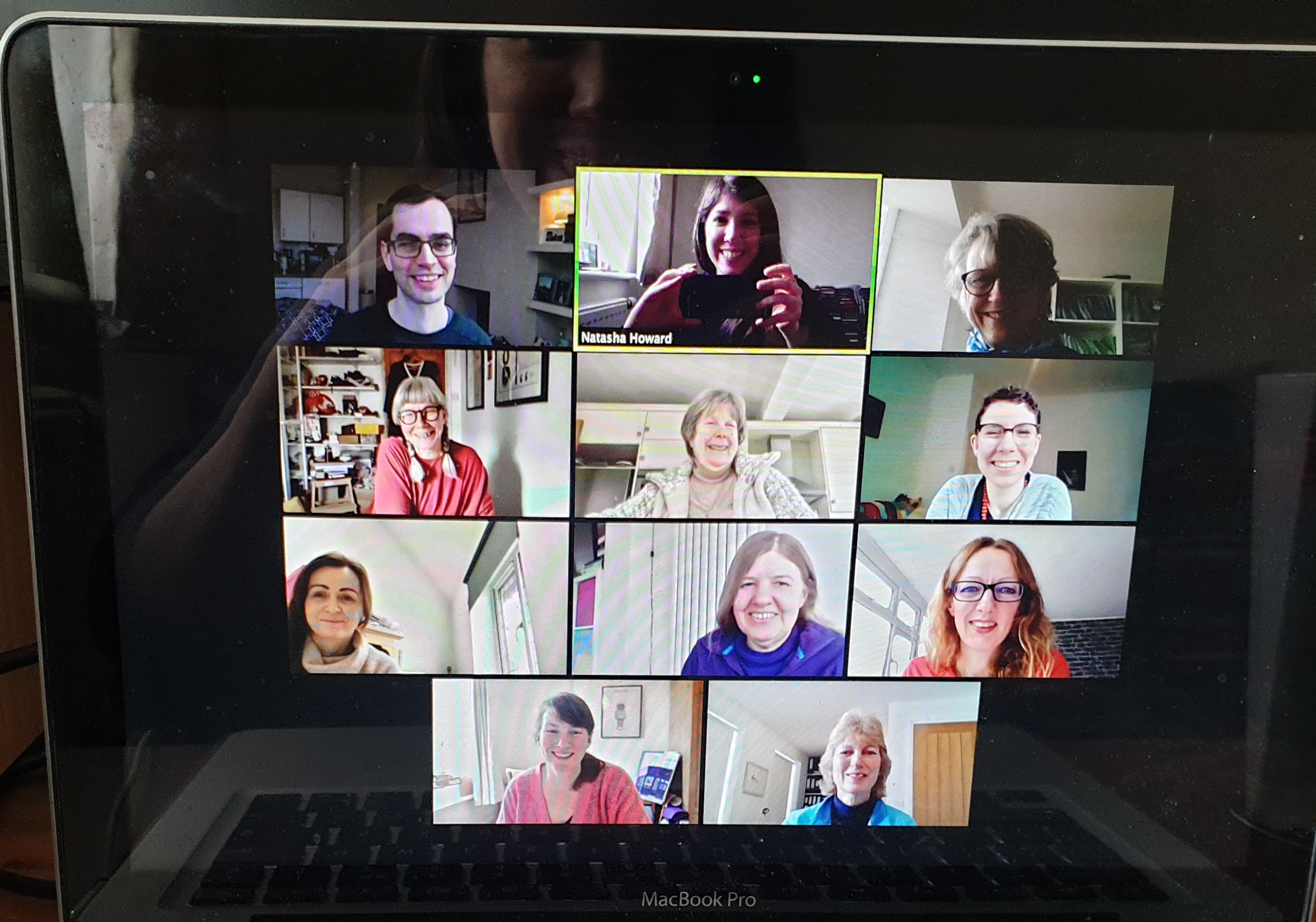 We will be posting these ideas on the Innovation Hub and asking you to vote and comment on which you think we should develop further. There may be a delay in us moving to the next stage while we focus on innovating to support people affected by dementia through coronavirus.

There are over 850,000 people in the UK living with dementia. Some of these people are LGBT+, yet a previous innovation sprint revealed how many aren't getting the support they need.
Everyone's experience of dementia is unique, but there are many additional challenges that LGBT+ people affected by dementia face, such as:
LGBT+ people with dementia may experience past memories more vividly than recent ones. They might believe they are living in a time in which being LGBT+ is still illegal and fear repercussions.
Trans people with dementia may also experience stronger memories of the time before they transitioned. This can make day-to-day activities, such as dressing and using the bathroom, confusing and distressing.
Some LGBT+ people may experience stigma, and fear discrimination when sharing information with health and social care providers.
Alzheimer's Society worked together with people affected by dementia, national and local organisations and LGBT+ communities in the development of the Bring Dementia Out innovation in 2018 to 2019. The aim of Bring Dementia Out was to help LGBT+ people affected by dementia feel more comfortable in coming forward to access the information and support they need. A number of resources were developed and tested over a two-month period in Brighton and Hove and in Greater Manchester. This included a video sharing people's experiences, and a booklet and webpage with steps on how best to support people and signposting to useful organisations and information.
Bring Dementia Out saw great results thanks to the dedicated working group, which included volunteers with lived experience, Alzheimer's Society colleagues and the partner organisations. Together, they reached LGBT+ people affected by dementia and also helped to increase awareness and understanding of the challenges faced within the communities and amongst health and social care professionals.
One of the biggest achievements is that they key organisations involved are now taking the innovation forward to lead on scaling it at a wider level. This includes LGBT Foundation, the National Dementia Action Alliance, The Guinness Partnership, the National LGB&T Partnership and Switchboard.
If you want to find out more about Bring Dementia Out, visit the LGBT foundation website, or contact the Bring Dementia Out Programme Coordinator, Claire Days, on claire.days@lgbt.foundation.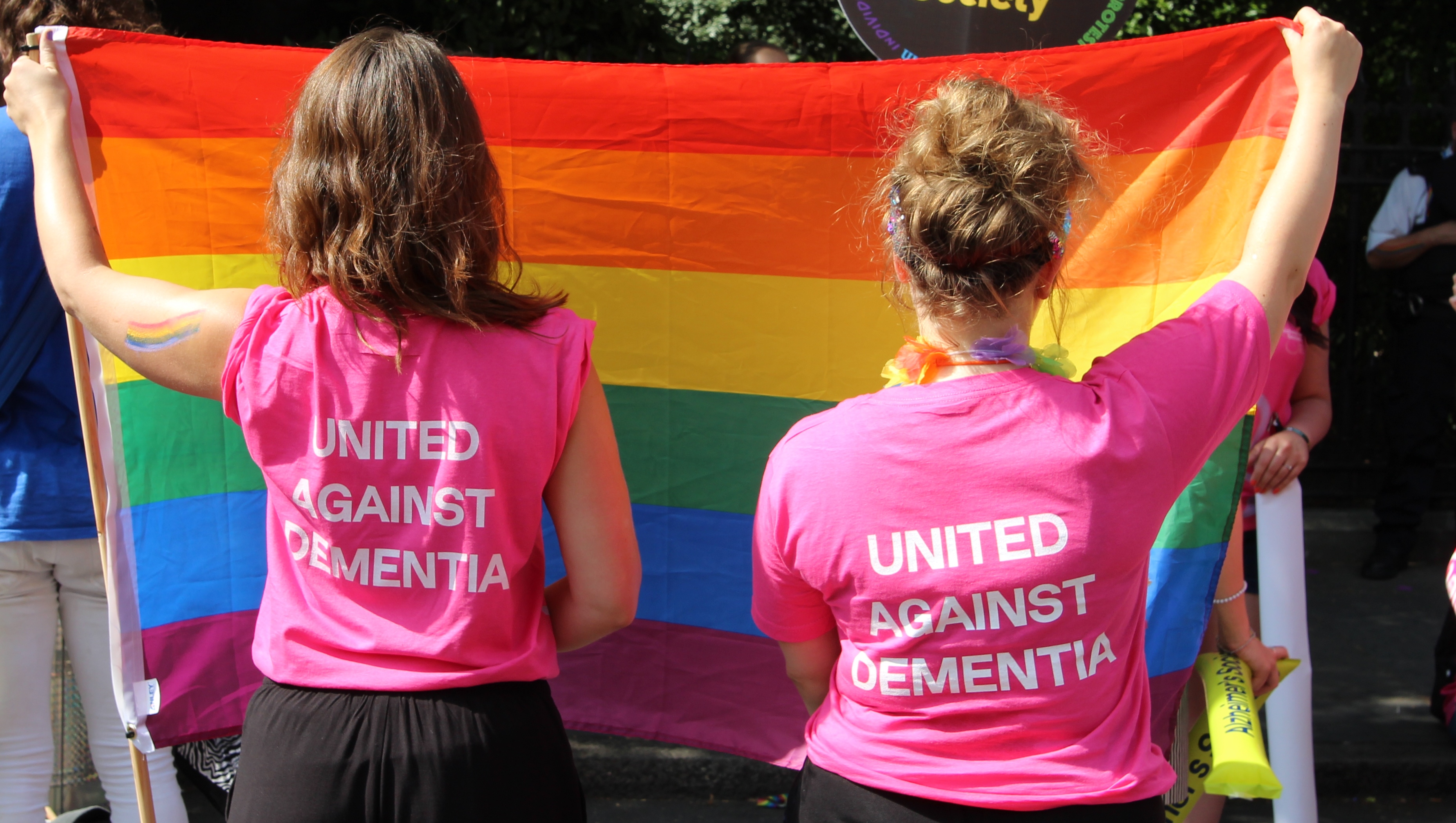 If you are supporting someone with dementia in hospital and getting frustrated with things moving slowly, you are not alone. We look at some of the key challenges faced by people affected by dementia in hospitals as they move towards discharge, and what can be done about them.


On average, people with dementia stay in hospital around four times longer following a fall than those without dementia. This isn't acceptable, so Alzheimer's Society's Innovation Team is doing something about it. 
We've heard about excellent initiatives going on to prevent people with dementia staying in hospital longer than necessary. Unfortunately, we've also heard many stories of where things could have been better.
But where there are challenges, there are also opportunities.
That's why we're working with people with personal experience of hospital admissions, as well as health and social care professionals, to find new ways to prevent people with dementia from being kept in hospital longer than necessary. 
What are the challenges for people with dementia in hospitals?
1. Communication breakdown
Time and time again we heard how a breakdown of communication in hospital can slow things down. This can be because of the ways information is passed between someone living with dementia, those who support them, and health and social care professionals.
People told us they didn't always feel confident asking for the information they needed. Wards are busy places, and it can be difficult to find the right person to speak to.
What people told us:
"I don't know what I needed, but I didn't get it." (Person living with dementia)
"It can be easier to get a CT scan than reach the family and get a good history." (Consultant)
"I don't think either doctor was wrong, but who was most right?" (Family member)
What can help?
Preparing questions for health and social care professionals in advance and having a named person to speak to can take away some of the stress.  
2. Access to care services
While we know there is a shortage of community care services, where they do exist there are other issues which can prevent people accessing them following a stay in hospital.
Poor access can stem from a lack of knowledge of the available options, or a misunderstanding of the support that might be appropriate for people living with dementia. Additionally, there are assumptions that people with dementia need to go into a care or nursing home in cases where simple adaptations could allow them to stay in their own home.
What people told us:
"They wouldn't offer him rehab after his stroke. They said, 'we don't set targets with Alzheimer's.'" (Family member)
"The night-sitting service isn't appropriate for people with dementia. They come twice a night, it's confusing." (Physiotherapist)
What can help?
Do your researchwell in advance of leaving hospital, so you can make an informed decision on the support you'll need. Check out the advice on our website. 
3. Avoidable delays and late discharge
There can be practical delays on the day of discharge with forms, medication and transport.
Both people with lived experience and professionals told us of times when things had not gone smoothly on the day of discharge from hospital. These included long waits for everything that needs to be put in place. For example, a person with dementia was fit for discharge at 5pm on Friday but had to stay in hospital for the weekend as there was no transport available.
More concerning is that we heard of people with dementia being sent home late at night, without appropriate clothing, and without the support they need to settle into their environment. This can be disorienting, and sometimes leads to people being readmitted to hospital. For this reason, best practice is to prioritise people with dementia, so they get discharged before midday.
What people told us:
"It's not a rule, but I like people to be home by 6:30pm as doctors aren't around in the evening and it is when the care team changes over." (Care home manager)
What can help?
Unfortunately, much of this can be out of your control.Why notencourage your local hospital to sign up to the Dementia Friendly Hospital Charter to improve care for people living with dementia? 
4. Inactivity
The longer someone with dementia spends in a hospital bed, the more they lose their physical strength, cognitive ability and personhood.
Small activities can make a real difference, but all too often staff on the ward do not have the time or facilities they need to keep someone active. Often this falls to family and friends, which adds further stress to what is already a challenging time.
What people told us:
"I understand why they spiral into aggression. They're just bored. I wish we could do more on the ward" (Nurse)
"Often the reason for admission is not the reason for their decline" (Social worker)
What can help?
Many dementia wards now sign up to John's campaign, which advocates for carers of people with dementia to visit throughout the day to support a person if they can, however and whenever necessary. 
What we're doing to improve hospital experiences for people affected by dementia
We're kicking off 2020 by building and testing a potential solution together with people affected by dementia and professionals. Watch this space for an update and more learning in the Spring. For further information, email innovation@alzheimers.org.uk.  

Please see below a guest blog from Hemal Dias, inventor of stablspoon which gained the most votes on an earlier Innovation Hub challenge linked to the Alzheimer's Society partnership with the Design Council's Spark Programme:
Growing up, I had a close family friend named Ben. Having taught in the same school, he was a good friend of my mother's and a well-renowned author in Sri Lanka.  Every year I would visit him, and every year his hand tremor would slowly worsen. It was painful to see a person I cared dearly about struggle with most day-to-day tasks. Even food, which used to be a passion for Ben, had turned into a battle. Moving food from bowl to mouth, something that I had taken for granted, was fought by his shaky hands which caused food to spill everywhere. I tried to help him by buying a specialised spoon but was shocked to find that effective solutions cost over £150 – affordable to only a few, yet needed by many more. I knew this could be achieved for cheaper, so I embarked on my mission.  
stablspoon started off as a third-year project at university to help people with hand tremors, including those with Alzheimer's, Parkinson's and Essential Tremor. When the handle of the stablspoon is shaken, the food in the spoon's bowl remains still as if no tremor was present. Unlike competitor products which use costly electronic systems, our mechanism relies only on mechanical components such as springs. This allows us to reduce the effect of a hand tremor by up to 70% with a mechanism costing a fraction of the price of competitors.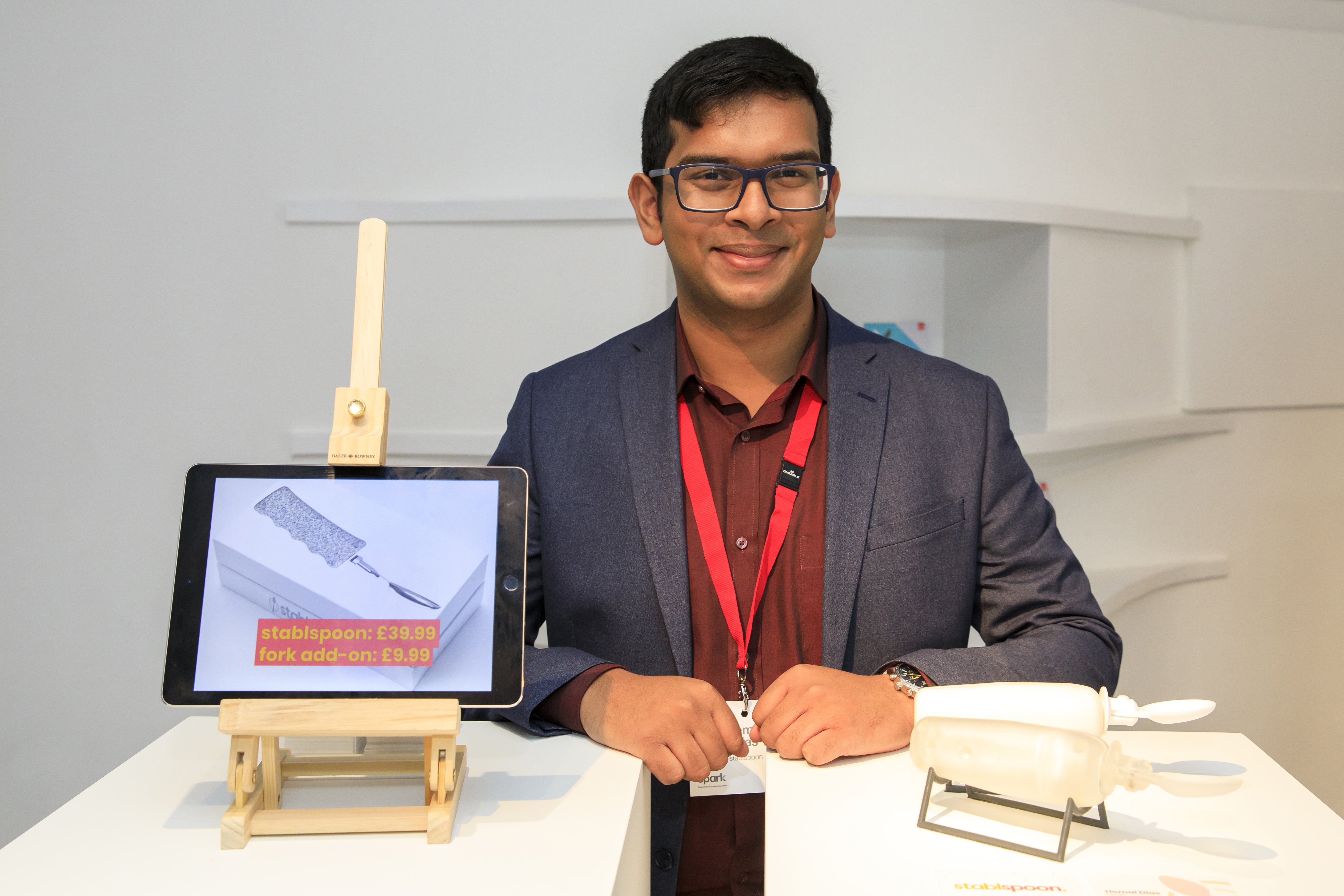 Following many insightful discussions, we realised that tremors don't only impact physically but also socially and emotionally. People are embarrassed to eat in public and many existing solutions in the market are unattractive and automatically brand individuals as having a disability. We're focused on creating a product which is aesthetically pleasing and wanted not just needed.  We've also teamed up with occupational therapists and physiotherapists to research the ergonomic needs of people living with dementia and incorporate these findings into the development of a spoon which anyone can comfortably use. 
With the generous support of Alzheimer's Society and the Design Council, stablspoon has progressed beyond just a third-year project. We recently won the Design Council's Spark 2019 competition, allowing us to receive further funding and coaching to bring our spoon to the market. We firmly believe that eating comfortably shouldn't be expensive and that we have the solution. Currently, we're still focused on refining our design but hope to release stablspoon by December 2020 for a price around £40.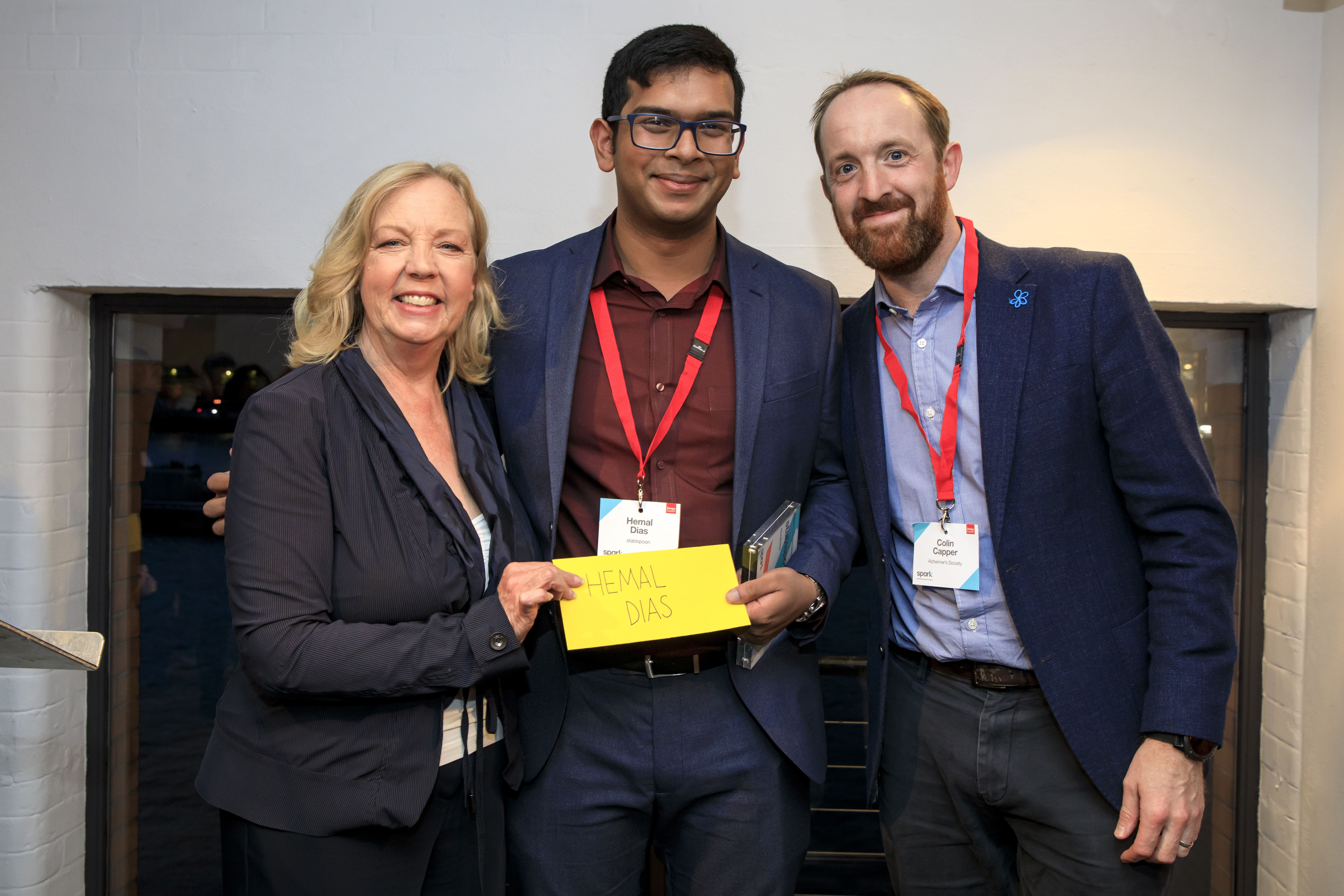 You can find out more about us by visiting our website stablspoon.com, following our Twitter @stablspoon or by liking our Facebook page.

'We started a conversation about something that we were told is just not talked about, but we and many others have been talking about it ever since. We hope that sex, intimacy and relationships will no longer be seen only as a problem or a behaviour that needs to be "managed", but as a human right to be respected and supported.' (Beverley Page-Banks, former Innovation Team member)
In 2018, the Innovation Team embarked on a challenge with Good Innovation to help understand the experiences of people with dementia, their families, and staff in relation to sex, intimacy and relationships, and develop and test an effective solution to reach the unmet needs.
Together with people affected by dementia and other health and social care professionals, we developed Lift the Lid: a 'workshop in a box' for care homes to run their own sessions to help embed and create a new internal culture around sex, intimacy and relationships.
In October 2019, we received an international Service Design Award. We would like to thank everyone involved in the development of Lift the Lid, including the people affected by dementia involved, and the care homes who helped to test Lift the Lid (Bupa, Four Seasons, and St John's Trust).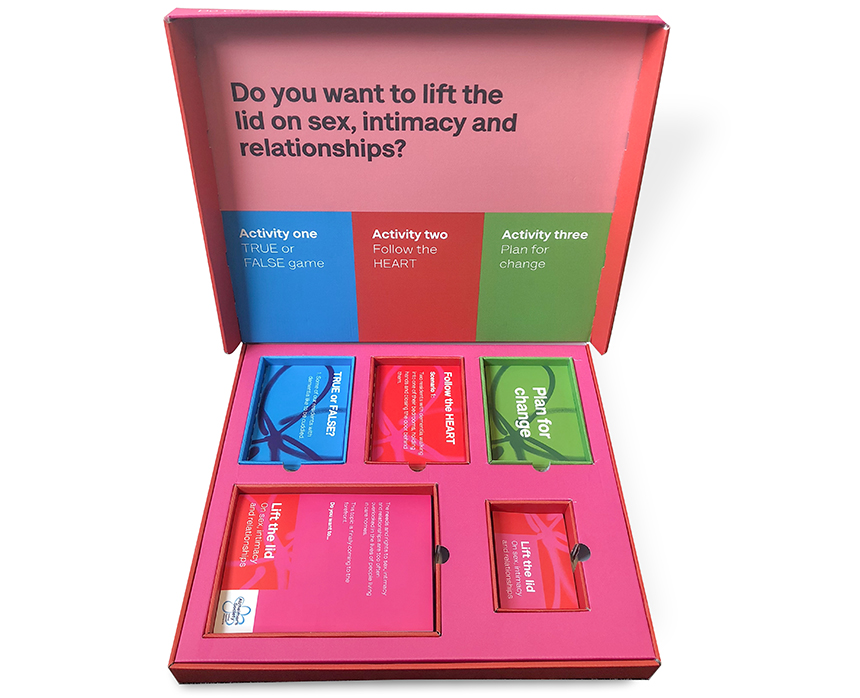 Why the topic of: sex, intimacy, and relationships?
Traditionally, going into a care home is about focussing on the health care needs of a person, but in doing so, other personal and less visible needs, including sex, intimacy and relationships (such as holding hands, having a cuddle, sharing a bed) may become unmet.
Some care staff had said they had never considered residents' sex, intimacy and relationship needs at all. Others said they didn't know how to broach the topic and were concerned about issues of consent or lacked clear guidance.
We learnt from speaking to care home staff that they wanted to get this right but didn't know where to start.
What is Lift the Lid?
We worked with care homes to create a 'workshop in a box' to challenge staff perceptions and behaviours through three creative activities.
The pack provides everything needed for care homes to run their own session(s) and can be delivered over two to three hours either at once or in individual modules and includes:
challenge perceptions around sex, intimate relationships and people affected by dementia
provide a framework for respectful management of in-the-moment situations
help align on a shared set of values and actions for your care home.             
'Lift the Lid normalises a conversation that is needed but kept hidden. The activities give staff the understanding, ability and confidence to respond in an appropriate and respectful manner, and to not react out of embarrassment and fear,' she says. 'It will help us to provide dignified care.' (Care Home Unit Manager).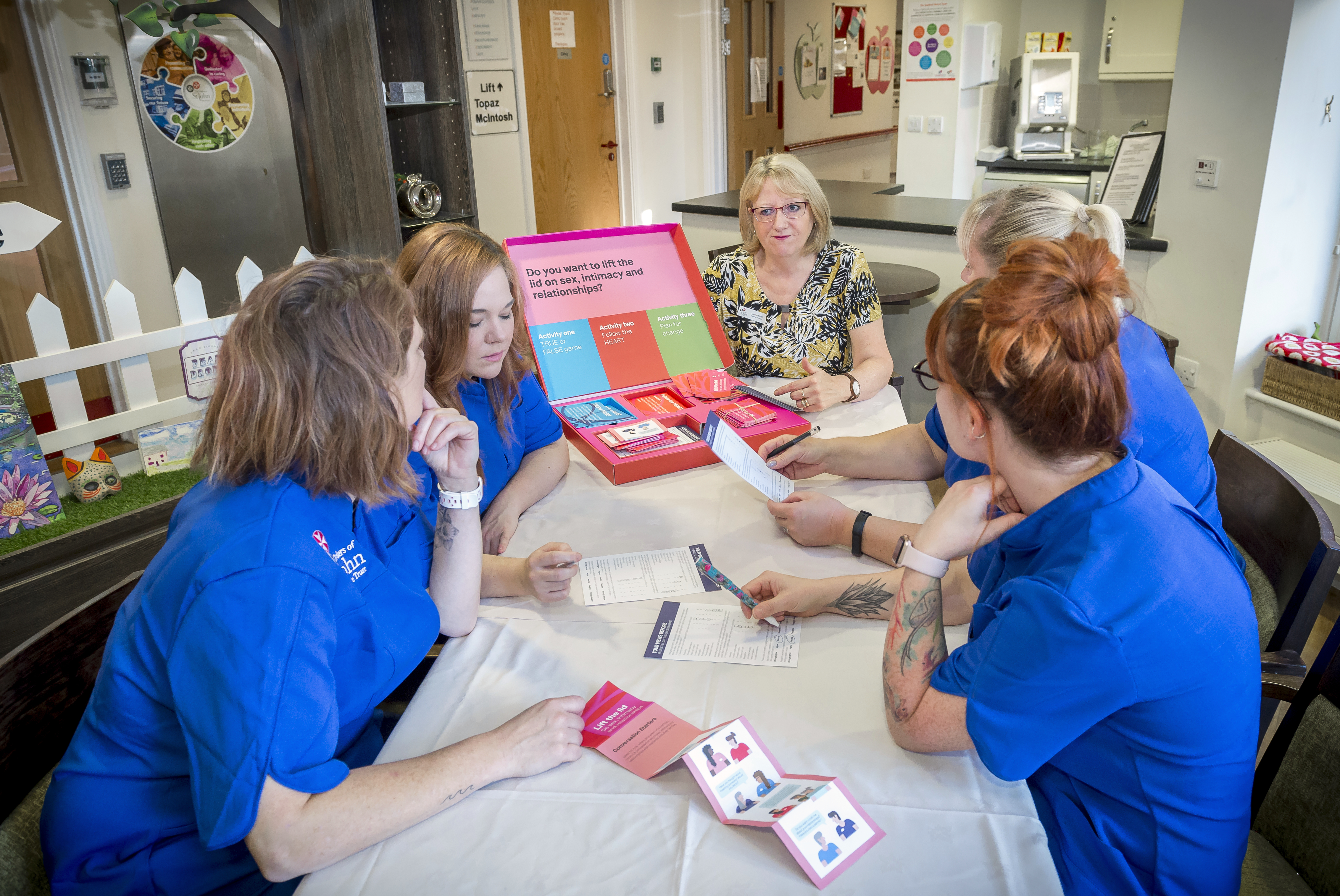 What's next for Lift the Lid?
We launched Lift the Lid in November 2018 at the National Dementia Congress in Brighton where it became available on Alzheimer's Society's Online Shop.
Since then we have received orders for over 190 units, the majority of which have been delivered to care homes across the UK and even in Australia! Based on the care home orders we have received so far; we have established that Lift the Lid has a potential reach into 682 care homes across all of the care groups who have already purchased it! Some of our other orders have gone to specialist memory services, NHS teams, community care providers, councils and universities.
We recently co-presented Lift the Lid at the National Dementia Congress on Thursday 7 November with Jenny Davies, Head of Care and Nursing at Sunrise Senior Living and Gracewell Healthcare. At present, Sunrise Senior Living and Gracewell Healthcare have tested Lift the Lid across their homes in the South West, with positive feedback and a noticeable impact highlighting cases, which needed further support. They now plan to roll out Lift the Lid across the remainder of their 46 care homes from December onwards!
We would really value feedback from people who have 'Lifted the Lid' on our workshop in a box, so that we can understand more about the impact of Lift the Lid on you as an individual, your organisation, possibly others you work with and people affected by dementia. We are also interested to hear about whether there are plans to roll Lift the Lid out further within your workplace.
Feel free to share your experience of Lift the Lid by emailing the Innovation Team at innovation@alzheimers.org.uk. We really would love to hear from you!
Further information
Please note: We would never encourage care homes to adopt blanket tactics around sex and intimacy, or to do anything that would put residents or staff at risk. Instead, Lift the Lid helps care home staff to create their own policies based on individual need and consent.
Find out more about the development of Lift the Lid.
It is available to purchase from Alzheimer's Society's Online Shop.



After the Dementia Friendly General Practices Project in Nottingham and Derbyshire came to an end back in 2018, we were aware that there was a need to explore this area further and so with what we had learnt from that project, we set out to identify the challenges General Practices and people affected by dementia are currently facing. Michelle Davies, Senior Innovator, has written this blog to update on progress, and ask for feedback on two prototypes (details at the end).
Keen to take on this new project, the Innovation Team started researching this area and began by applying the LIFE model of innovation. In keeping with our approach to innovation​ ​we began by identifying the challenge and then framing this as a question:
'How can we help General Practice to better meet the needs of people affected by dementia and better understand pathways to further support?'
We wanted to 'learn' about the work that was already taking place within General Practices for the benefit of people affected by dementia across England, Wales and Northern Ireland. We needed to research over 20 existing projects and contracted service provision involving General Practice and a range of organisations. Our aim was to delve into what seemed to be working well within those projects, what wasn't working so well, what was surprising and what we wanted to explore further through interviews.
We were interested to learn about the range of work taking place, both short-term funded, time limited projects and also longer-term services commissioned by Clinical Commissioning Groups and delivered by Alzheimer's Society or other organisations. This led us to interviewing a range of stakeholders and experts in this area, including Commissioning Managers, other dementia related organisations, NHS Patient Experience Leads, research fellows and more. By doing this we gained a greater understanding of the challenges faced by both people affected by dementia and General Practice.
We set out to 'investigate' these challenges further by speaking with GP's, other General Practice team members and importantly people affected by dementia, to hear about their experiences when visiting their GP.
We have heard GP's talk about the time pressures they are facing when seeing patients and how limited time makes it difficult to gain an insight and a real understanding of the impact that dementia is having on their patient's life.
GP's and people affected by dementia also spoke about wanting to know what happens next, who does what and when, from pre-diagnosis to end of life. Some GP's shared their thoughts about how difficult it is to signpost and/or refer patients on to suitable services when they have little knowledge of available local and national services for people affected by dementia.
In total we have spoken with 115 people to gather a range of insights. Some other themes to arise from our discussions with GP's and people affected by dementia focused on: issues with continuity of care; multiple GP's involved in a patients care; annual reviews requiring greater consistency with a person centred approach; greater knowledge and understanding of dementia; limited dementia training; difficulties managing expectations; timescales for referrals to memory clinics; social prescribing being seen by some as the answer for all and many more thought provoking points.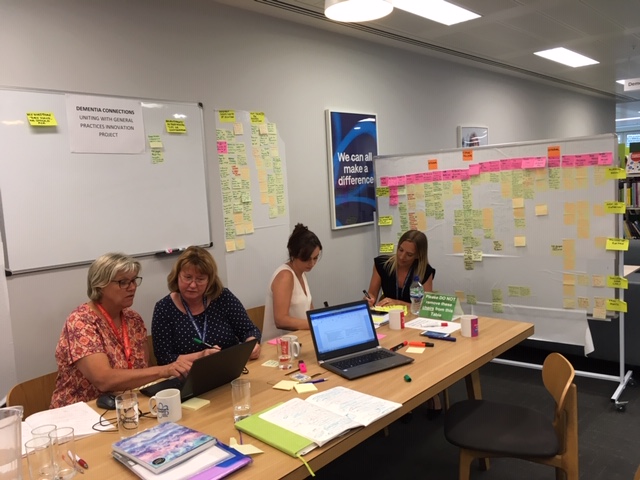 On hearing the challenges faced by GP's and people affected by dementia, we started to think about how we could 'find' solutions to help both GP's and people affected by dementia.
During our creative thinking workshop, which involved people affected by dementia and a range of professionals, we started to develop ideas for solutions for the challenges and then we asked people to vote for their top three solutions.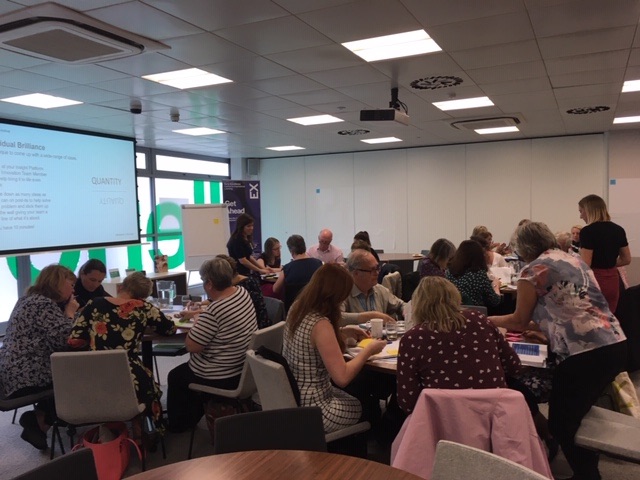 After gathering feedback from over 70 people on the top solutions, we are pleased to share that we now have 2 solutions, which have made it through to the 'experiment' stage and have been developed as paper prototypes. They are the Dementia Journey Map and Annual Dementia Appointment for General Practice Teams. We would love to have your feedback on these prototypes, which will help determine the next steps such as testing in the real world!
Dementia Journey Map
Click here for the survey for professionals
Click here for the survey for people affected by dementia
Annual Dementia Appointment for General Practice Teams
Click here for the survey for professionals
Click here for the survey for people affected by dementia
Many thanks
Michelle Davies,
Innovation Team

Thank you so much for visiting the Alzheimer's Society Innovation Hub!
We know that life with dementia can come with big challenges. We believe innovation can support people to live well with dementia by taking on these challenges.
Through our Innovation Hub you can share with us the challenges you are facing - whether you are living with dementia, taking care of someone or have just seen something you believe could be improved to help people live well with dementia.
By sharing the challenges people living with and affected by dementia face, our team can focus on the big issues and innovate to find solutions that can change lives. 
Don't have a challenge for us to work on right now? Check out those submitted by other users, vote on the big issues, ask questions and comment. The more people with an experience of dementia we hear from, the better.
We will also continue to keep you updated with the work the Innovation Team is doing and ask for your feedback on solutions we develop to the challenges we take on.
Anyone can join the Innovation Hub so if you know someone who could share their expertise, whether that is experience of dementia or as an innovator who might help us with solutions, please share this link with them: https://innovationhub.alzheimers.org.uk 
Get signed up and start contributing today!

In the Innovation Team at Alzheimer's Society, we're committed to creating bold and innovative solutions to tackle challenges, together with people affected by dementia. As well as hearing people's ideas through the Innovation Hub, we partner with enthusiastic innovators through our Accelerator Programme.
Last year we invested in two promising projects bringing creative solutions to challenges that people with dementia face around hydration, and completing tasks or remembering activities.
Now we're launching our call for applications again. We're offering bespoke business support and investment up to a value of £100,000, along with a 12-month partnership.
Our call is open to innovators, engineers, designers, developers, entrepreneurs and anyone with a great idea. If you have an idea and the enthusiasm to follow it through, we can help with the tools and resources you need to make it a reality.
The call for applications is open from 8th October until 7th November, and you can find out more on our website.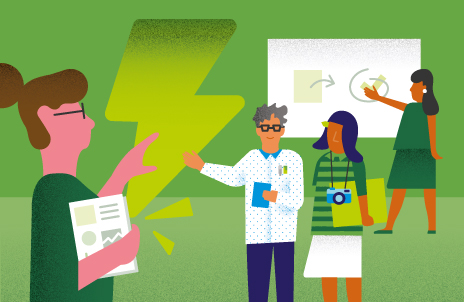 We are looking for applications from teams or individuals at any stage of the product development journey, from a great idea that needs testing through to proven products that need a push to maximise their reach. Your idea could be a simple product that makes life easier for people living with dementia, or a new service to improve support.
If you know anyone with a great idea and the dedication to make it happen, please let them know about the Alzheimer's Society Accelerator Programme.

Alzheimer's Society is delighted to be partnering with the Jelly Drops team to bring their fantastic product to people living with dementia.
Lewis' story
Lewis' grandmother Pat is living with dementia and was sadly hospitalised due to dehydration. Inspired by his grandmother's love for sweets, Lewis put his innovative skills to the test and developed bright, raindrop shaped sweets known as Jelly Drops. The sweets are made up of 90% water and other electrolytes to make them even more hydrating.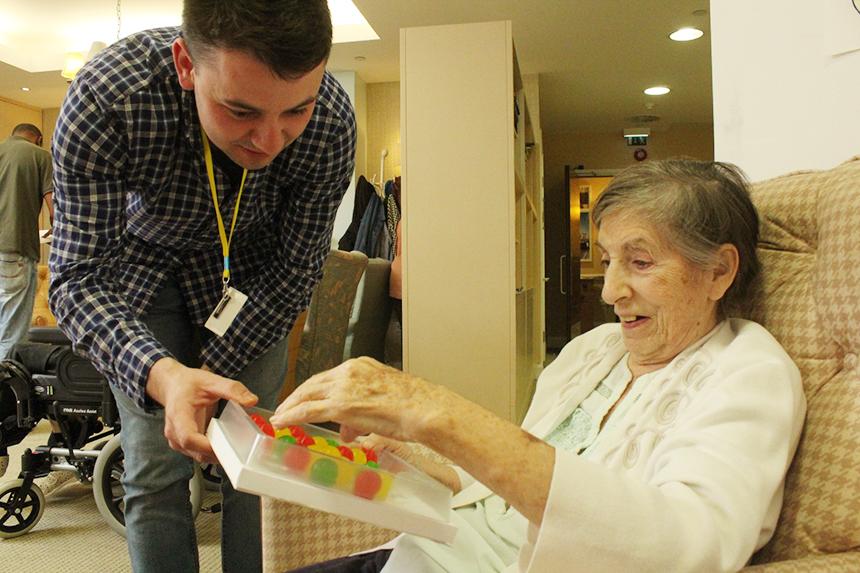 Lewis and the Jelly Drops team have worked closely with Pat and other people with dementia to develop their fantastic product. The team were also recently awarded the people's choice award at Pitch@Palace.  
Bringing Jelly Drops to the people who need them
Alzheimer's Society is delighted to be supporting Jelly Drops over the next year through our Accelerator programme. 
Our panel of experts and people affected by dementia worked with the Society to select Accelerator partners who receive £100,000 to continue to develop their product and bring them to the people who need them faster. 
Over the next year Alzheimer's Society will be working closely with the Jelly Drops team to continue to develop their brilliant product alongside people affected by dementia and bring it to the market.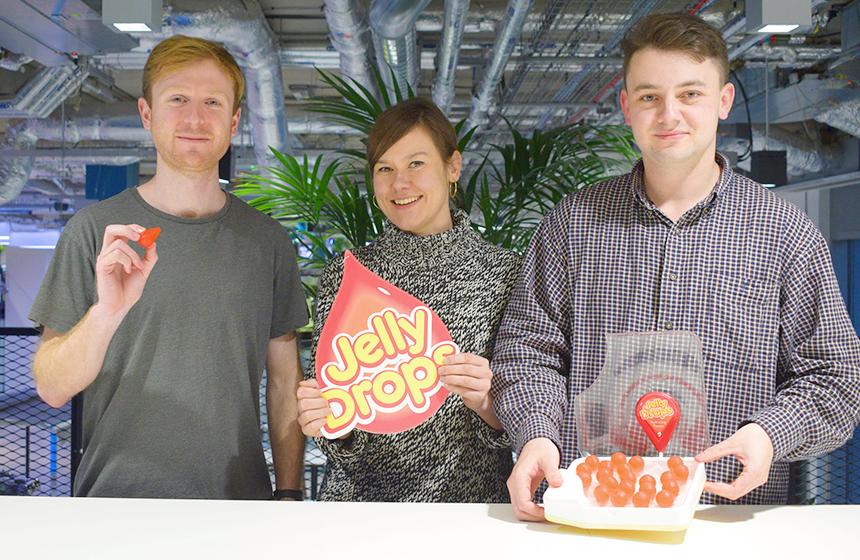 Dehydration and dementia
Dehydration is a common issue for older people and especially those with dementia.
Often people living with dementia will forget to drink or will not be interested in drinking. Unfortunately this can lead to confusion and even hospitalisation.
This effect is often exaggerated as the symptoms of dehydration can be confused with the symptoms of dementia. This makes it more difficult to spot dehydration in people living with the condition. 
Can I purchase Jelly Drops today?
At this stage Jelly Drops are not available to buy as they are still in development.
Alzheimer's Society will be working with the Jelly Drops team to support them to develop their product and make it available as widely as possible to people affected by dementia.
For more on Jelly Drops:
We will keep you update on the Innovation Hub but check out their website, this BBC Breakfast video and their facebook page! 

By Tom Casson/Taryl Law (How Do I?)
We've now been working with Alzheimer's Society through the Accelerator Programme for 3 months. We've been busy taking advantage of the intensive support they're providing, and our project is off to a great start! We've travelled across the country, racking up over 1000 miles in our efforts to meet as many people living with and affected by dementia as possible.
We were pleased to see our project covered by various media outlets including the i, the FT, and PoliticsHome, alongside another innovation called Jelly Drops who are also supported by Alzheimer's Society. We wanted to let people know what we've been up to!
A quick recap for those not aware of the programme or our work:
As part of its new Accelerator Programme, Alzheimer's Society is funding innovations and inventions that could help improve the lives of people affected by dementia.
We are 'How Do I?', we are fine-tuning a new mobile phone-app for people with dementia and their carers. This app links videos to objects in your home, through your mobile phone. These videos can help with learning how to complete a task or remembering an activity. We are working hard to help people live more independently at home for longer and we are passionate about empowering people through technology.
We gave the public a first sneak peak of our app at the Alzheimer's Society conference at The Oval in May, where the announcement for the accelerator programme launch was made. We met with many people affected by dementia, health care professionals, other entrepreneurs and the Secretary of State for Health and Social Care, Matt Hancock. 

Following on from the launch event, our main aim over the last 3 months has been to meet with as many people living with and affected by dementia as possible, and also dementia professionals, to gain valuable feedback on our idea and undertake user research.
We have always recognised the importance of user research: when designing a new product, it's crucial to involve users at every stage of design and development.
We've travelled to Nottingham, Essex, Peterborough and across London to meet with people living with and affected by dementia, running feedback sessions. We are so grateful to those who have taken the time to meet and work with us.
We worked alongside people to take them through the apps and try them out, asking questions and receiving feedback on icons and language, the colour scheme, and even the name of the product and the language we use to describe it.  Throughout the process, we would take on board our observations and the feedback we receive, and then iterate our designs.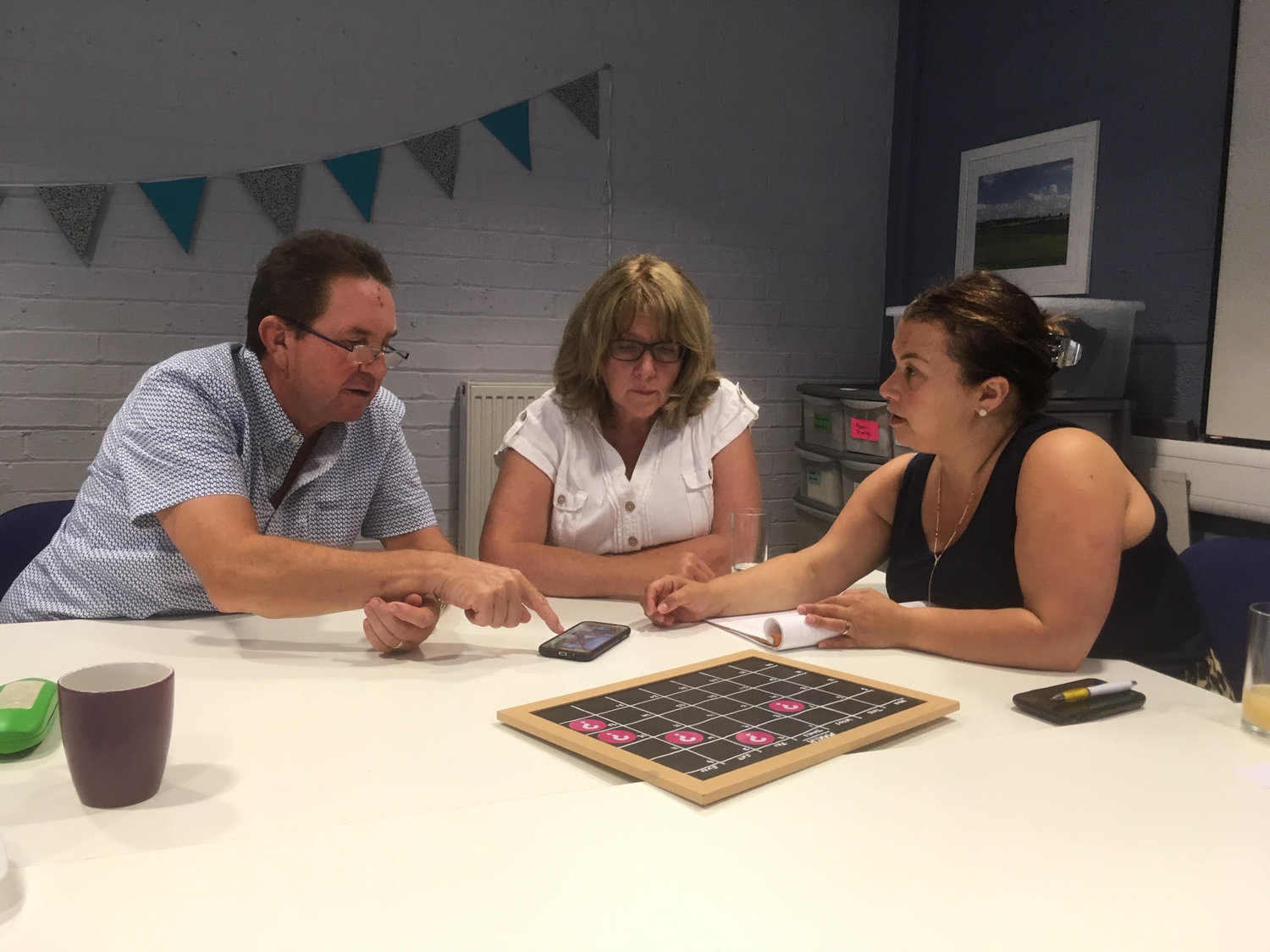 Through these sessions, we've had the opportunity to listen to peoples' insights and their suggestions on how we can make our product work for them. We have gained insight into the unique wants and needs of people living with the condition and we will continue to develop and iterate the apps based on their feedback and user experience. Working closely and collaboratively with people affected by dementia will always be a cornerstone of our development.
Through the Accelerator Programme we've also been able to meet with professionals to talk about our communication plans, with research professionals to help to find more people with dementia and carers to test out our app. We also met with impact & evaluation experts to help us understand how best to measure the impact we're having in peoples' lives. We met with professionals to discuss user experience, user interface design and the importance of making technology accessible for older adults, which was invaluable knowledge in light of our focus over the past 3 months.
Putting all this feedback and advice together, we've worked on our designs and the user flow of our apps, over the next few months our tech team will be working on the development.
Over the next three months, we will also be:
●      doing further research into branding and packaging, alongside people living with and affected by dementia,
●      thinking about how we can ensure we are engaging the widest and most diverse use groups possible,
●      and creating a framework and feedback system for measuring our impact.
We are extremely excited to share with you what we've been working on and developing. Fancy becoming one of the first few people to exclusively try out the new version of our app? If you are interested then please email hello@wearehowdoi.com for more information.
To see our video on the last few months and stay updated come visit us here!


The Alzheimer's Society Innovation Hub, formerly known as Brainwave, is back in business after our trials of the platform earlier in the year.
With 400+ staff and volunteers already on here we know we are starting from a place of strength and over the next few weeks we'll be showing you what has happened so far based on your challenges, ideas, comments and votes.
Right now you can catch up on our Hospitals project, the first sprint project the team has taken on based on the submissions of users of the Hub. We're hugely excited about this project and have thrown ourselves into it in the last couple of months so find out where we're up to and what is coming next!
In the next few days we will let you know how our Accelerator Progamme partners, Jelly Drops and How Do I? are getting on, so keep an eye out for those posts and follow their progress as they continue to work towards launching their products.
Some of you participated in our Spark Challenge (thank you!) – voting on which of the submissions to the Design Council's Spark programme should receive Society funding to improve the quality of life for people affected by dementia. We'll bring you an update from Hemal Dias, inventor of the winning submission, the Smart Spoon, an affordable stabilising spoon for people with a hand tremor, and let you know what how he's getting on with his invention.
In the coming weeks we will continue to shower you with innovation goodness. We will have updates on our RAFA project, for which you helped us pick the ideas to focus on, and the latest on our GPs project, where we are looking to ensure GPs have the tools required to effectively signpost people at all stages of a dementia journey to effective services. We'll tell you more about our LGBT+ project, Bring Dementia Out and how it is being taken forward by partner organisations over the next few months. Finally, we'll focus on the products we have already taken to market, Lift the Lid: a workshop in a box around sex and intimacy in care homes, and the Fidget Widget Toolkit, a series of wooden tools that can help to relax or calm an individual with moderate to advanced dementia.
And most excitingly, on Tuesday 8th October, the Innovation Hub will launch externally, bringing onboard people affected by dementia, innovators, inventors and anyone else that has an interest in steering the work of our team and keeping up to date with the latest around innovation and dementia.
Once we go live externally we will once again be working out what sprint project to take on next. We will be asking you to submit your biggest challenges, and to vote on those of others until we have a winner, which we expect to announce at the end of October and start working on immediately in November.
It's going to be a busy few weeks so stay tuned, invite others to sign up and from 8th October share the address: innovationhub@alzheimers.org.uk as widely as you can in your networks.

Our most recent sprint project is all about preventing people getting stuck in hospital longer than necessary. We're especially excited about tackling this challenge as it's the first that came from this Alzheimer's Society Innovation Hub – chosen after suggestions and votes from Alzheimer's Society employees and volunteers.
After some initial reading about the topic, we developed a clear statement of our challenge: 
How might we ensure people affected by dementia get the immediate support they need to leave hospital safely and without delay?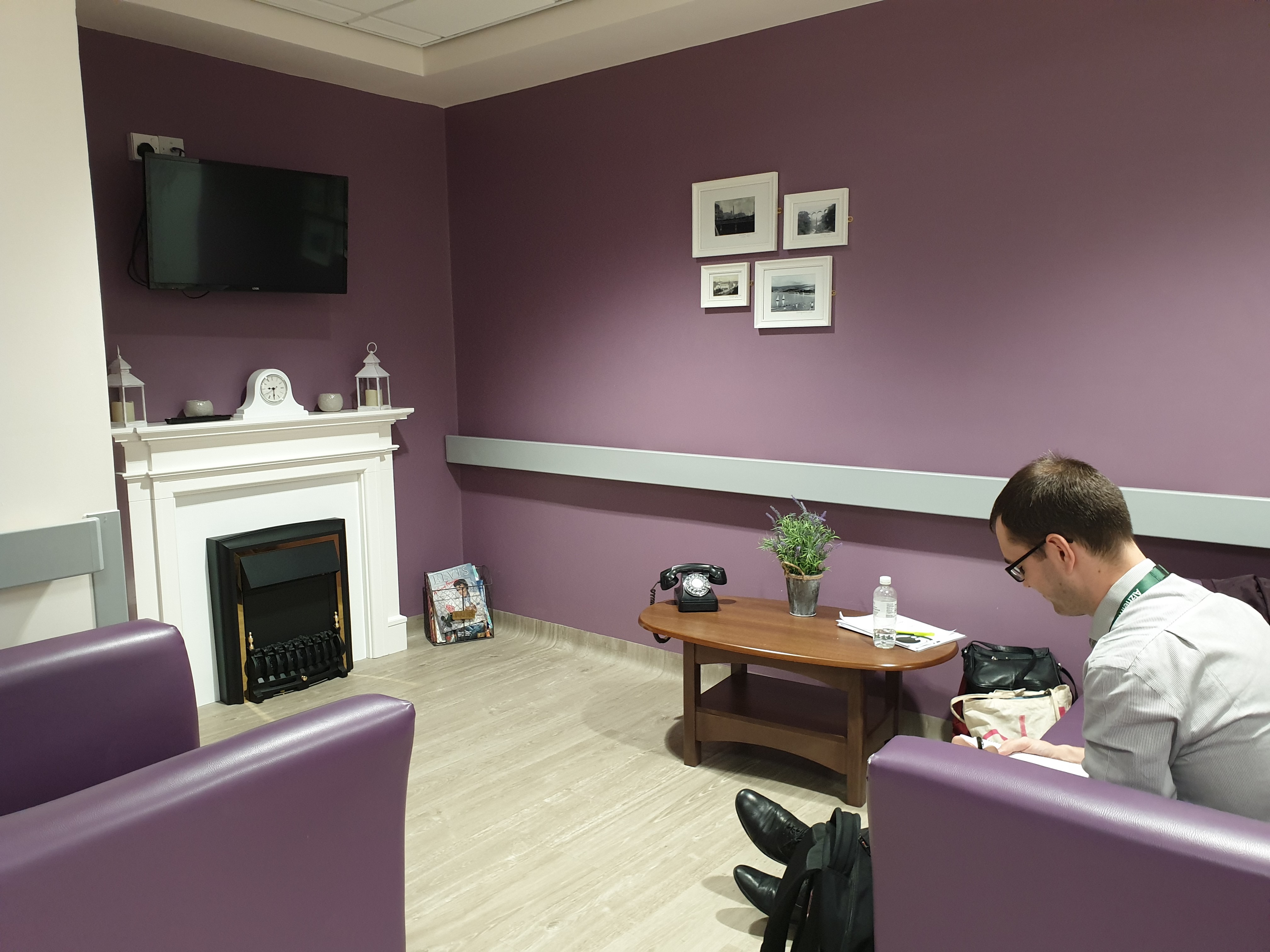 We started the sprint in June 2019 and in the first two phases we learnt as much as we can about the challenge from desk research and interviews with experts, and we investigated it further by talking to people who would benefit from a solution and visiting the places where we want to make a difference to immerse ourselves in the topic.
The way people have given their time and shared their knowledge that will help us tackle this challenge has been hugely motivating and given us really useful insights.

W​e have read over 60 documents on the topic, visited 5 hospitals, spoken with 14 people with lived experience of dementia and over 60 health and social care professionals (from front line staff to clinical commissioners).
We've found that this is a complex area and there is a lot already going on to make improvements. At the start of September we had a session to bring together all of the information that we have heard and analysing it to find the key themes. We are now identifying the areas we think we should focus on in the next stage of the project.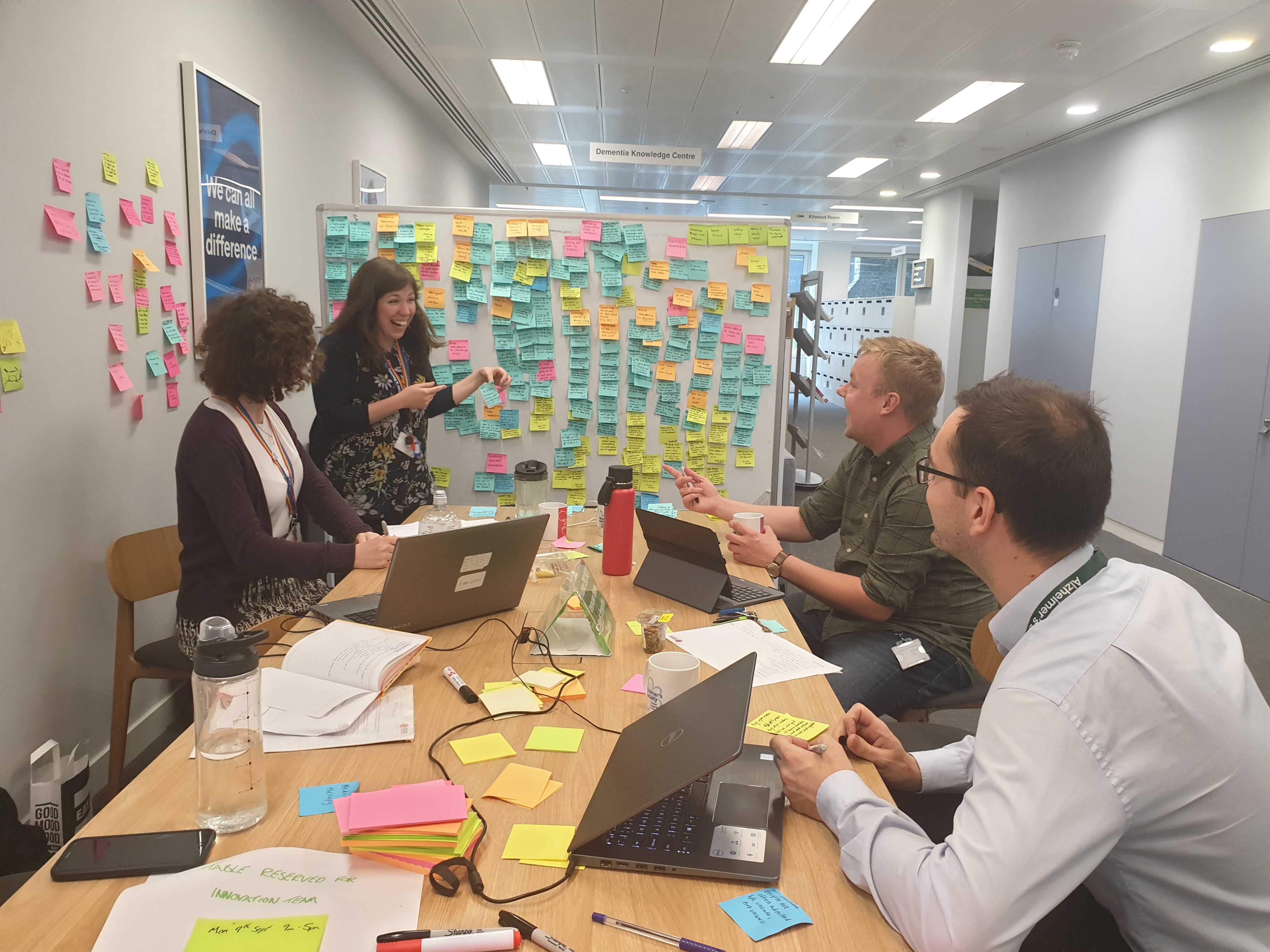 Our next steps will be to work together with professionals and people affected by dementia to look at these areas and find possible solutions to then build on and develop further. We are open to a range of solutions – it could be something for Alzheimer's Society to do, for us to work in partnership to deliver, or to enable other organisations to do, but it needs to be feasible and scalable. Whatever we develop, we will carry out an experiment to test it out in the real world allowing us to constantly improve and discover whether our solution has potential to be effective on a large scale.
We are excited to see where this project will take us. Meeting so many people who are working hard and are keen to continuously improve the experience of people affected by dementia has given us a real optimism and motivation to find a way we can help in this area too.
We're looking forward to keeping you up to date with our next developments!

Load more