News
Find updates about our projects and the Alzheimer's Society Innovation team right here
Categories
Guest blog from Steve McFadyen: My LIFE as an Innovator
"I'm more creative than I gave myself credit for. I just need more confidence in voicing my ideas and different ways of doing things, knowing they may not be perfect, but that an element of that idea, thought or comment could be just what we need to build into or on top of another idea."
We have been working on an innovation sprint with the Physical Activity – Policy team at Alzheimer's Society. We have been exploring how we can help people with dementia to be active as part of their day to day lives, as early as possible after diagnosis. Find out more about what we have been up to in our other update.
We asked Steve McFadyen, Senior Policy Officer – Physical Activity, how he has found his experience so far working as part of an innovation project team and through the sprint model of LIFE (Learn, Investigate, Find and Experiment). 
Over to Steve...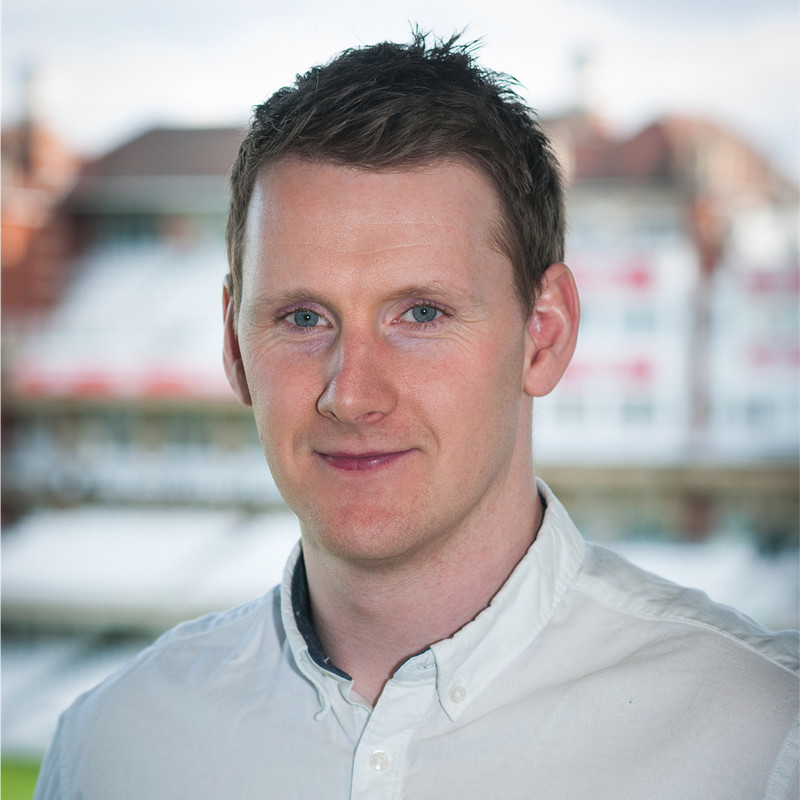 I don't consider myself a creative person, the most innovative thing I've done is make a whole bouquet of Lego flowers!
In a professional sense, (I like to think) I'm very organised and practical. But I've always considered myself a slow thinker. It takes me a while to read, digest, process and fully understand information before I feel confident enough to write or speak about it and add my thoughts into the mix.
Considering all that information about how non-creative I am and how on paper I would never be any use to an innovation project...we decided to work on a project within the Innovation team to develop a solution to help more people living with dementia move more as part of their day to day lives.
Here's a bit about how I got on...
How did I prepare with no previous experience?
There was a period before the sprint started where I had to try and get a better understanding of the work, the process and learning from previous innovation projects, which would help get me thinking of how I could apply this understanding. I went through the Bring Dementia Out project evaluation (download available at the bottom of this page) and loved how people affected by dementia were at the core of the work being the main beneficiaries of the work and how important partnerships were in the success of development and a product. One thing I knew needed to be carried over into our work was the importance of measuring the impact and reach of the work. It's so important all the way through to make sure the outcomes are evidence-based and can help us influence along the way!
I didn't have any direct experience of how the Innovation team have followed this model. But all through my career, I've had to understand new methods, new databases, new people and a lot of other new things to learn. All my experience was there, and I just didn't know how useful my previous work could be, but it was. I've always tried to put myself in other people's shoes when working – trying to empathise with a person or situation. Working through this model involves speaking with a range of experts and people with lived experience, that contributes to diversity of thought. I didn't need to have all the answers, I just needed the drive to challenge ideas, bring different perspectives into the conversations, and give us the best chance of coming up with a successful idea.
What have I learned individually?
This is a completely different way of thinking and working for me. I'm a planner, but this is stepping back and looking at the broader picture and spread of opportunities. Starting broad and not knowing which direction we are going in is challenging at times in my head, but it is really making sure we explore everything in the process to get to the right place. A habit in previous projects is to look to find a solution or a plan straightaway but for this, it's important not to rush the early stages of insight and learning.
I'm more creative than I gave myself credit for. I just need more confidence in voicing my ideas and different ways of doing things, knowing they may not be perfect, but that an element of that idea, thought or comment could be just what we need to build into or on top of another idea.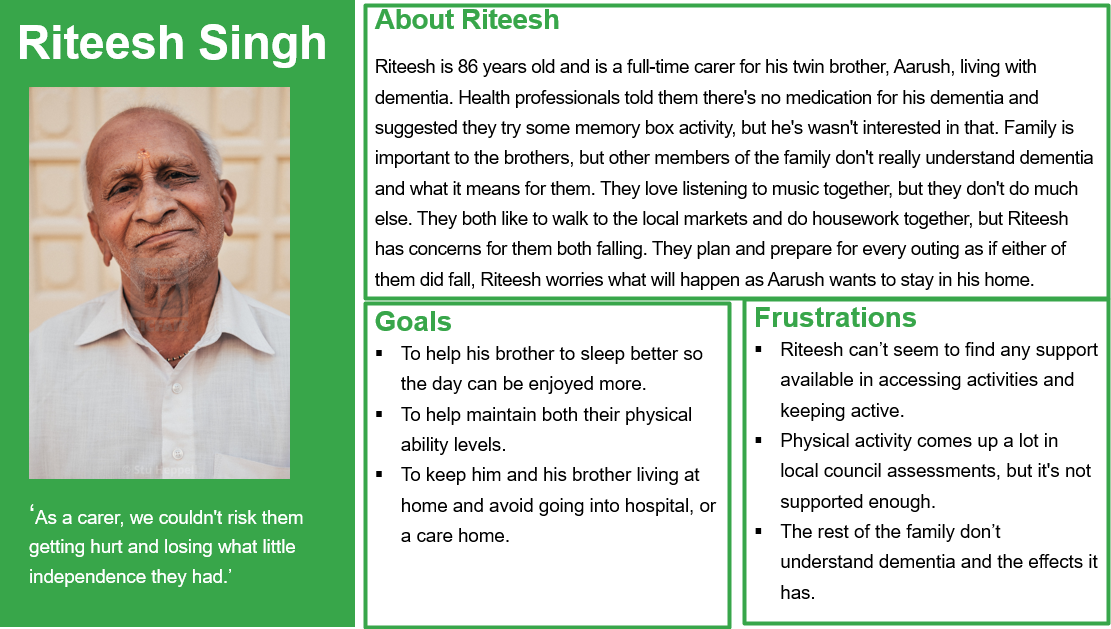 I found some of the activities like 'Creating Personas' so much fun! This is where we build fictional characters based on the insights gathered in a project, telling their story about how a particular challenge related to them. I got into a flow and was able to do them much more easily than I thought I would, with guidance from the experts of course!
There are a lot of ideas, insight and nuggets of information collated along the way. With such a broad challenge and all the work that goes into it, it feels a bit strange to pick a solution and leave some ideas behind. However, all the insight is used in other ways to contribute to the wider programme of work, recommendations for other teams or organisations, but more than that, it's all just useful learning to help how other ideas are developed in future.
What have I learned about how the Innovation team think and work?
The Innovation team follow the LIFE model (pictured bel- developed by Good Innovation) which I really like. They have a clear process of how to get to a solution but there's so much flexibility within it to make it what is it. The end of each phase is reflected on to help shape the next. They really try to use the important nuggets of information and not leave anything valuable behind. And if it's not needed for this project, it'll go into the insight package to share with other teams.

I struggled for a while to trust the process as it was so new. We started off so broad with concepts and ideas – I couldn't see where we were going and if it would work. I'm very visual with learning and not being able to picture what direction or what a solution would be was hard to do. But it works, so trust it.
I've also been impressed with how productive they are within sessions. They still find time for it to be fun, yet clear and efficient. Every session is prepared for, with key outcomes shared at the start to make sure we're using time effectively. It's such a simple thing but often gets overlooked and it really helps maintain focus and keep to timelines. It is a great combination of bonding us together as a team and getting the work done well and at pace.
And when we've blocked out time for a sprint session, it doesn't mean we have to be on the call all the time. An example was where we joined a call to set up the task, went away to work on the task individually (off screen) and then came back to build on ideas and findings together. It was a refreshing way of making the best use of the time without feeling like we had to be on screen all the time together.
The Innovation team have a range of skills, knowledge and experience, and are continuously open to new ideas, challenges and flexible approaches to working. They proactively look for improvements and make changes to existing practice for future projects.
And back over to the Innovation team...
It has been a great experience bringing members of another team at Alzheimer's Society onto one of our innovation sprints. We have been so impressed with how Steve McFadyen and Jenna Peel (Policy Manager – Physical Activity) have quicky picked up our model, tools and methods, and they really have felt part of the team!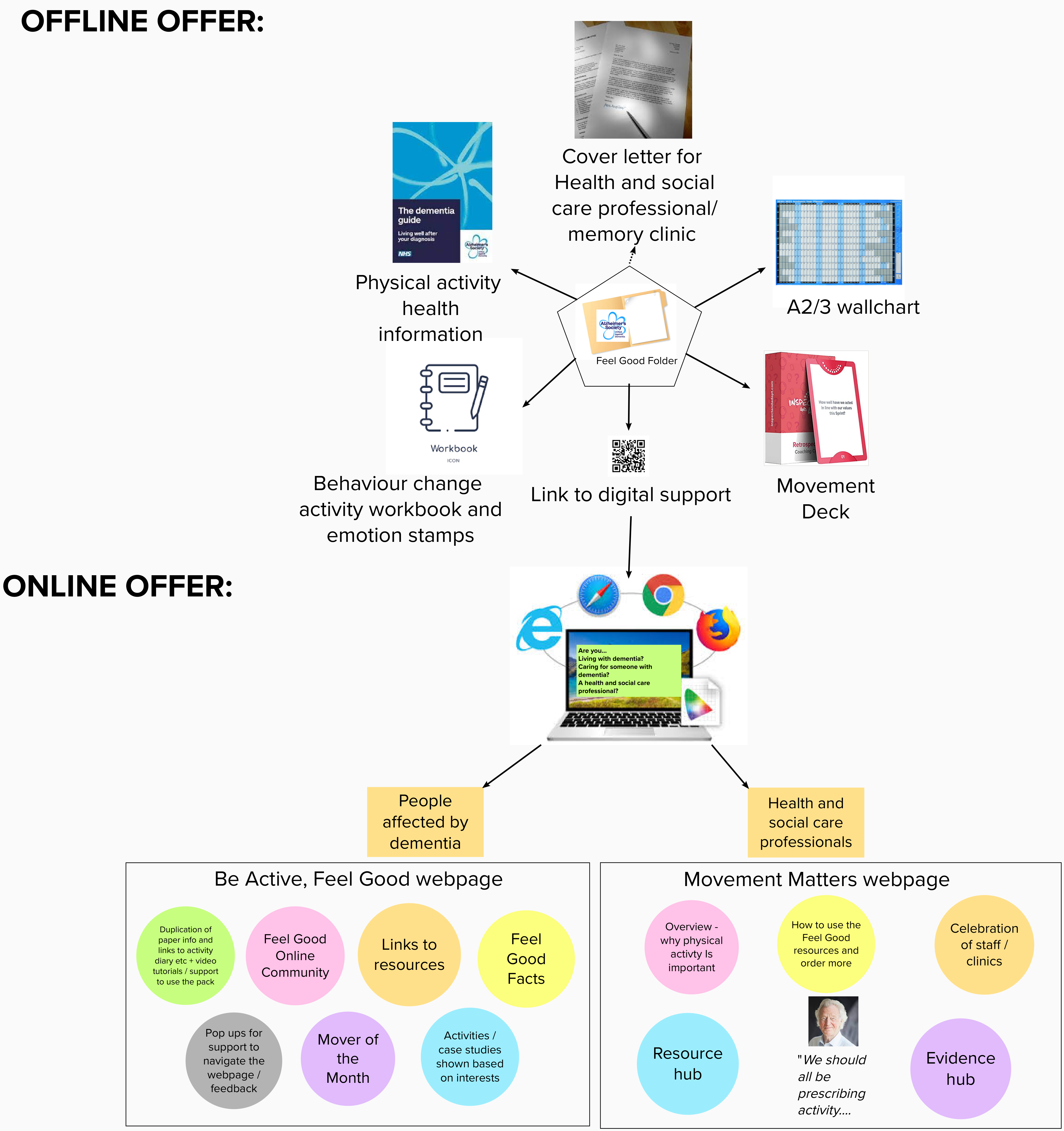 An example of this recently was when we were building our paper prototype (see image to the right) and storyboard of the solution which we are taking forward into the Experiment stage of the sprint. Steve and Jenna were tasked to build these, based on previous examples, and instead of just using what we had provided, they went into the land of Mural (one of our go-to innovation tools) and produced some spectacular work, really bringing the solution to life (see the snippet of this to the right).
Working together has opened us up to new ways of thinking and inspired us to continue to adapt our process and model. It has brought together a great combination of skills and expertise, generated a lot of learning, freshness, and new ideas. A huge thank you to Steve and Jenna for all their insight, hard-working attitude, constructive feedback, and humour, helping us through each and every busy stage of the sprint so far!
This post was edited on May 20, 2022 by Natasha Howard-Murray