News
Find updates about our projects and the Alzheimer's Society Innovation team right here
Categories
Innovation update - April 2020
The Innovation team were kept busy during the first few months of 2020. We brought the hospital project to life and challenged our misconceptions about continence issues.
Unfortunately, the onset of the Coronavirus pandemic has required us to shift priorities to ensure all people affected by dementia get the support they need at this challenging time. We've put these projects on hold and look forward to picking-up where we left off when things get back to normal.
For now, we would like to share where we are up to…
How might we ensure people affected by dementia get the immediate support they need to leave hospital safely and without delay?
Our solution, the Hospital Journey Tracker emerged from a series of ideas workshops involving 7 people affected by dementia and 25 health and social care professionals. We came up with 100 ideas overall. After several rounds of shortlisting the Hospital Journey Tracker was felt to be the solution with the potential to make the most immediate and significant impact for people affected by dementia.
The Hospital Journey Tracker is a system which emails status updates to a named patient representative to inform them of what is happening now and what is expected to happen next in a patient's care. These updates might include that a patient is undergoing medical treatment, having tests, or that planning in taking place for discharge. We found people leave hospital quicker when they're well supported by a carer or loved one that is kept informed, able to assist in in hospital assessments and to plan for discharge arrangements. We hope in making processes more transparent, the updates will facilitate conversations between people supporting someone with dementia in hospital with health professionals. From our feedback, people affected by dementia saw the impact this could have and professionals could see how efficient this could be in the future.
To build the tracker, we teamed up with Luton and Dunstable University Hospital (L&D) and our software partner called Phew!. L&D and Phew! were already working together to build a patient discharge management system. This helped accelerate the development process as we could build on the existing system, rather than having to create a new one from scratch. We worked as a close team throughout, taking the lead from Yvonne, Dementia Nurse Specialist, on what would be valuable yet practical to implement in the hospital setting.
Once we had an outline of what the tracker might look like, we went back to people affected by dementia who had been involved previously. We asked them to feedback on the wording to go in the status updates, and on the information sheets which will be handed out to patients and their families during the pilot. Now, all that was left was to build the tracker itself and to launch the pilot in the hospital.
A prototype of the email update: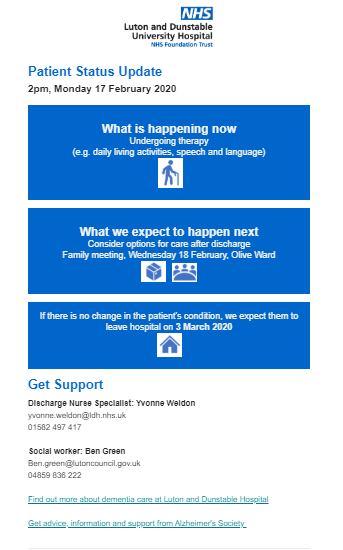 Unfortunately, the coronavirus pandemic hit just as the software development was due to begin and as demands on the hospital increased, we had to postpone the project. It's a real shame as Yvonne at L&D agreed that something like the tracker, which allows people to be involved with a patient's care from a distance, would have been so valuable in this time when people are not allowed to visit their loved ones in hospital. This only spurs us on even more to make sure it gets built in the future.   
Continence and going to the toilet
Back in November, we selected 'Staying dry – continence and dementia' as the topic for our next project.
Continence and going to the toilet is a taboo topic that doesn't receive attention, so we wanted to open up the conversation and look for new ways to support people affected by dementia. Once we started learning about the topic area, it very quickly became apparent just how significant it is.
Compared with people without a dementia diagnosis, people with a dementia diagnosis have approximately three times the rate of diagnosis of urinary incontinence, and more than four times the rate of faecal incontinence. This can be related to problems with the bladder and bowels or related to symptoms of dementia such as not being able to find or recognise the toilet.
We investigated the topic by reading over 30 documents and speaking with 27 subject experts, and seven people with personal experience. We also spent a day observing in a care home, and even bought some pull-up continence pants for ourselves.
Our research identified three key themes:
1. Promoting continence – helping people stay continent is really important, but staff and families aren't aware of how to do this, and too often incontinence pads are used as the first rather than last resort.
2. Managing incontinence – when people do need containment products such as pads, they should be the right product for the person, and of a sufficient quantity for them, but too often people aren't receiving the best product for them, or enough of the products to adequately meet their needs.
3. Stigma of continence issues above and beyond the stigma of dementia means that many people don't seek help until they reach a crisis. Stigma can be exacerbated by healthcare professionals who sometimes consider that continence problems are just to be expected amongst older people, especially people with dementia. These attitudes go against expert guidance and can prevent people from getting adequate support
In March, we moved into the Find stage where we look to find solutions. We were determined not to let the Coronavirus pandemic stop us, so instead of our usual face to face ideas workshops, we held two 'virtual' workshops, involving 14 people with a mix of personal and professional experience. This was the first time we had done this, so we were pleased that it worked so well. We were spurred on by the passion of everyone in the session who produced some excellent ideas.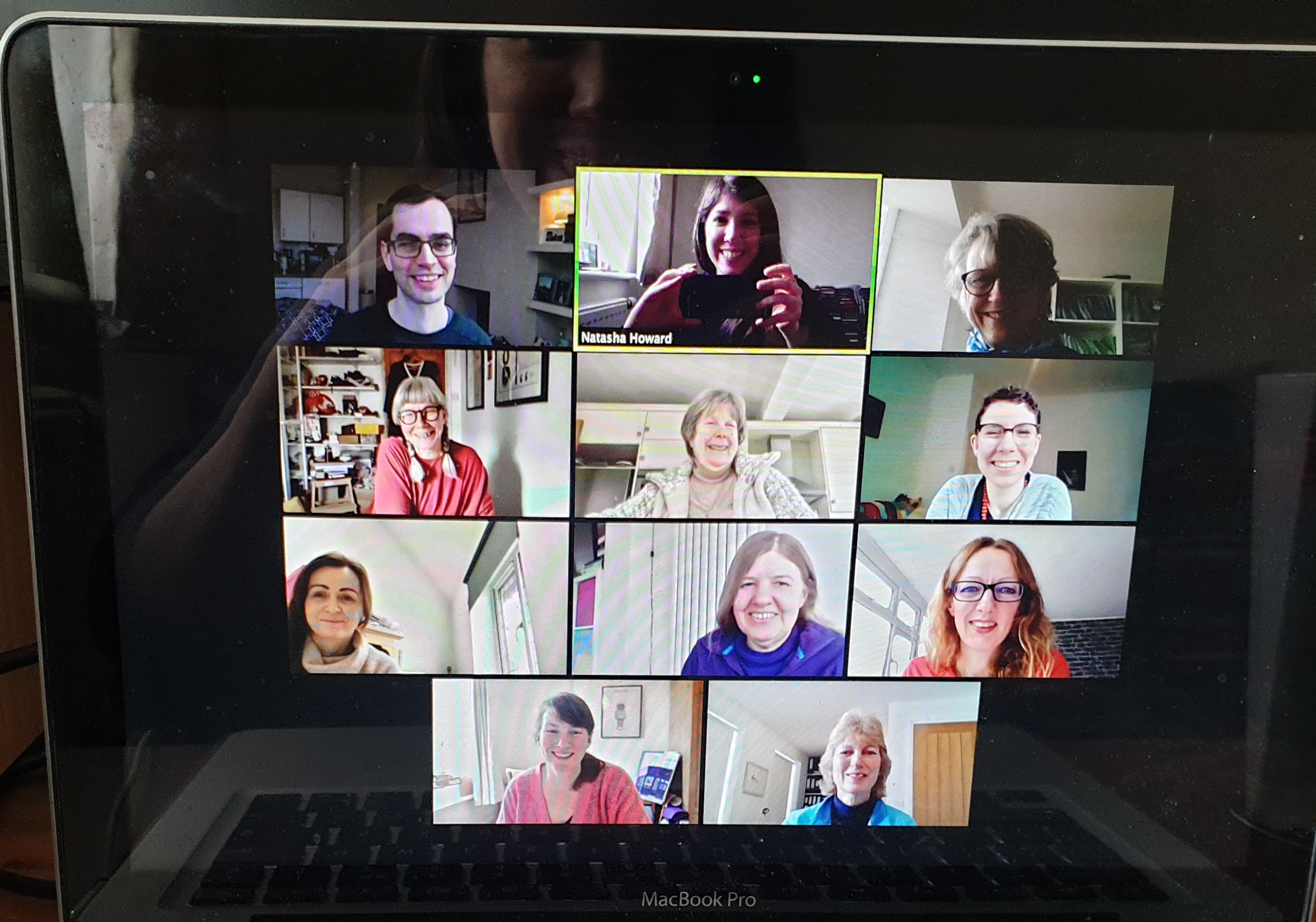 We will be posting these ideas on the Innovation Hub and asking you to vote and comment on which you think we should develop further. There may be a delay in us moving to the next stage while we focus on innovating to support people affected by dementia through coronavirus.
This post was edited on Apr 8, 2020 by Natasha Morgan