News
Find updates about our projects and the Alzheimer's Society Innovation team right here
Categories
Uniting with General Practices - share your feedback on two ideas
After the Dementia Friendly General Practices Project in Nottingham and Derbyshire came to an end back in 2018, we were aware that there was a need to explore this area further and so with what we had learnt from that project, we set out to identify the challenges General Practices and people affected by dementia are currently facing. Michelle Davies, Senior Innovator, has written this blog to update on progress, and ask for feedback on two prototypes (details at the end).
Keen to take on this new project, the Innovation Team started researching this area and began by applying the LIFE model of innovation. In keeping with our approach to innovation​ ​we began by identifying the challenge and then framing this as a question:
'How can we help General Practice to better meet the needs of people affected by dementia and better understand pathways to further support?'
We wanted to 'learn' about the work that was already taking place within General Practices for the benefit of people affected by dementia across England, Wales and Northern Ireland. We needed to research over 20 existing projects and contracted service provision involving General Practice and a range of organisations. Our aim was to delve into what seemed to be working well within those projects, what wasn't working so well, what was surprising and what we wanted to explore further through interviews.
We were interested to learn about the range of work taking place, both short-term funded, time limited projects and also longer-term services commissioned by Clinical Commissioning Groups and delivered by Alzheimer's Society or other organisations. This led us to interviewing a range of stakeholders and experts in this area, including Commissioning Managers, other dementia related organisations, NHS Patient Experience Leads, research fellows and more. By doing this we gained a greater understanding of the challenges faced by both people affected by dementia and General Practice.
We set out to 'investigate' these challenges further by speaking with GP's, other General Practice team members and importantly people affected by dementia, to hear about their experiences when visiting their GP.
We have heard GP's talk about the time pressures they are facing when seeing patients and how limited time makes it difficult to gain an insight and a real understanding of the impact that dementia is having on their patient's life.
GP's and people affected by dementia also spoke about wanting to know what happens next, who does what and when, from pre-diagnosis to end of life. Some GP's shared their thoughts about how difficult it is to signpost and/or refer patients on to suitable services when they have little knowledge of available local and national services for people affected by dementia.
In total we have spoken with 115 people to gather a range of insights. Some other themes to arise from our discussions with GP's and people affected by dementia focused on: issues with continuity of care; multiple GP's involved in a patients care; annual reviews requiring greater consistency with a person centred approach; greater knowledge and understanding of dementia; limited dementia training; difficulties managing expectations; timescales for referrals to memory clinics; social prescribing being seen by some as the answer for all and many more thought provoking points.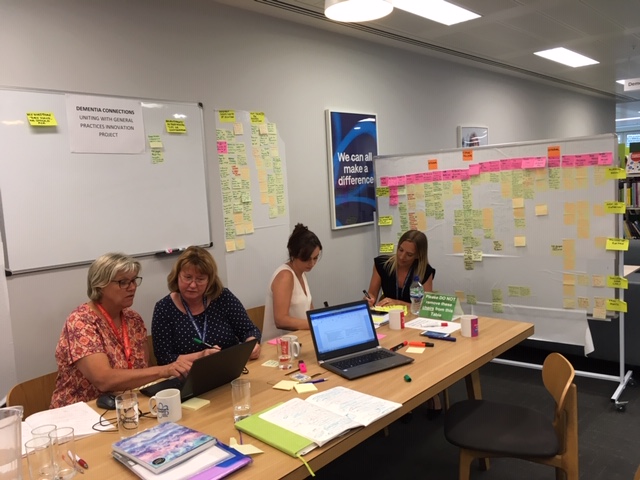 On hearing the challenges faced by GP's and people affected by dementia, we started to think about how we could 'find' solutions to help both GP's and people affected by dementia.
During our creative thinking workshop, which involved people affected by dementia and a range of professionals, we started to develop ideas for solutions for the challenges and then we asked people to vote for their top three solutions.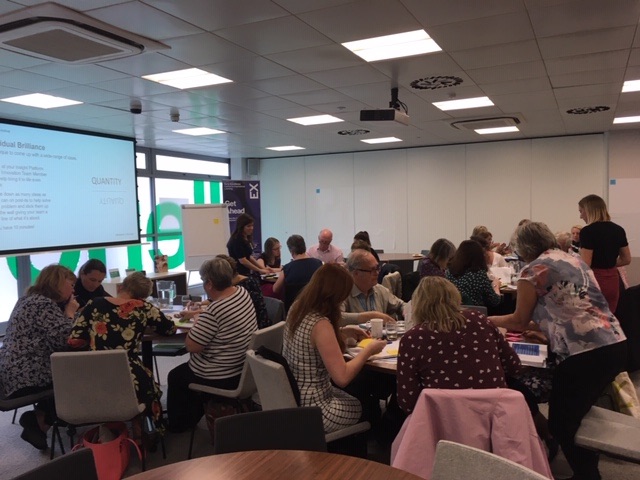 After gathering feedback from over 70 people on the top solutions, we are pleased to share that we now have 2 solutions, which have made it through to the 'experiment' stage and have been developed as paper prototypes. They are the Dementia Journey Map and Annual Dementia Appointment for General Practice Teams. We would love to have your feedback on these prototypes, which will help determine the next steps such as testing in the real world!
Dementia Journey Map
Click here for the survey for professionals
Click here for the survey for people affected by dementia
Annual Dementia Appointment for General Practice Teams
Click here for the survey for professionals
Click here for the survey for people affected by dementia
Many thanks
Michelle Davies,
Innovation Team
This post was edited on Nov 27, 2019 by Michelle Davies
Comments (2)
I love the journey map! It will be such a useful resource to help people find their direction.
During the project consultation and discussions did the subject did the subject of how to connect GP practices (and also those living with dementia) with community-based support networks come up?
The "Supporting Well" and "Living Well" regions of the map indicate a top-level sign-posting to support within local communities and it feels like these areas would be further enhanced by a local-level map to help people navigate their 'social prescription'. 
Think of how Google Maps uses "local guides" to really enhance and enrich the data presented. Fundamentally the core functionality (the map) shows me how to get to my destination, but the input from local guides really tells me what to do/eat when I get there (or indeed, what not to!).
The GP annual review should provide an opportunity to assess all healthcare needs and their interactions with dementia. I think that eyesight, hearing,  diet, oral care,  mobility and continence should be addresses and a medication review undertaken.