News
Find updates about our projects and the Alzheimer's Society Innovation team right here
Categories
Accelerator Programme Update - How Do I? Guest Blog
By Tom Casson/Taryl Law (How Do I?)
We've now been working with Alzheimer's Society through the Accelerator Programme for 3 months. We've been busy taking advantage of the intensive support they're providing, and our project is off to a great start! We've travelled across the country, racking up over 1000 miles in our efforts to meet as many people living with and affected by dementia as possible.
We were pleased to see our project covered by various media outlets including the i, the FT, and PoliticsHome, alongside another innovation called Jelly Drops who are also supported by Alzheimer's Society. We wanted to let people know what we've been up to!
A quick recap for those not aware of the programme or our work:
As part of its new Accelerator Programme, Alzheimer's Society is funding innovations and inventions that could help improve the lives of people affected by dementia.
We are 'How Do I?', we are fine-tuning a new mobile phone-app for people with dementia and their carers. This app links videos to objects in your home, through your mobile phone. These videos can help with learning how to complete a task or remembering an activity. We are working hard to help people live more independently at home for longer and we are passionate about empowering people through technology.
We gave the public a first sneak peak of our app at the Alzheimer's Society conference at The Oval in May, where the announcement for the accelerator programme launch was made. We met with many people affected by dementia, health care professionals, other entrepreneurs and the Secretary of State for Health and Social Care, Matt Hancock. 

Following on from the launch event, our main aim over the last 3 months has been to meet with as many people living with and affected by dementia as possible, and also dementia professionals, to gain valuable feedback on our idea and undertake user research.
We have always recognised the importance of user research: when designing a new product, it's crucial to involve users at every stage of design and development.
We've travelled to Nottingham, Essex, Peterborough and across London to meet with people living with and affected by dementia, running feedback sessions. We are so grateful to those who have taken the time to meet and work with us.
We worked alongside people to take them through the apps and try them out, asking questions and receiving feedback on icons and language, the colour scheme, and even the name of the product and the language we use to describe it.  Throughout the process, we would take on board our observations and the feedback we receive, and then iterate our designs.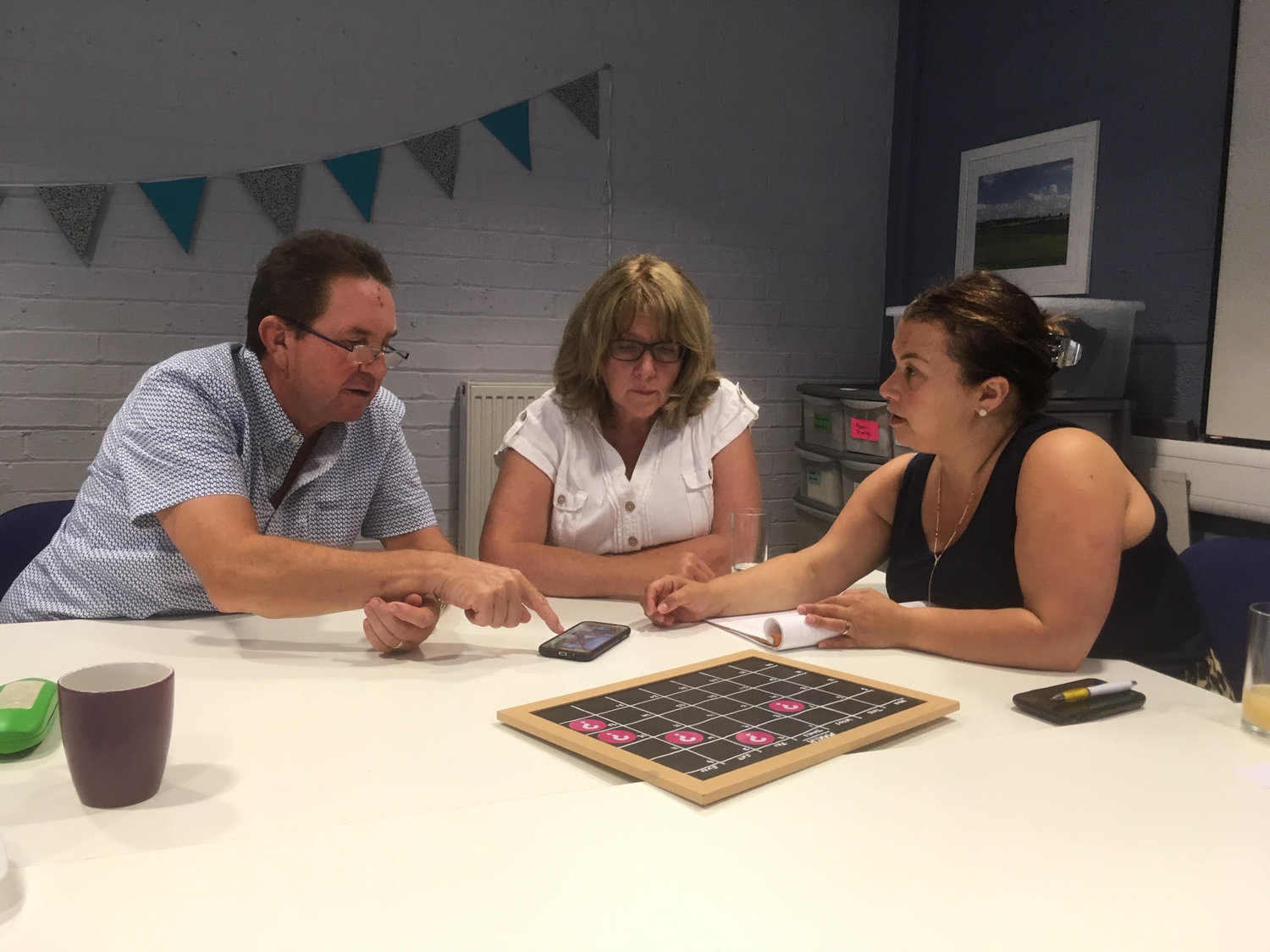 Through these sessions, we've had the opportunity to listen to peoples' insights and their suggestions on how we can make our product work for them. We have gained insight into the unique wants and needs of people living with the condition and we will continue to develop and iterate the apps based on their feedback and user experience. Working closely and collaboratively with people affected by dementia will always be a cornerstone of our development.
Through the Accelerator Programme we've also been able to meet with professionals to talk about our communication plans, with research professionals to help to find more people with dementia and carers to test out our app. We also met with impact & evaluation experts to help us understand how best to measure the impact we're having in peoples' lives. We met with professionals to discuss user experience, user interface design and the importance of making technology accessible for older adults, which was invaluable knowledge in light of our focus over the past 3 months.
Putting all this feedback and advice together, we've worked on our designs and the user flow of our apps, over the next few months our tech team will be working on the development.
Over the next three months, we will also be:
●      doing further research into branding and packaging, alongside people living with and affected by dementia,
●      thinking about how we can ensure we are engaging the widest and most diverse use groups possible,
●      and creating a framework and feedback system for measuring our impact.
We are extremely excited to share with you what we've been working on and developing. Fancy becoming one of the first few people to exclusively try out the new version of our app? If you are interested then please email hello@wearehowdoi.com for more information.
To see our video on the last few months and stay updated come visit us here!

This post was edited on Sep 19, 2019 by Seb Cooper
Comments (2)
Thanks for the update! Great to hear how you're gathering feedback from people affected by dementia and using it to develop the app!
great to learn about an app to help those of us in need of additional help with technology. just disappointment that once again we in The North seem to be left out. At the Unfurling of the Banners exhibition in Manchester last year, I asked the main speaker why the trials etc iro dementia seemed to be basd in other regions of UK - no financial backing for research in northern universities?  Please comment