News
Find updates about our projects and the Alzheimer's Society Innovation team right here
Categories

Over the last year, we have all become painfully aware how much we miss being able to give and receive a hug. Many of us have felt a desperate need for physical contact, a touch on the hand, a warm embrace, and we know instinctively how this lack of intimacy has been detrimental to our sense of wellbeing. Think about how much more painful this is for those living with dementia or cognitive impairment, who have been unable to understand what has been going on in the world around them. We know that these feelings of isolation, separation and anxiety impact on physical health and fuel the inevitable decline of those living with dementia. Finding ways to alleviate this are vital, and HUG™ has been shown to be a product that can help when human cuddles are unavailable.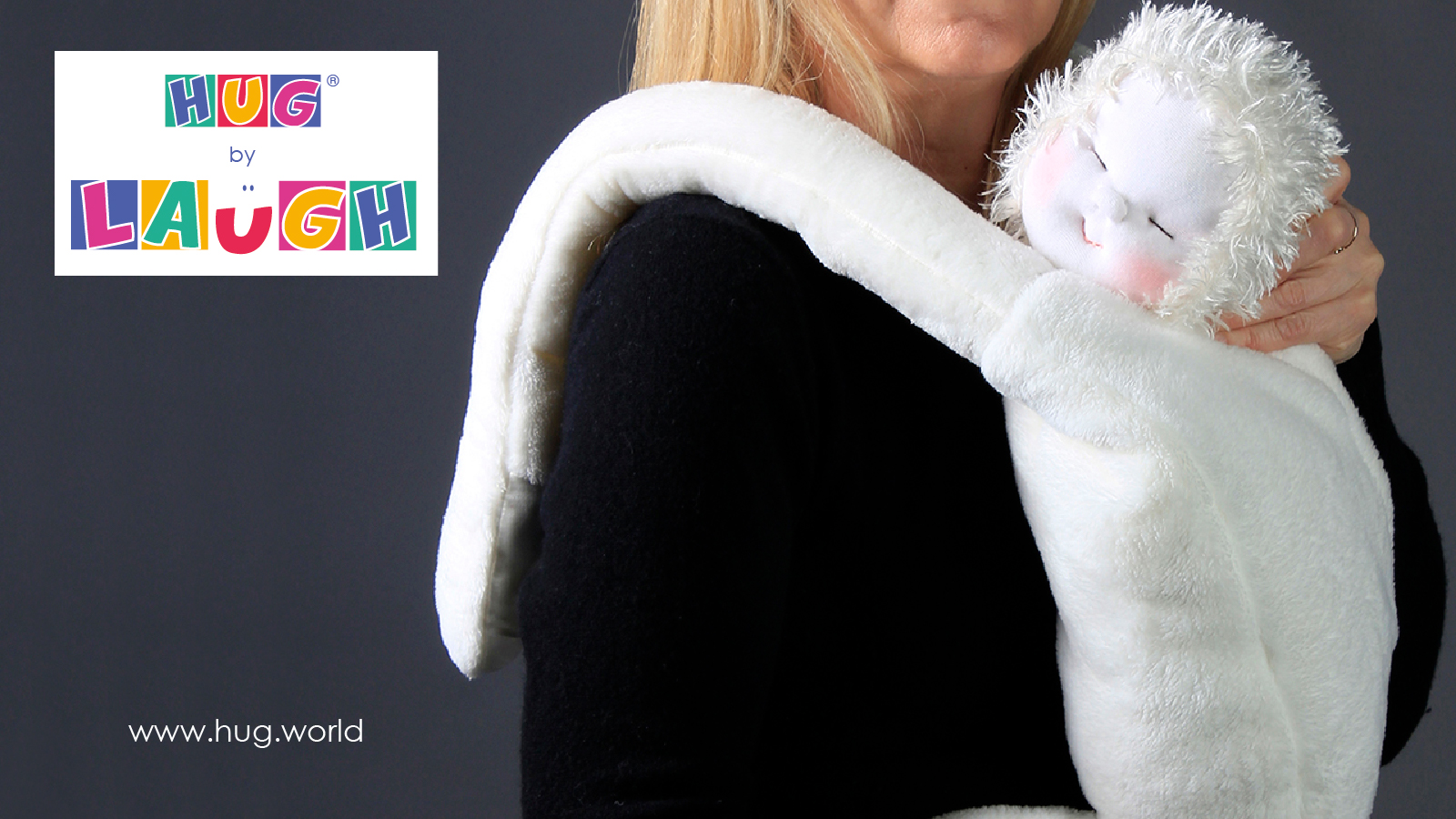 HUG™ is a soft comforter designed to be cuddled to help reduce anxiety and agitation. It contains a simulated beating heart and music player that can be programmed to play a person's favourite music. The award-winning product has been developed from university research and has been tested over the last four years in hospitals, care homes and by people affected by dementia who are living at home. HUG™ was the recipient of two awards in the 2020 Tech4Good awards and a finalist in the Dementia Care awards in 2018.
The start-up company, 'HUG by LAUGH', is one of three businesses being supported by our Alzheimer's Society Accelerator Programme through 2021. We want to ensure that HUG™ is commercially available to help make it available to as many people living with dementia as possible. HUG™ was designed originally for a person living with the later stages of the disease, however, feedback from our research suggests that anyone can enjoy a cuddle with HUG™.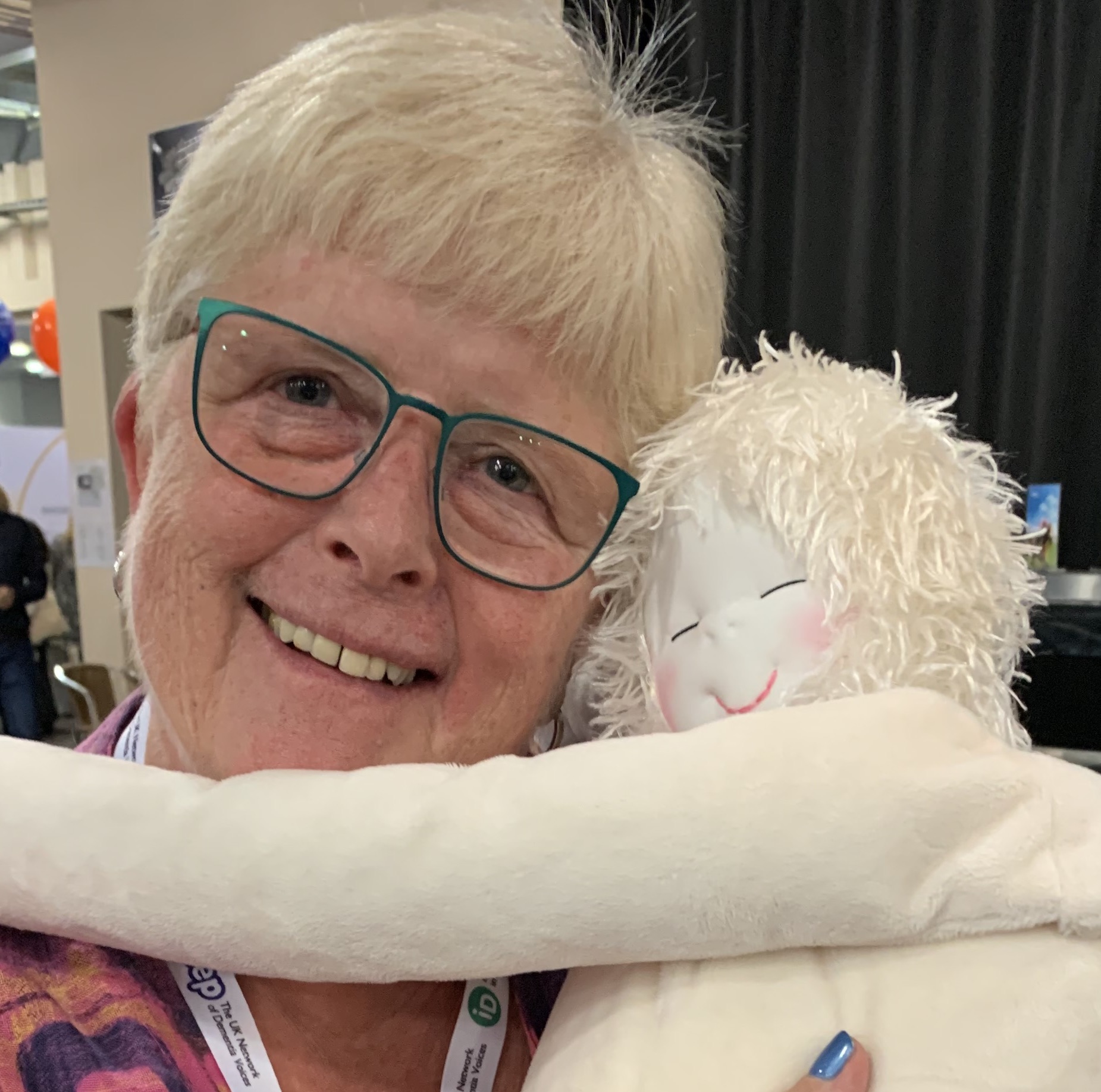 Chris Maddocks, Alzheimer's Society's Ambassador (pictured above), has been helping to evaluate the product. Chris was featured in a film about using HUG™ in lockdown as part of the BBC's The One Show, broadcast on 15 February 2021.
In the film, Chris comments, 'I think a lot of people living with dementia don't know how they're feeling or why they're feeling a particular way, and the comfort that the HUG doll will bring people in those situations is just really calming, a soothing effect, and it makes you feel loved.' 
The first batch of HUGs™ is currently being manufactured and will be available to give much-needed cuddles to people later this summer. They are available to pre-order on the HUG website and it will be possible to purchase them from Alzheimer's Society Online Shop later in the year.
The HUG by LAUGH team are thrilled to be collaborating with Alzheimer's Society, as it gives people affected by dementia an opportunity to help shape the product and therefore benefit those who need a HUG™ the most.
For further information:

Too many people affected by dementia face barriers in their day-to-day lives. HUG™,  Konnect by Kraydel and Sibstar are three new products we're supporting to tackle common challenges at every stage of the dementia journey. 
Coronavirus is taking its toll on many. Lockdown and shielding have had damaging side effects, adding to the challenges faced by people affected by dementia.
It is more important than ever to find new and innovative solutions to these challenges.  Whether it is feeling isolated from loved ones, coping with loneliness, or being vulnerable to fraud. Our Accelerator Programme identifies and fosters innovative ideas to improve the lives of people affected by dementia.
After everything the pandemic has thrown at us, we are excited to announce our three new Accelerator partnerships. These new products will;
virtually connect people living with dementia and their families in the most accessible way possible
provide a safe way for a loved one to be financially independent
reduce anxiety and distress
We believe that everyone with dementia should be supported to live well, from a diagnosis through to the advanced stages. Let's meet the partners and hear about the exciting products they are developing for people at each stage of their dementia journey.
1. Konnect by Kraydel
For people living independently away from family, keeping connected has never been more important. Konnect by Kraydel makes video calling simple by using your own TV.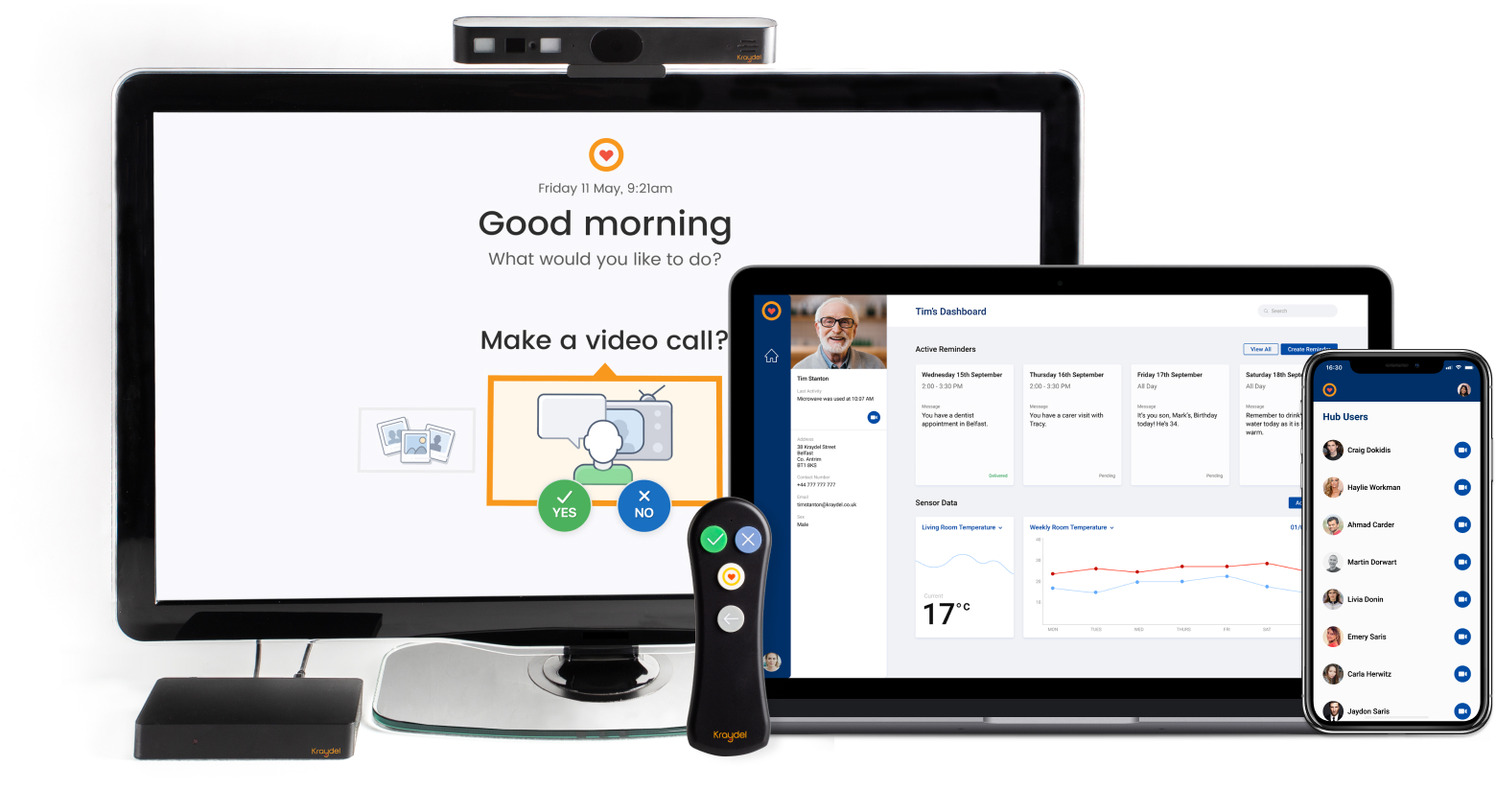 What makes the Konnect system unique is that it doesn't require any training. It is straightforward to install and designed to help people with dementia who cannot use the internet, a computer or tablet. Staying in touch with family, friends and carers through video calls is far more engaging than simple voice calls. By staying connected, families also have peace of mind that their loved one can remain independent for longer.
Visit Kraydel's website to find out more.
2. Sibstar
Sibstar is the first highly secure, prepaid debit card for people living with dementia, along with an app for their carer.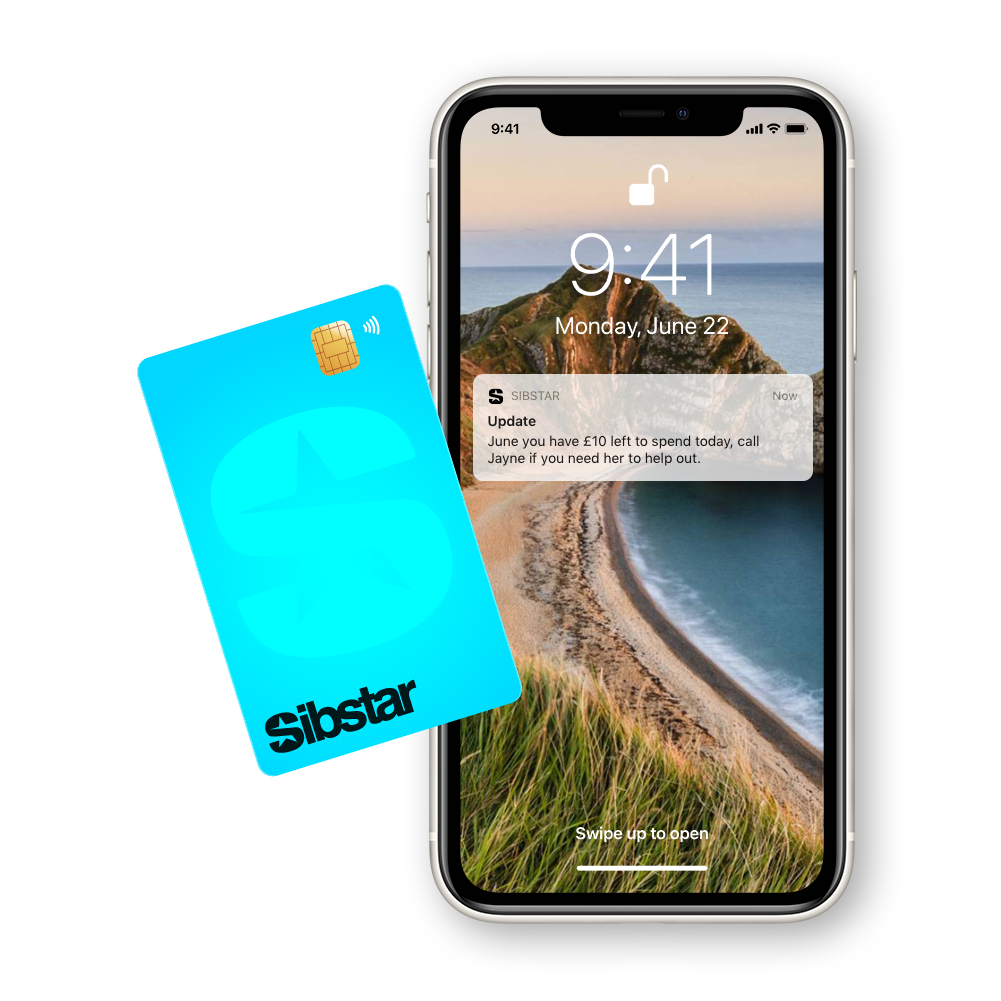 Jayne Sibley created Sibstar while caring for her mother June, who is living with Alzheimer's disease. Managing money had become increasingly difficult for June, who had started to make repeat cashpoint withdrawals, give money away and fall for scams – losing thousands of pounds. 
Jayne tried all sorts of solutions, but had no choice but to stop her mother accessing her finances. This meant June lost her financial independence. Aware that other families were having similar experiences, Jayne then developed Sibstar. 
Sibstar allows people with dementia to remain financially independent, while giving security not available from existing banks. It gives both parties a simple way of accessing and managing day-to-day money, while making sure it remains protected and secure. Sibstar reassures families that the people they are caring for are less financially vulnerable, so they can remain independent and enjoy living their lives as fully as possible. 
Visit the Sibstar website to find out more
3. HUG™
Last but by no means least is HUG™, a playful and interactive comforter designed to be cuddled by people with advanced dementia. HUG™ has weighted limbs and a soft body that contains a simulated beating heart and a programmable music player. It generates the soothing sensation of giving and receiving a hug and allows people with advanced dementia to sit comfortably upright while providing relaxing support.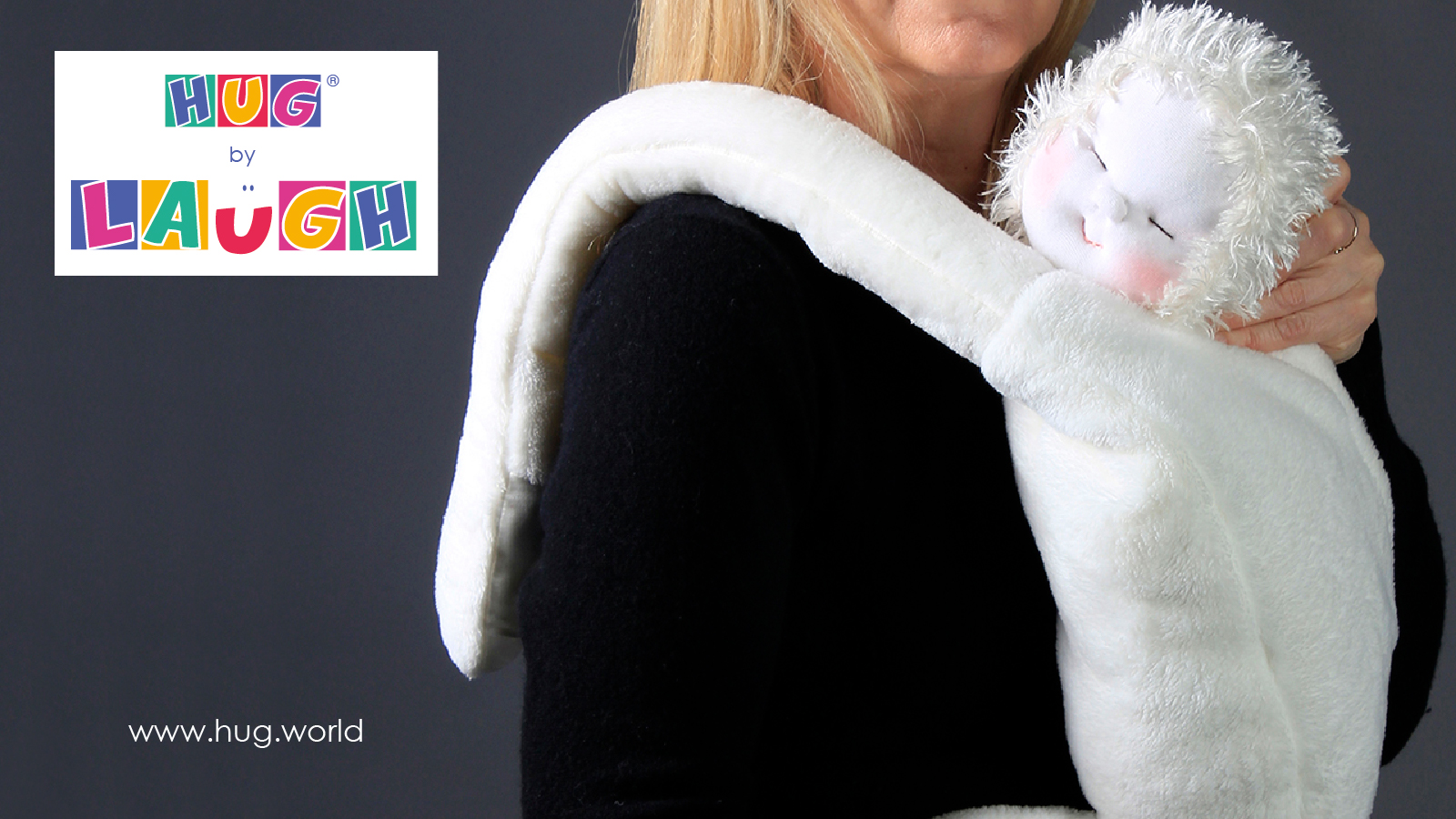 As dementia progresses, people living with the condition can become more isolated, agitated and anxious. There are currently very few products available that bring comfort, connection and meaning to the lives of people in the advance stages of dementia.
Research has shown that the HUG™ can improve quality of life, reduce anxiety and agitation and enhance social interaction. People affected by dementia have really experienced the benefits. A daughter of someone living with dementia said, 'HUG is a comfort for Mum. Wherever Mum goes, HUG will go. There is a strong attachment and emotional bond.' And from a person with dementia, 'I fully endorse HUG. I really want a HUG… everybody needs a HUG!' A care home worker shared, 'Using the HUG has been an effective way of helping our residents feel secure and loved, it has been amazing to see the smiles that a HUG can bring.'
Visit the HUG™ website to find out more

We are really looking forward to partnering with these three organisations and helping them to develop their inspiring products. We will be supporting the partners to work together with people affected by dementia, making sure their innovations are accessible and available to the people who need them most. We will keep you updated on progress, development and availability of the products in due course. 

Many organisations within the third sector are needing to innovate. Nesta (an innovation foundation helping to turn bold ideas into reality and change lives for the better) wanted to find out if new partnerships with startups can help tackle some of the challenges that organisations are facing.
Earlier this year, we contributed to Nesta's new report, 'Better Together: How startups and the third sector can collaborate', which was published in July. We talked about the learning and experiences from our Alzheimer's Society Accelerator Programme, where we work with startups and invest in innovations and products to help improve the lives of people affected by dementia.
Nesta describes the report as 'the first of its kind to describe how third sector organisations and startups can work together for mutual benefit. Although collaboration is difficult to get right, there is much to gain when the two worlds align.'
The aim of the report is to help the third sector and startups:
Understand the value of collaborating and assess whether it is right for them.
Identify the necessary steps to prepare for, design and carry out collaborations – and the key challenges to anticipate.
Learn from the experience of others – featuring examples from our Innovation team's work at Alzheimer's Society, Friends of the Earth, the Children's Society, Versus Arthritis and others.


From this report, we will be looking at the recommendations shared and consider how we may integrate some of these to improve our innovation offer at Alzheimer's Society. For example, having a dedicated Innovation trustee could help in encouraging innovation further at the organisation. Someone with experience in this field and an understanding of the benefit of working with startups could help to champion the importance of innovation and new partnership opportunities across the organisation.
Through our Accelerator Programme, we have learnt a great deal from our partners with each bringing their own creativity and mix of skills to the programme, our team and organisation. By working with these startups, we can harness the development of new and exciting ideas, products and services that can help to improve more aspects of people's lives and wellbeing. We encourage our partners to involve people affected by dementia by connecting them through our networks. Together, they build and test the innovations, making their end products more successful, accessible and beneficial to people affected by dementia. It is inspiring to see the passion that they have in making sure their creation gets straight into the hands of the people who need them most.
Want to find out more?

You can read more about our 2019/2020 Accelerator partners here.
If you have any questions about the report, please contact Charlotte Reypens at charlotte.reypens@nesta.org.uk.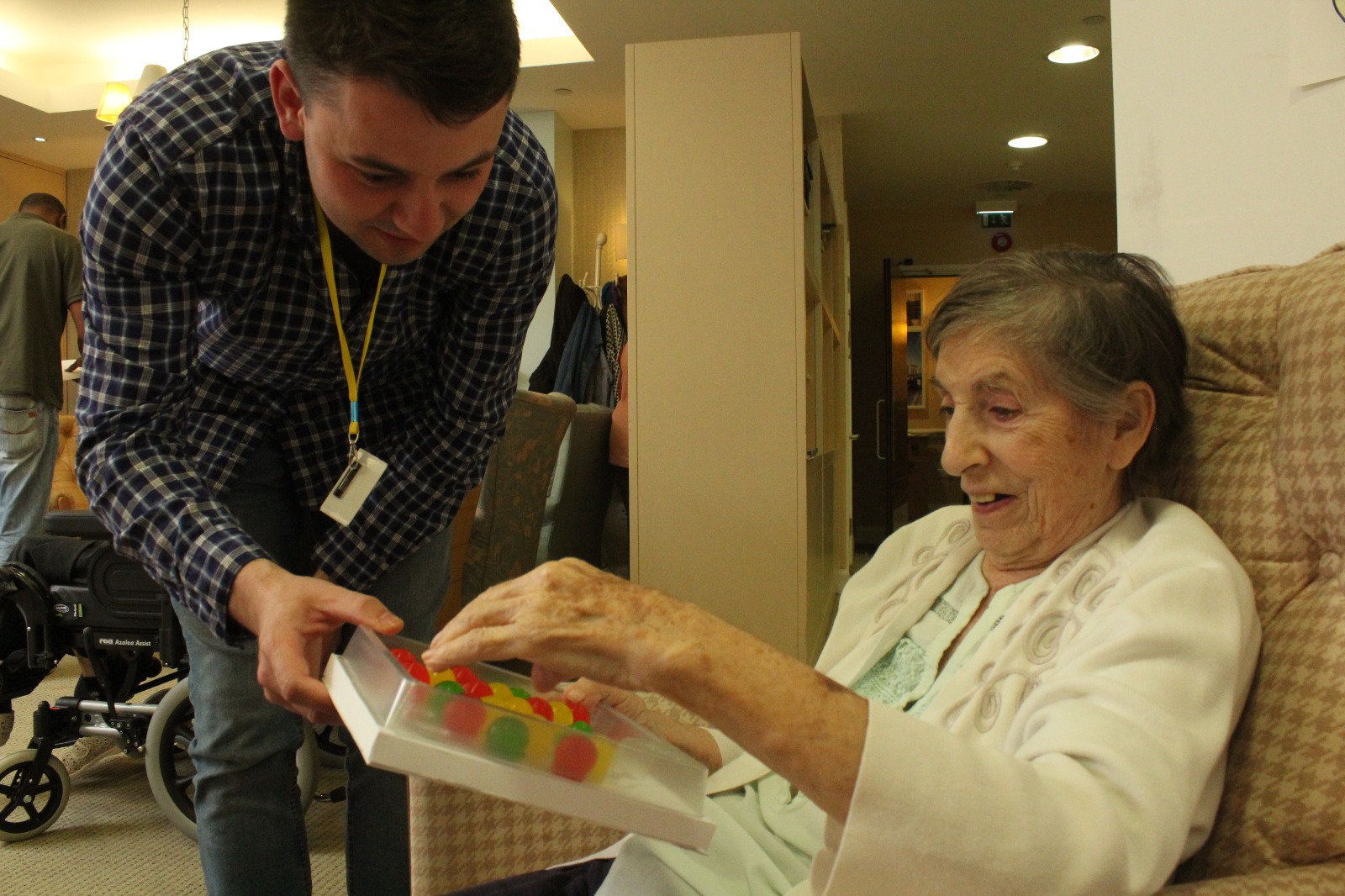 Over the last year, Alzheimer's Society has been delighted to partner with Jelly Drops through our Accelerator Programme. This programme supports brilliant innovations that can make a difference to people with dementia, fast.
Designed with insights from personal experience
Jelly Drops were designed by Lewis Hornby following his grandma's struggle with dehydration. Lewis' grandma had dementia for 7 years, but 2 years ago her condition dramatically declined, she became completely unresponsive and was rushed to the hospital, the family were told to expect the worst.
But it turned out she was just dehydrated, and after 24 hours on IV fluid she was back to her normal happy self.  Lewis' spent a month living in his grandma's care home and Jelly Drops was born out of a fundamental understanding of why Lewis' grandma and others like her struggle to drink.
Jelly Drops are sugar-free sweets designed to boost your daily water intake. They're 95% water and contain added electrolytes. They're solid all the way through, making them easy to pick up, but also break up easily in the mouth.
Boosted by the Alzheimer's Society Accelerator Programme
After successfully applying to Alzheimer's Society's Accelerator Programme, Lewis and the Jelly Drops team received a £100,000 investment and worked with our Innovation Team, helping them bring Jelly Drops to market.
Over the last few weeks weeks Jelly Drops team have begun to provide their water sweets to some of the most vulnerable people in society living in care homes. We are now very excited to announce that Jelly Drops are ready, the team are taking orders on their website and starting to ship the products out! The demand for Jelly Drops has been huge and the team are scaling up production as fast as they can to keep up with demand.
To get hold of your own Jelly Drops, visit the website www.jellydrops.com

Our Innovation team supported two projects through our Accelerator programme last year. You may remember reading about one of these in our guest blog back in September on the mobile video support tool, 'Refresh', by How Do I?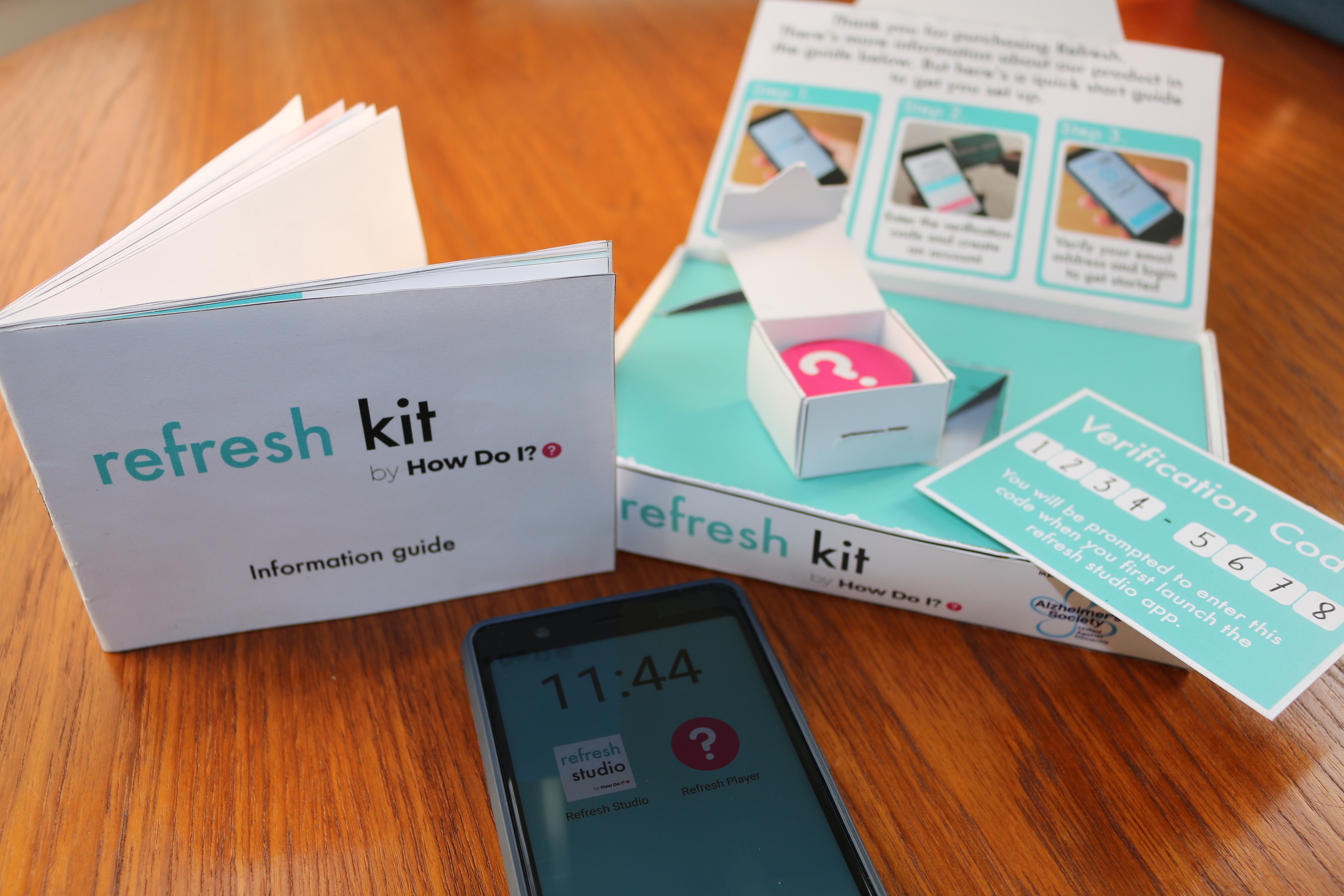 Let's find out a bit more from Taryl Law (from How Do I?) about the development of Refresh over the last few months, through their valuable work with the Refresh Test and Learn Group.
What is 'Refresh'?
As a reminder, How Do I? is an assistive technology company that want to help people with dementia live independently at home for longer. They have developed 'Refresh', which is a mobile video support tool that can link helpful personalised videos to objects in the home. 
What has happened over the last few months?: Refresh Test and Learn Group
After some initial development of Refresh with people affected by dementia, 17 pairs of people (one person with dementia and a carer, partner or friend) signed up to take part in the Refresh Test and Learn Group: an at-home beta testing programme to help in the development of the mobile video support tool. Recruitment was open to people affected by dementia across the entirety of the UK. Seven pairs maintained engagement with the testing team over four months, up to the completion of the final feedback session.
This involved the Refresh product being posted to the homes of the members of the group, with some receiving loaned Android phones to test the technology. Some members received the product and demo phones through an in-person session at a location of their choosing, and these members were observed opening the packaging and setting up their Refresh account.
Throughout the duration of the group, a single dedicated member of the How Do I? team was in touch with participants for gathering feedback and troubleshooting. Testers responded well to this and often proactively contacted the team by email, phone or text when they ran into difficulty. Testing, troubleshooting and providing feedback was most frequently done over the phone, with the occasional set of questions answered over email or in-person. The feedback was gathered three times: the first session focused on the packaging and onboarding process, the second on the apps themselves, and the final session helped us to understand the attitudes and opinions of the members of the group after having used Refresh.
The How Do I? team are still analysing the data from the group in order to provide a full picture of findings from the testing. You can find out more detail about what the Test and Learn group did and further information on the key findings and learning in our downloadable document shared below.
In summary, some key findings emerged quite consistently and clearly across the group. These included:
More information and guidance could be provided on planning videos and testing out the technology.
Time invested in user experience testing is time well spent – most found the 'user experience' and design accessible.
The benefits of using the app outweighed the time and effort to get it set up.
Some found that taking part in the group increased their confidence in trying out new technology.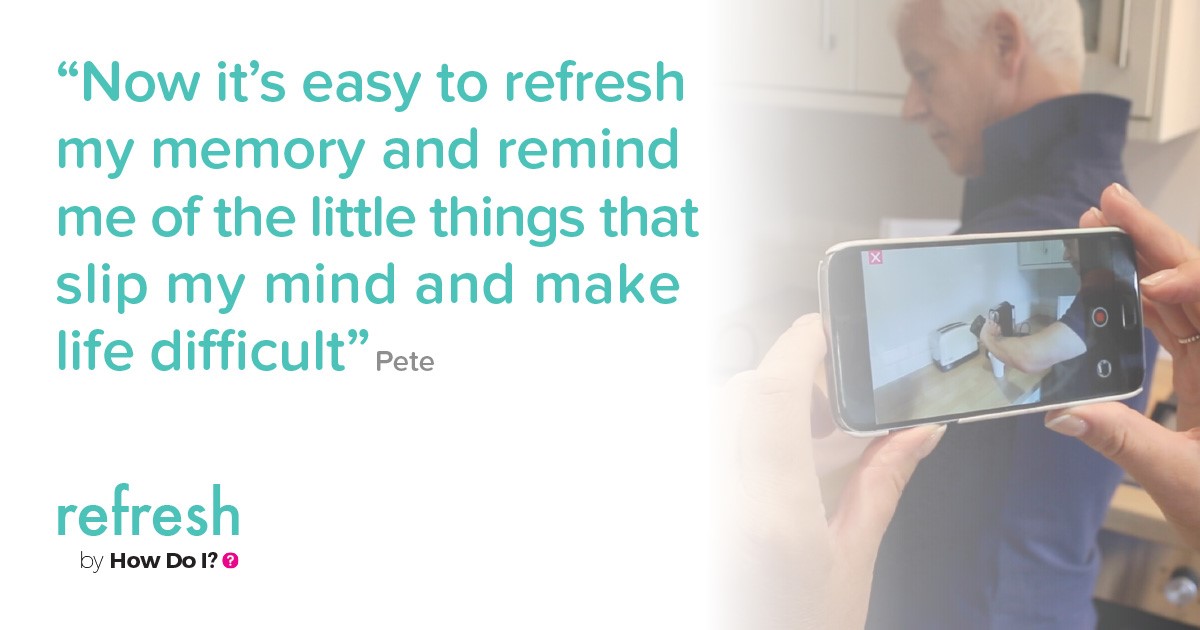 Key learning to takeaway
The How Do I? team have learnt a lot over the last 12 months, but particularly from the Refresh Test and Learn group. The three pieces of learning include:
Make no assumptions about who is and isn't open to using technology to improve their everyday lives: It is exciting that there is a large and vocal community of people living with dementia on social media. Through their engagement on platforms like Twitter and Facebook, they are able to educate the public, express their views and make connections with others in the dementia community. In addition, many people living with dementia today have had long and celebrated careers in technology. Alongside these communities, there are many others who are not as visible, but who also stand to benefit and take an interest in learning new digital skills. Throughout our testing and recruitment, we have worked alongside many people who weren't immediately identifiable as being digitally included, "techie", or otherwise likely to be interested in trying out and testing a digital product. We now have a core group of champions who are excited to share their experiences with Refresh across both their digital social networks as well as their real-life groups of friends, colleagues and contacts.


Remote, unmoderated testing can successfully generate helpful insights and actionable feedback: For our early user experience research, we primarily worked with people face-to-face to engage with prototypes that helped us get our final product right. However, we were pleased overall with the quality and quantity of the feedback we received through the mostly-remote Test and Learn Group. Between phone calls, photos and surveys, it is our view that we have been able to get a good picture of what has worked well for participants and what requires improvement.


Work as flexibly as you can without reducing the quality of the feedback: It was important to us that our group was as participant-led as possible. For us, that meant that we provided as much flexibility as possible for participants as it related to how, when and for how long we got in touch. We initially created a discussion guide and line of questioning for each of the feedback interviews. We established early on in the testing that our plans for each session needed to be abbreviated, as the sessions we had planned were overly long in practice. The interview questions were amended to reflect only the most important aspects of what we needed to know at each stage. Still, the discussions over the phone were as short as seven minutes and as long as 1 hour and 40 minutes. Some testers had taken detailed notes and had much to discuss, whereas others preferred a more off-the-cuff approach. These two approaches worked well together.
Thank you
Both the Refresh Test and Learn Group, and our Accelerator Programme experience as a whole, are now coming to an end, under highly unusual and challenging circumstances of the global outbreak of COVID-19. We want to express our gratitude to the members of the Test and Learn Group, who generously provided their time and insight in order to help us create a better product for people living with dementia. We are also incredibly grateful to Alzheimer's Society for the opportunity and support. We are proud to have been able to work with such skilled and passionate colleagues and have benefitted immensely from your direction and advice.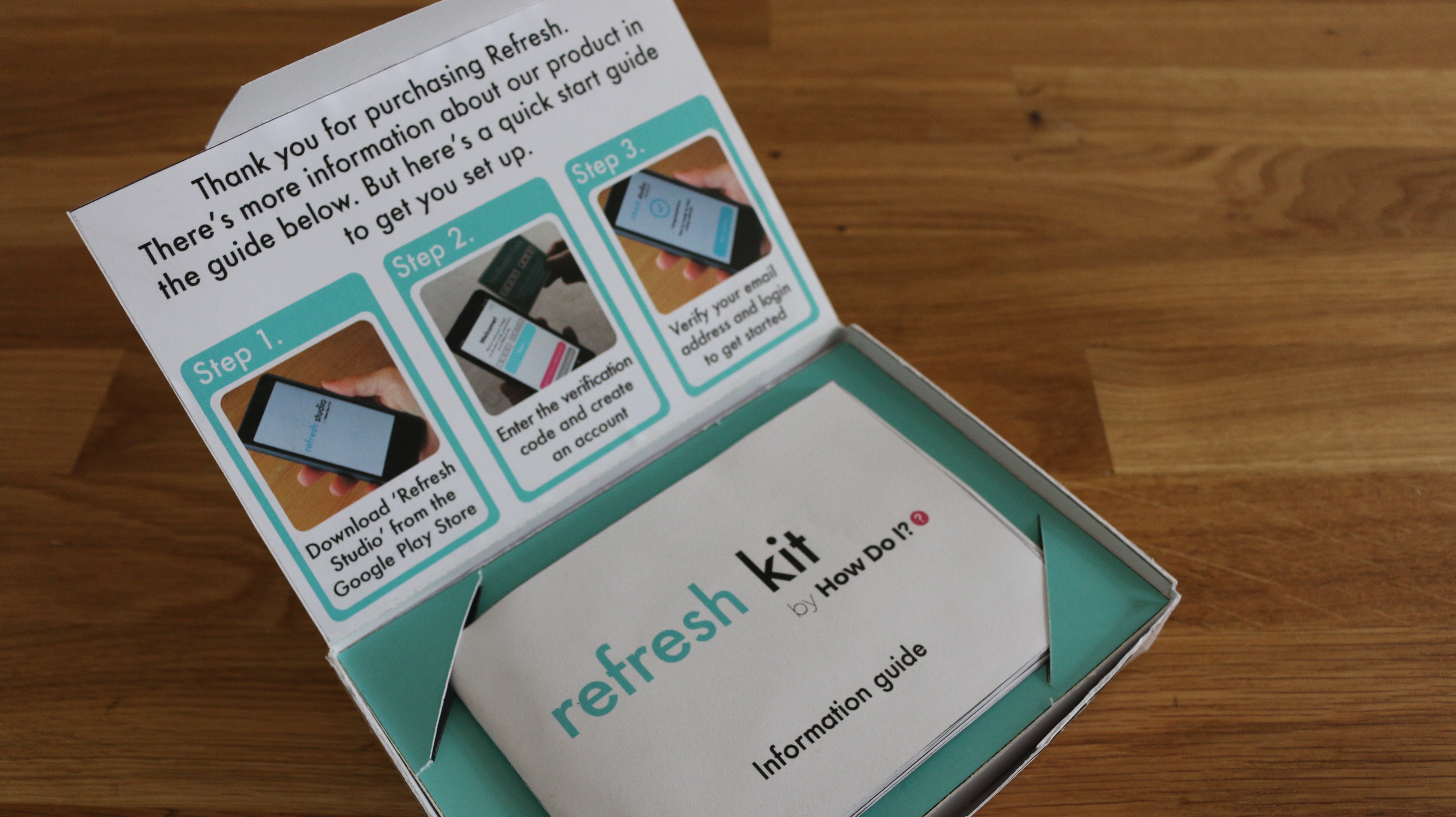 From the Innovation team's perspective, it has been fantastic to 'buddy-up' and work alongside How Do I? in the amazing work they have been doing with Refresh to help improve the lives of people affected by dementia.
How Do I? are looking to work with other partners to take their exciting mobile video support tool forward. They are also seeking follow-on investment to bring 'Refresh' to market. To find out more, please do get in touch with Taryl Law at taryl@wearehowdoi.com and you can check out their website too: https://wearehowdoi.com/refresh.

In the Innovation Team at Alzheimer's Society, we're committed to creating bold and innovative solutions to tackle challenges, together with people affected by dementia. As well as hearing people's ideas through the Innovation Hub, we partner with enthusiastic innovators through our Accelerator Programme.
Last year we invested in two promising projects bringing creative solutions to challenges that people with dementia face around hydration, and completing tasks or remembering activities.
Now we're launching our call for applications again. We're offering bespoke business support and investment up to a value of £100,000, along with a 12-month partnership.
Our call is open to innovators, engineers, designers, developers, entrepreneurs and anyone with a great idea. If you have an idea and the enthusiasm to follow it through, we can help with the tools and resources you need to make it a reality.
The call for applications is open from 8th October until 7th November, and you can find out more on our website.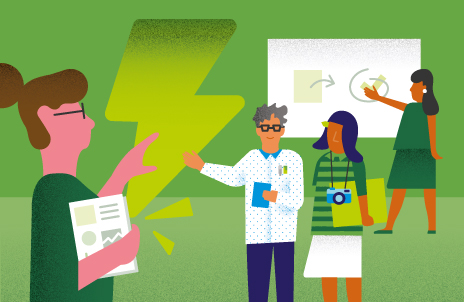 We are looking for applications from teams or individuals at any stage of the product development journey, from a great idea that needs testing through to proven products that need a push to maximise their reach. Your idea could be a simple product that makes life easier for people living with dementia, or a new service to improve support.
If you know anyone with a great idea and the dedication to make it happen, please let them know about the Alzheimer's Society Accelerator Programme.

Alzheimer's Society is delighted to be partnering with the Jelly Drops team to bring their fantastic product to people living with dementia.
Lewis' story
Lewis' grandmother Pat is living with dementia and was sadly hospitalised due to dehydration. Inspired by his grandmother's love for sweets, Lewis put his innovative skills to the test and developed bright, raindrop shaped sweets known as Jelly Drops. The sweets are made up of 90% water and other electrolytes to make them even more hydrating.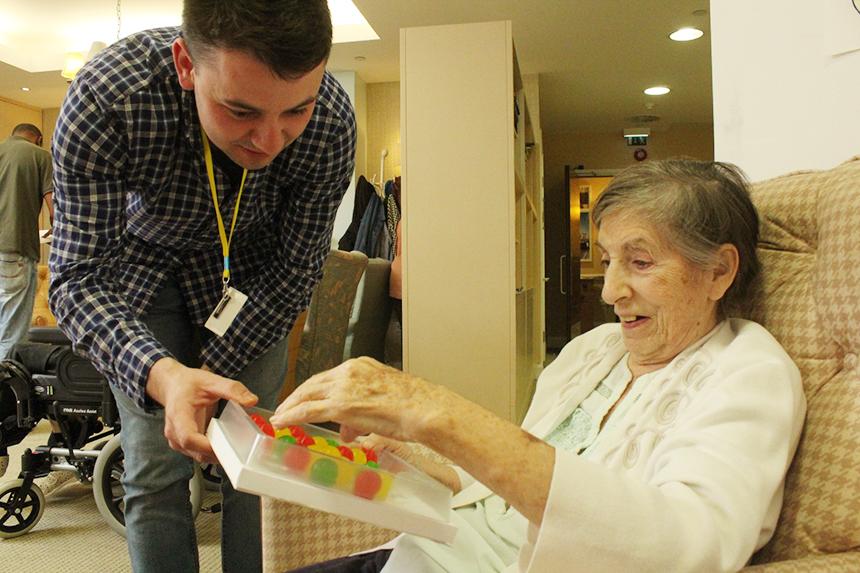 Lewis and the Jelly Drops team have worked closely with Pat and other people with dementia to develop their fantastic product. The team were also recently awarded the people's choice award at Pitch@Palace.  
Bringing Jelly Drops to the people who need them
Alzheimer's Society is delighted to be supporting Jelly Drops over the next year through our Accelerator programme. 
Our panel of experts and people affected by dementia worked with the Society to select Accelerator partners who receive £100,000 to continue to develop their product and bring them to the people who need them faster. 
Over the next year Alzheimer's Society will be working closely with the Jelly Drops team to continue to develop their brilliant product alongside people affected by dementia and bring it to the market.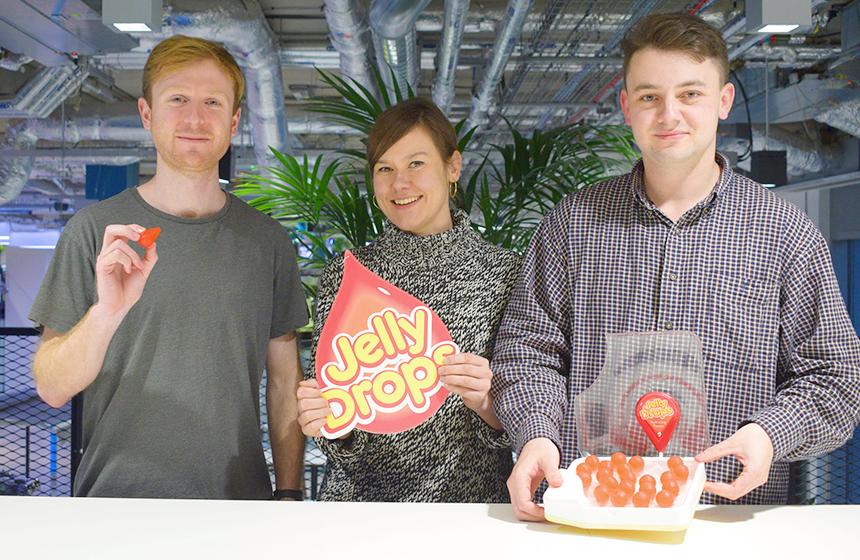 Dehydration and dementia
Dehydration is a common issue for older people and especially those with dementia.
Often people living with dementia will forget to drink or will not be interested in drinking. Unfortunately this can lead to confusion and even hospitalisation.
This effect is often exaggerated as the symptoms of dehydration can be confused with the symptoms of dementia. This makes it more difficult to spot dehydration in people living with the condition. 
Can I purchase Jelly Drops today?
At this stage Jelly Drops are not available to buy as they are still in development.
Alzheimer's Society will be working with the Jelly Drops team to support them to develop their product and make it available as widely as possible to people affected by dementia.
For more on Jelly Drops:
We will keep you update on the Innovation Hub but check out their website, this BBC Breakfast video and their facebook page! 

By Tom Casson/Taryl Law (How Do I?)
We've now been working with Alzheimer's Society through the Accelerator Programme for 3 months. We've been busy taking advantage of the intensive support they're providing, and our project is off to a great start! We've travelled across the country, racking up over 1000 miles in our efforts to meet as many people living with and affected by dementia as possible.
We were pleased to see our project covered by various media outlets including the i, the FT, and PoliticsHome, alongside another innovation called Jelly Drops who are also supported by Alzheimer's Society. We wanted to let people know what we've been up to!
A quick recap for those not aware of the programme or our work:
As part of its new Accelerator Programme, Alzheimer's Society is funding innovations and inventions that could help improve the lives of people affected by dementia.
We are 'How Do I?', we are fine-tuning a new mobile phone-app for people with dementia and their carers. This app links videos to objects in your home, through your mobile phone. These videos can help with learning how to complete a task or remembering an activity. We are working hard to help people live more independently at home for longer and we are passionate about empowering people through technology.
We gave the public a first sneak peak of our app at the Alzheimer's Society conference at The Oval in May, where the announcement for the accelerator programme launch was made. We met with many people affected by dementia, health care professionals, other entrepreneurs and the Secretary of State for Health and Social Care, Matt Hancock. 

Following on from the launch event, our main aim over the last 3 months has been to meet with as many people living with and affected by dementia as possible, and also dementia professionals, to gain valuable feedback on our idea and undertake user research.
We have always recognised the importance of user research: when designing a new product, it's crucial to involve users at every stage of design and development.
We've travelled to Nottingham, Essex, Peterborough and across London to meet with people living with and affected by dementia, running feedback sessions. We are so grateful to those who have taken the time to meet and work with us.
We worked alongside people to take them through the apps and try them out, asking questions and receiving feedback on icons and language, the colour scheme, and even the name of the product and the language we use to describe it.  Throughout the process, we would take on board our observations and the feedback we receive, and then iterate our designs.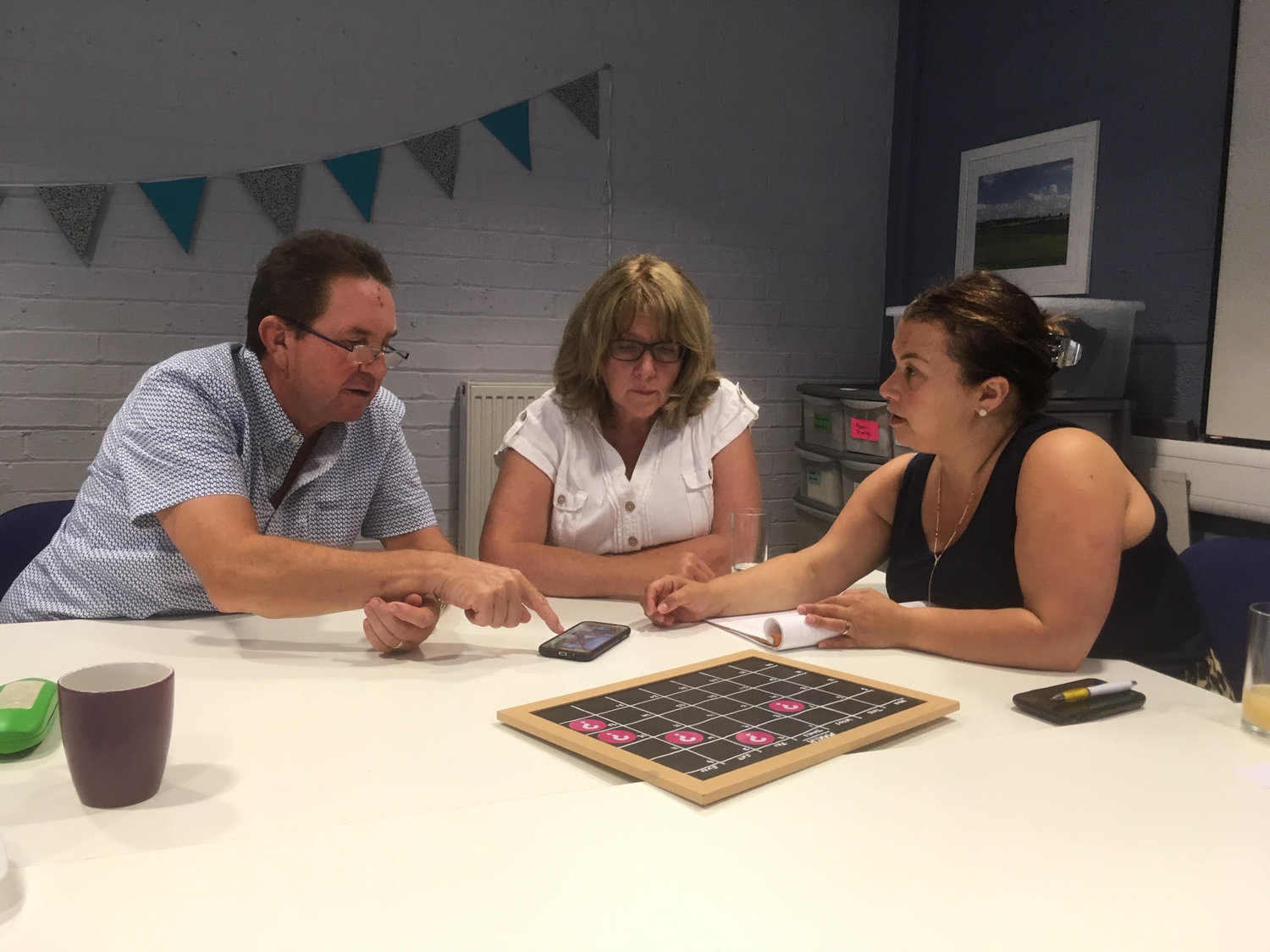 Through these sessions, we've had the opportunity to listen to peoples' insights and their suggestions on how we can make our product work for them. We have gained insight into the unique wants and needs of people living with the condition and we will continue to develop and iterate the apps based on their feedback and user experience. Working closely and collaboratively with people affected by dementia will always be a cornerstone of our development.
Through the Accelerator Programme we've also been able to meet with professionals to talk about our communication plans, with research professionals to help to find more people with dementia and carers to test out our app. We also met with impact & evaluation experts to help us understand how best to measure the impact we're having in peoples' lives. We met with professionals to discuss user experience, user interface design and the importance of making technology accessible for older adults, which was invaluable knowledge in light of our focus over the past 3 months.
Putting all this feedback and advice together, we've worked on our designs and the user flow of our apps, over the next few months our tech team will be working on the development.
Over the next three months, we will also be:
●      doing further research into branding and packaging, alongside people living with and affected by dementia,
●      thinking about how we can ensure we are engaging the widest and most diverse use groups possible,
●      and creating a framework and feedback system for measuring our impact.
We are extremely excited to share with you what we've been working on and developing. Fancy becoming one of the first few people to exclusively try out the new version of our app? If you are interested then please email hello@wearehowdoi.com for more information.
To see our video on the last few months and stay updated come visit us here!

Load more